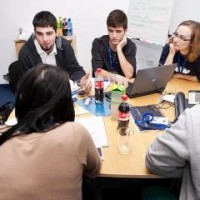 Telefónica launched last week, with the European Commission, the Think Big School Initiative at The International School of Brussels (ISB), showcasing the Think Big model at a European level, with partners Mozilla Foundation and Technology Will Save Us. This session brought to life Think Big's belief in equipping a new generation with the skills and confidence to be more in our digital world.
Only two weeks after Eduardo Navarro, Telefonica's newly appointed Chief Commercial Digital Officer, spoke at the European Innovation Convention on the importance of digital literacy, Think Big teams delivered an event in Brussels demonstrating the need to quicken the pace of Europe's digital transformation through turning consumers of technology into tomorrow's makers  in the presence of EU Innovation Commissioner Máire  Geoghegan-Quinn.
This session was a shared learning opportunity carried out in close collaboration with the ISB, in an international setting, aimed at providing more insights into the opportunities to improve, integrate and accelerate innovation, in support of the European Commission's repeated calls to action enabling "generation Z" to become the "Innovation generation" in Europe.
This event focused on digital making, belongs to the broader pan-European campaign in support of digital skills on which Telefonica will embark on with Mozilla throughout 2014. It also informs the development of Think Big curriculum, further establishing it as a truly digital-focused pan-European educational programme, working with over 150 partners to get young people utilising their digital skill-sets in gaining meaningful employment opportunities.
Long time supporter, European Commissioner Máire  Geoghegan-Quinn awarded the best ideas at the event and praised the programme as a innovative template to develop digital skills in Europe  and urged Member States to "work closely with companies like Telefonica to help develop a digital curriculum and transform the school experience" (see video below).
Telefónica COO, José María Álvarez Pallete commented: "It is our belief that securing a more prosperous Europe can only be achieved if opportunity is open to all and the necessary skills are given to utilise the possibilities of digital.  Think Big, Wayra and Talentum are the three pillars on which our digital transformation is based.   All have the objective of promoting entrepreneurialism but it's the self-reliance and empowerment given to their own ideas, especially those based around digital innovation that will ultimately reshape the European landscape.  This aspiration can and should be taught at school."
Danny Bartlett, Senior Communications and Digital Media Manager, Think Big Europe