Backed by the optionality of €109bn in assets and operations serving around 370m accesses, growth, operational execution, smart capital allocation and ongoing deleverage continue to be the main drivers of value creation at Telefónica.
Our long-term strategy is to generate sustainable, profitable growth by:
leveraging the strengths of our technology businesses across our 5.5m B2B customers;
deploying the best quality greener networks and services with the greatest capital efficiency;
unlocking the value of our infrastructure assets; and
streamlining and digitising our operations.
Q3 21 results highlight consistent growth, smart capital allocation and further de-leveraging:
Second straight quarter of simultaneous y-o-y organic revenue and OIBDA growth
Reported revenue growth (ex- changes in perimeter) aligned with organic growth
Underlying EPS rose 6% in 9M
Stabilisation in OIBDA-CapEx on smart capital allocation
Net debt further declined to €25.0bn(1) (-31.8%(1) y-o-y). Improved capital structure on FX rebalancing and higher debt in Latam currencies (26%(1) of total net debt+leases; +11 p.p. y-o-y)
Total group accesses grew 3% as we further extended one of the largest fibre footprints in Europe and Latam with 157m premises passed.
In parallel, Telefónica continued to make good progress in its strategic priorities:
Reducing complexity, reprioritising capital allocation to our four core markets
Reducing capital employed, improving efficiencies and creating value at T.Hispam
Developing fibre vehicles to create capital-light growth opportunities for T.Infra
Delivering strong top line growth of 25% y-o-y in Q3 at T.Tech
A more sustainable operating model, with 79% of processes digitised
Full commitment to ESG goals
(OIBDA-CapEx) / Revenues % org.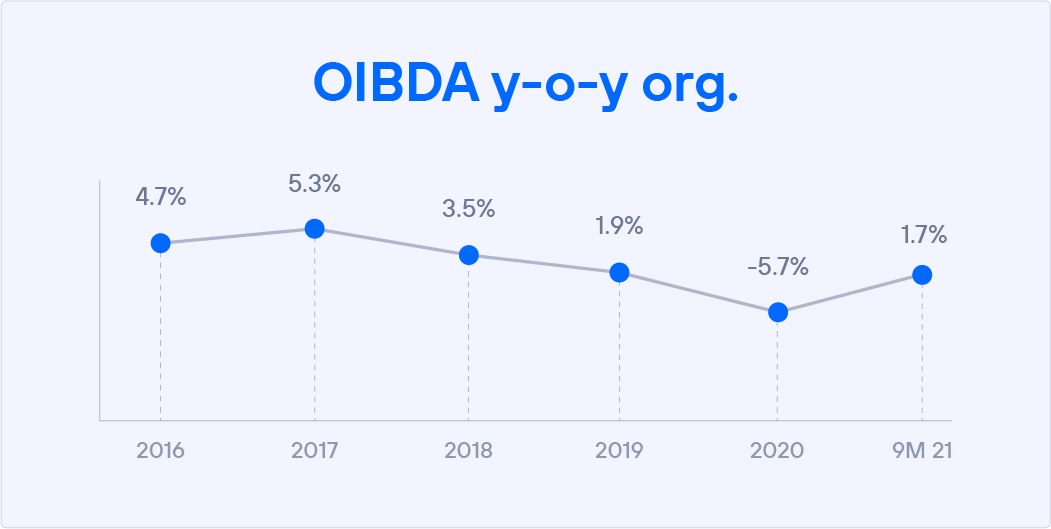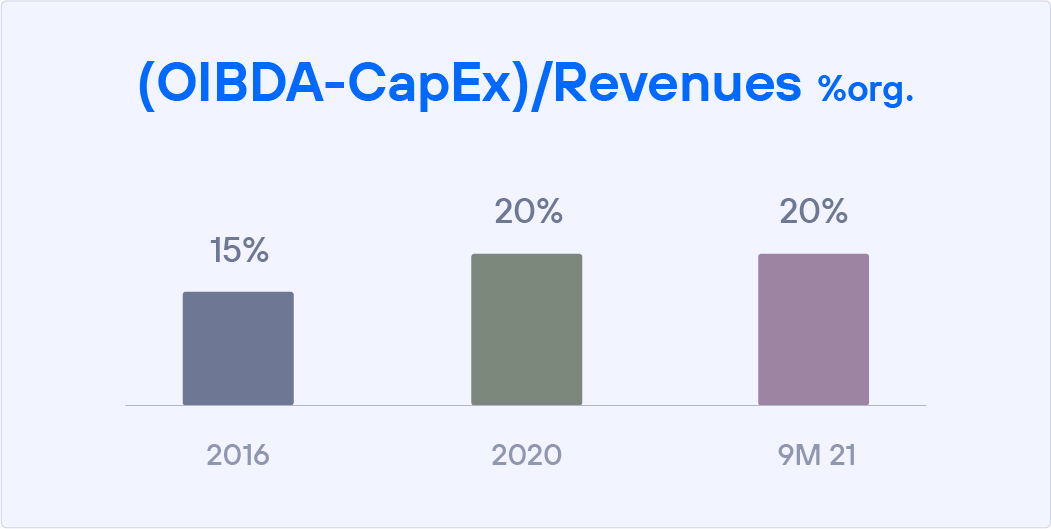 Net Financial Debt €bn
€27bn net debt reduction since June 2016.
*Post estimated distribution of proceeds to Telxius minorities.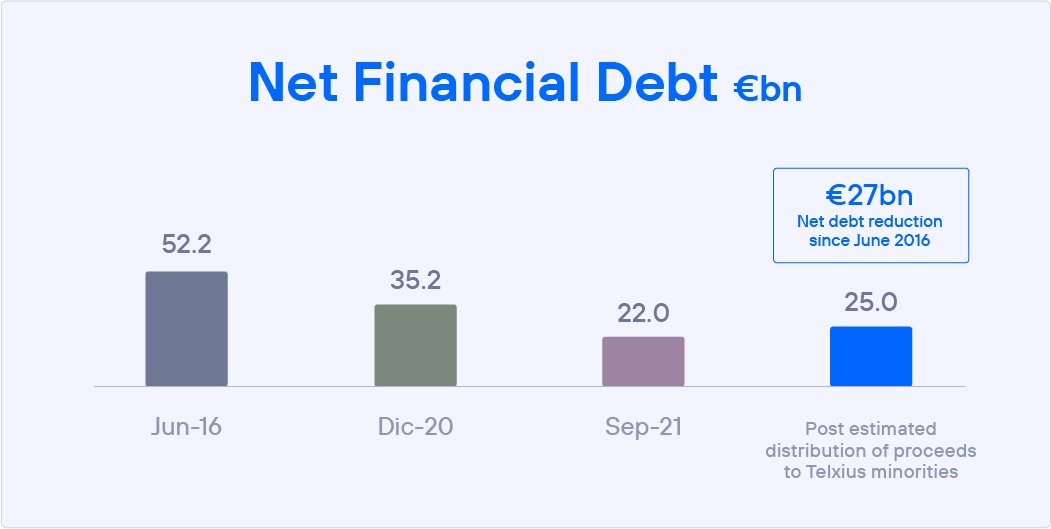 (1) Post estimated distribution of proceeds to Telxius minorities
Please see our January-September 2021 results for further detail.
Our investment case reflects the five pillars of our strategy:
1. Our four core businesses in Spain, Germany, UK and Brazil are a platform for sustainable growth and value creation
We are well positioned in our large, attractive markets with the scale, best-in-class networks and high-value customer services and strategies in each to capture and monetise ever rising demand for data and connectivity, improving our operating leverage over time.
These businesses are, or are well on their way to being, our free cash flow and capital generation engines.
They are our conduits for value optimisation:

– Enabling a balanced finance strategy, allowing for further investment in profitable growth or return of cash to shareholders through our dividend policy

– Driving continued organic de-leveraging
2. Our growing global Tech and Infra businesses are building the Telefónica of tomorrow
Telefónica Tech is our fast-growing technology company comprising two business units, Cybersecurity & Cloud Tech and IoT & Big Data Tech. T. Tech's strong capabilities in these areas help business customers digitally transform their operations and while playing a key role in the economic recovery.
Telefónica Infra, our infrastructure portfolio manager, continues to focus on pursuing value creation opportunities, in line with the Group's strategy of crystallising the value of its infrastructure assets and capabilities, improving the competitive position of Telefónica's operating business units by accelerating their FTTH rollout, while capturing future value upside from its infrastructure assets and co-investments. FiBrasil announced the acquisition of Fiberty on 30th August, while Telxius completed the sale of T. Deutschland's sites to ATC on 2nd August.
3. Reducing and optimising our exposure to our non-core Hispam portfolio
Telefónica Hispam continues to focus on improving the quality of its customer base through growth in mobile contract and FTTH, operational efficiencies and acceleration in digitalisation.
The reduced exposure to the region is reflected in the expansion of debt in local currencies across the main operations (reaching leverage levels in the region similar to the Group's) and in the reduction of CapEx to Sales (8.6% in 9M 21; -0.6 p.p. y-o-y). This improvement was achieved through lower investment in legacy technologies and alternative investment models (including InfraCo Chile, already in operations, and the announcement of InfraCo Colombia with approval expected for Q1 22).
4. Streamlining and digitalising our operating model
Telefónica Group continues to strive for enhanced efficiency and to drive digitalisation initiatives across its operating businesses and corporate centre (79% of processes digitised, +2 p.p. y-o-y). During Q3 we announced key agreements with NEC and IBM for the mass deployment of Open RAN and for a Cloud-Native 5G Core Network Platform, respectively, which will underpin our future-proofed, open and virtualised infrastructure.
5. Committed to Sustainable Development
The following achievements took place in Q3 21 and illustrate how digitisation is the base of all three pillars of our ESG strategy:
"E" Environmental: Building a greener future

– New long-term renewable electricity agreements in Spain and Brazil (SDG #7)

– Launched Net-Zero Hub to help small businesses reach net-zero in the UK (SDG #13)

"S" Social: Helping society to thrive

– Telefónica continued to connect people with 13m premises passed in the UK connected to VMO2 gigabit broadband network. Significant advances in rural and inland areas, with agreements to connect 600 black-out zones in Spain and 250k premises passed in Southern Argentina, and 13k areas already connected in Peru (SDG #9)

– 'ProFuturo' became the first Spanish project to be awarded the WISE Prize for educational innovation (SDG #4)

"G" Governance: Leading by example

– Vivo listed in the "Best Emerging Market Performers Ranking" by Vigeo Eiris for 7th consecutive year

– Awarded prestigious prizes recognising the company's commitment to and achievements in diversity: in Chile, the Ministerial "Equal Conciliation Seal", and in Peru, the Scotiabank "Equality Grand Prize 2021" (SDG #5)
NOTE: Figures from the latest publication available for each year, except for Net Financial Debt, redefined since 2019 and restated for comparison purposes for the previous years since the entry into force of IFRS-16