The Sustainable Development Goals (SDGs) are the most ambitious programme in history to address the major social and environmental challenges facing humanity.
The Internet and digital solutions are key to achieving more than half the SDG targets. At Telefónica we are taking up the baton and committing ourselves to the 2030 Agenda:
Build a greener future: taking advantage of the power of digitalisation to curb climate change.
Help society thrive: promoting economic and social progress based on digitalisation, leaving no one behind.
Lead by example: maintaining strict levels of governance oversight in order to build trust.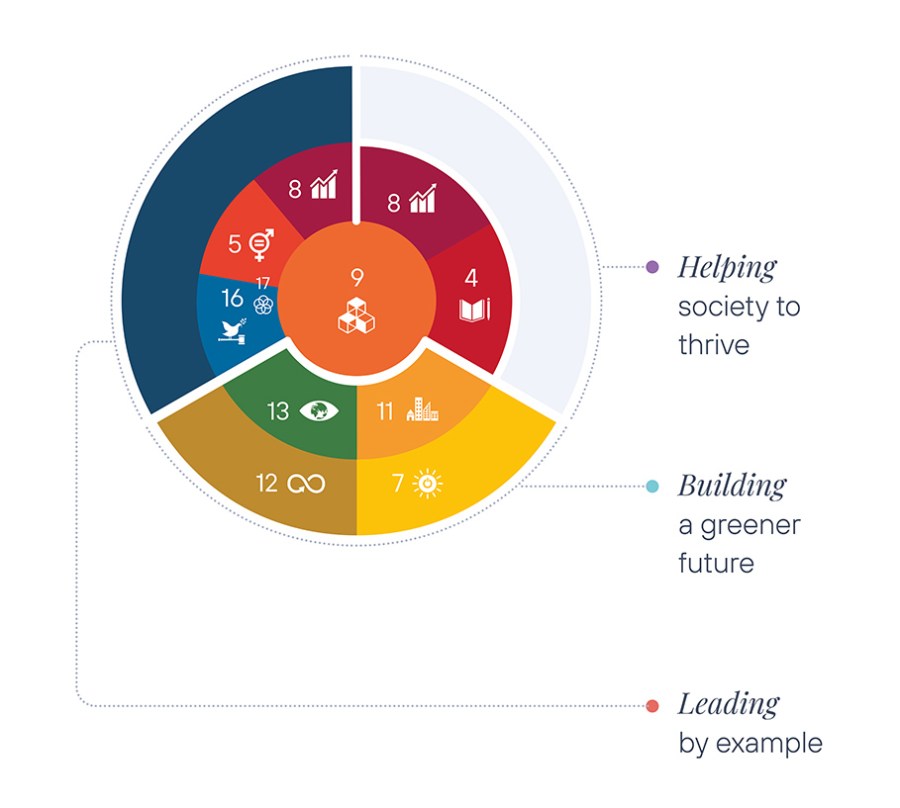 Measuring the impact
At Telefónica we identify where and how we contribute more significantly to the Sustainable Development Goals.
We also measure our social and environmental impact annually using a methodology based on Harvard University's Impact Weighted Account Initiative (IWAI) and KPMG's True Value.
We integrate the results into our management and decision-making to continue improving.
We are currently working on the Impact Measurement report 2022.
Impact of Telefónica in 2021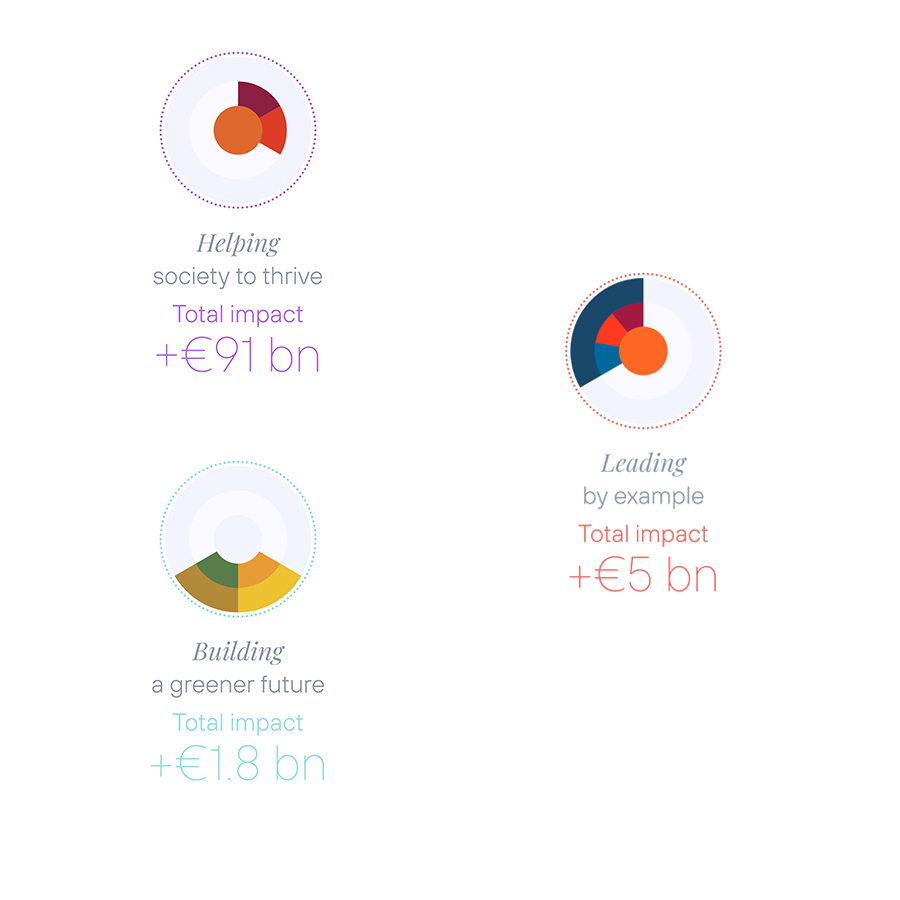 Sustainable finance helps us support the SDGs with projects with social and environmental impact.
HELPING SOCIETY TO THRIVE
INDUSTRY, INNOVATION AND INFRASTRUCTURE
Provide faster and higher quality Internet access to individuals and businesses and power innovation.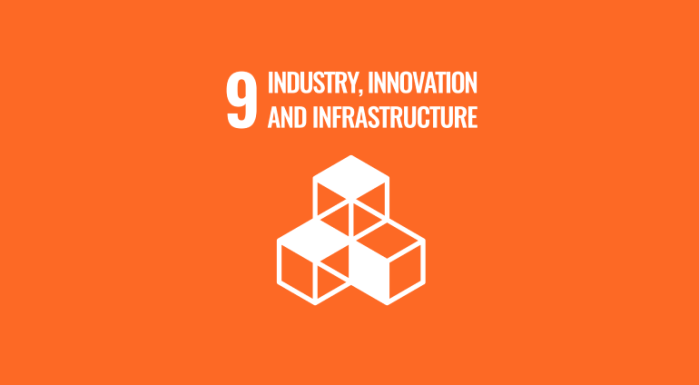 GOAL 9.1
Develop quality infrastructure to support economic and social development.
R&D&I investment: 4,426 million euros
Prepaid customers: 129.6 million
Contribution to Universal Service: 169 billion euros
GOAL 9.5
Enhance scientific research by promoting innovation.
Investment in R&D: 835 billion euros
Intellectual property rights: 421
GOAL 9.C
Increase access to ICT and strive to provide Internet for all.
People connected thanks to the Internet Para Todos (Internet For All) project: 1.8 million people
4G/LTE Mobile coverage : 87%
UBB – Ultra Broad-band (building units wired): 68.8 million
DECENT WORK AND ECONOMIC GROWTH
Promote the digitalisation of small and medium-sized enterprises and generate wealth in the markets where we operate.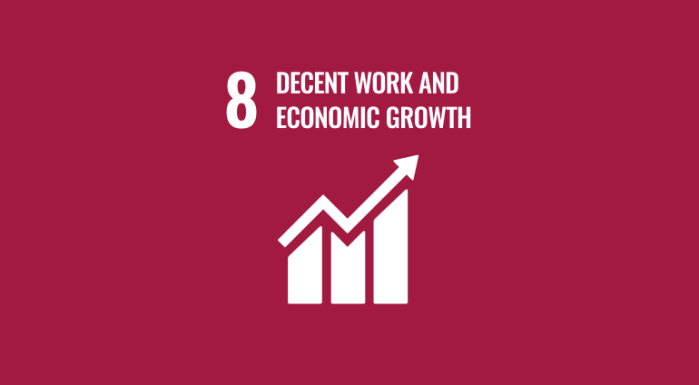 GOAL 8.1
Promote and contribute to the economic growth of the countries in which we operate.
Impact on GDP: 48,904 billion euros
Tax contribution: 9,134 billion euros
GOAL 8.3
Promote development-oriented policies that support productive activities, job creation, entrepreneurship, creativity and innovation.
% purchases from local suppliers: 81%
Investment in startups through third parties: 1.9 billion euros
Startups invested by Wayra: +770
GOAL 8.5
Achieve full and productive employment and decent work for all.
Total number of employees: 103,934
Indirect employment generated: 656,662
Employees with disabilities: 1,347
GOAL 8.6
Substantially reduce the proportion of youth not in employment, education or training.
People trained in employability: 996,875
GOAL 8.8
Protect labour rights and promote a safe and secure working environment for all workers.
Provider audits: 17,960
Providers with improvement plans: 610
QUALITY EDUCATION
Contribute to the empowerment of people to face the challenges and opportunities provided by digital transformation.
GOAL 4.1
Ensure that all children complete primary and secondary education.
No. of children benefiting from ProFuturo programmes: 19.7 million people
No. of countries where the ProFuturo programme operates: 40
GOAL 4.4
Increase the number of people with skills to access employment, decent jobs and entrepreneurship.
Beneficiaries of the digital skills training programme: 782,948
Hours of internal employee training: 39
GOAL 4.C
Increase the supply of qualified teachers.
No. of teachers in the ProFuturo programme: 914,000
IMPACT
Our greatest contribution to society comes from our deployment of telecommunications infrastructure, and our ability to connect more people every day, with a special focus on rural areas. Our impact on development through job creation and digital skills also stands out.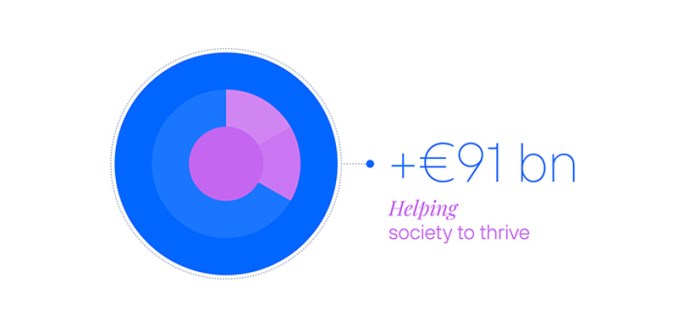 This first pillar is structured into three sub-categories and encompasses the economic and social contribution derived from investments in activities linked to the company's core business.
Economic Development

– Tax revenues
– Regional development through job creation

Innovation and entrepreneurship

– Investment in R&D: internal innovation
– Investment and impacts generated through Open Innovation and entrepreneurship centres

Digital inclusion and social contribution of products and services

– Digitalisation and deployment in rural areas
– Affordability of services
– Digital skills
– Training and talent management
BUILDING A GREENER FUTURE
AFFORDABLE, RELIABLE AND SUSTAINABLE ENERGY
Using 100% renewable energy in all our operations.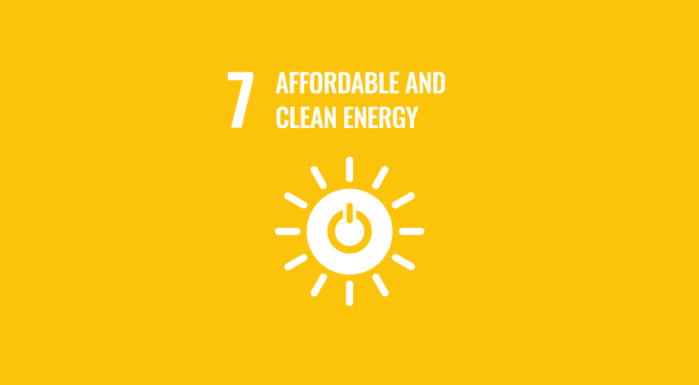 GOAL 7.2
Increase the percentage of renewable energy.
Renewable electricity consumption (own facilities) 79,4%
Consumption is 100% renewable in Europe, Brazil and Peru
Renewable electricity consumption: 4,918,373 MWh
GOAL 7.3
Double the global rafe of improvement in energy efficiency.
Emissions prevented by renewable energy consumption (tCO2e): 902,019
E

missions prevented by energy management (tCO2e): 68,833
SUSTAINABLE CITIES AND COMMUNITIES
Become a leading provider of solutions that help our customers reduce their CO₂ emissions.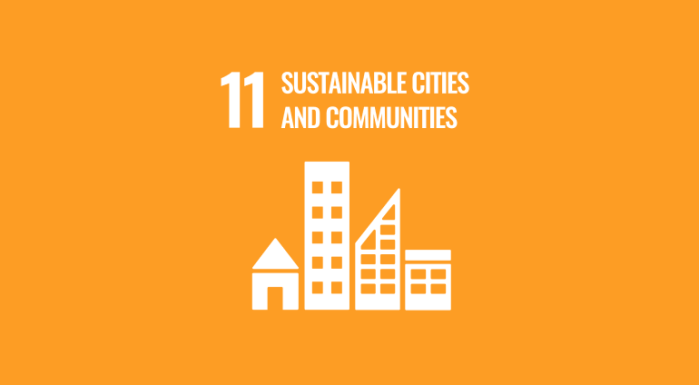 GOAL 11.6
Reduce the negative environmental impact of cities.
Emissions avoided through Eco Smart services (million tCO2): 8,684
RESPONSIBLE CONSUMPTION AND PRODUCTION
Encourage the circular economy in the use of electronic devices through eco-design, re-use and recycling.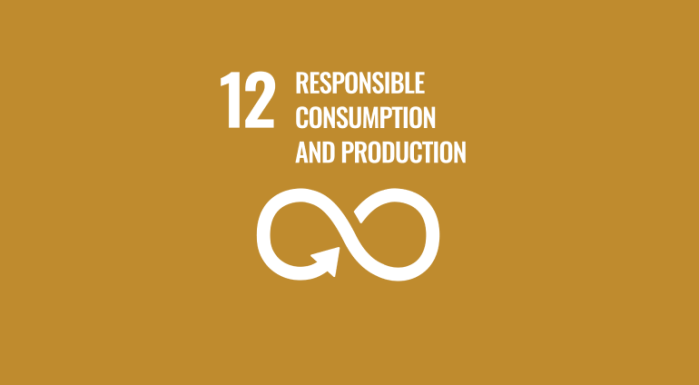 GOAL 12.2
Achieve sustainable management and efficient use of natural resources.
Electricity consumption + Self-generation (MWh): 6,548,152
Total energy consumption (MWh): 6,106,625
Waste generation (tonnes): 64,065
GOAL 12.5
Reduce waste generation through prevention, reduction, recycling and reuse.
GOAL 12.6
Adopt sustainable practices.
Responsible Design Process: Integrated in Telefónica Spain
CLIMATE ACTION
Implement the most efficient telecommunications network and reduce our CO₂ emissions.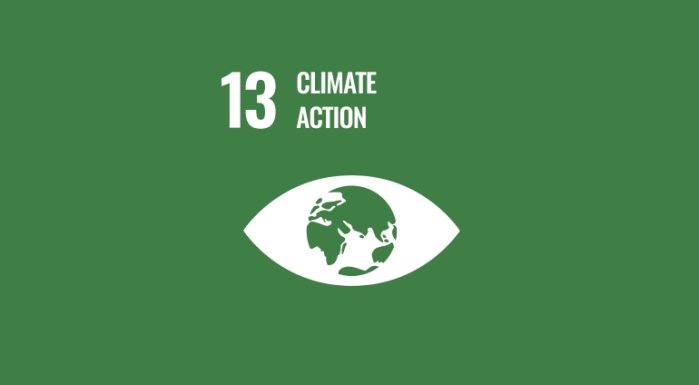 GOAL 13.2
Integrate climate change measures into policies, strategies and planning.
Direct emissions (Scope 1) (tCO2): 183,231
Indirect emissions (based on market method) (Scope 2) (tCO2): 353,506
Other indirect emissions (Scope 3) (tCO2): 2,072,159
IMPACT
Digitalisation is a key tool for tackling climate change. For this reason, we work on designing innovative and efficient processes and solutions that reduce our environmental impact and that of our partners and customers, through the products and services we offer.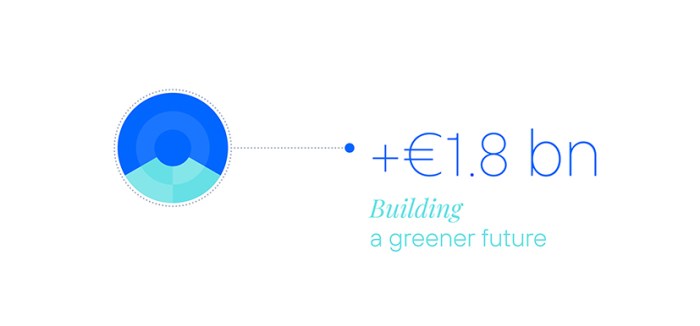 This second pillar includes both the negative environmental impacts generated by our business activity and the positive contribution that we have via our digital services to the decarbonisation of the economy and the protection of natural ecosystems.
Natural resources

– Waste management
– Water consumption
– Biodiversity

Emissions
Digital services for a green transition
LEADING BY EXAMPLE
DIVERSITY
Be a leading inclusive company to drive equality and equity.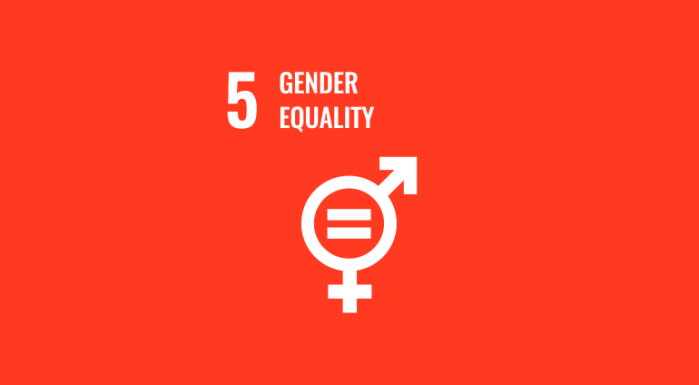 GOAL 5.1
End all forms of discrimination.
Gender adjusted wage gap/ gross: 1,2%/21,8%
GOAL 5.2
Eliminate all forms of violence and other forms of exploitation.
Cases of discrimination detected / measures taken: 0
GOAL 5.5
Ensure women's full and effective participation and equal opportunities for leadership at all levels.
Women on the Board of Directors: 33%
Women in management positions: 29.5%
Women in the workforce: 38%
GOAL 5.b
Programmess to foster STEM careers: 52
PEACE, JUSTICE AND STRONG INSTITUTIONS
Build digital trust, safeguarding the security of our customers' data and their privacy.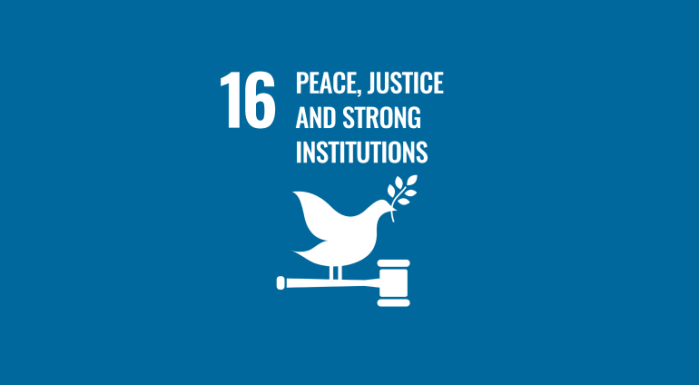 GOAL 16.5
Reduce corruption and bribery in all its forms.
Employees who have completed the Responsible Business course: 85%
GOAL 16.10
Ensure public access to information and protect fundamental freedoms.
Privacy of information: SASB TC-TL-2020a
Information security: SASB TC-TL-230a
GOAL 16.a
Strengthen international cooperation.
Corporate volunteering (people): 59,054
PARTNERSHIPS
Promote collaboration to innovate and increase access to technology and ICTs.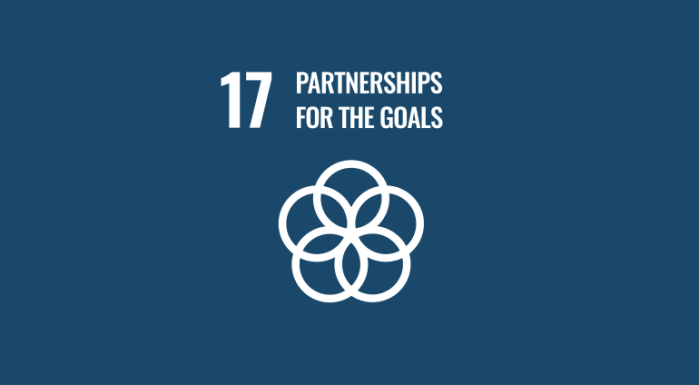 GOAL 17.6
Increase the number of fixed broadband Internet subscribers in all the regions in which we operate.
Number of fixed broadband subscribers: 25.8 million
GOAL 17.8
Promote collaboration to innovate and increase access to and use of technology and digitalisation.
Penetration of LTE service in the customer base: 90%
IMPACT
People-centred digitalisation needs to focus on strengthening trust and to be based on values and a responsible and safe use of technology. At Telefónica, we are committed to promoting equality and inclusion, protecting the security and privacy of our customers' information, and fostering collaboration and partnerships with other organisations, companies and associations in order to promote sustainable development.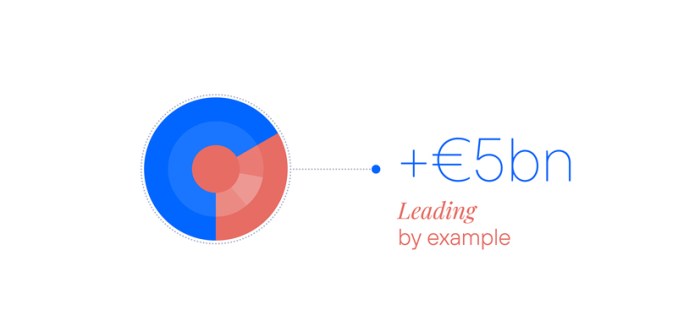 This pillar focuses on impacts within the company's internal organization (e.g. employees, processes to ensure security and privacy etc). It also additional social value is added through the great work carried out by the Telefónica Foundation through its corporate volunteer and culture promotion programs.
Inclusion, diversity and security of our professionals

– Diversity -Pay gap
– Quality of wages
– Health and safety of professionals

Contribution to associations and institutions promoting sustainable development

– Cultural programmes
– Volunteer programmes

Privacy and Security

– Security services
– Cyber risks
We work with the FAO
Together we promote digitalisation in agriculture and the food value chain, contributing to SDGs 2, 11, 12, 13 and 17.
Digital Inclusion Benchmark leaders
Telefónica, world leader in  cybersecurity, privacy,  responsible use of technology by children and accessible design.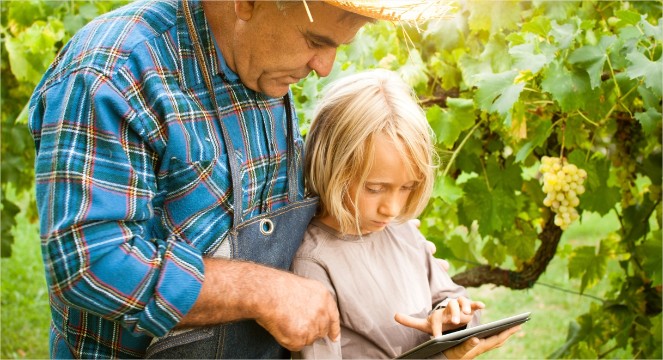 Further information