We strive to make the Internet a safer place where children and adults can make the most of digital tools.
We are the people who create the technology and who are on the other side of the screen studying, working, chatting, entertaining ourselves and making decisions. That's why it is so important to learn to use it responsibly.
At Telefónica we are aware of this reality and therefore we promote different projects that encourage a safer and healthier digital environment.
For example, we have seen that girls still too often have to suffer deplorable situations when they try to play video games on equal terms. Four years later, we have repeated the MyGameMyName experiment to prove it.
Let's talk about Digital Habits
At Dialogando and the blog ThinkBig, we guide families through research, awareness campaigns, articles and advice from experts… always seeking reflection and constructive debate. The use of screens at home, video games, digital gender-based violence, responsible driving, creativity and disconnection are just some of the topics we address.
We block child pornography
To combat child pornography, at Telefónica we block images and content in accordance with the guidelines and lists published by the Internet Watch Foundation. Globally, this is one of the issues we are working on with other industry players as part of the Alliance with the GSMA to combat online child sexual abuse content, the ICT Coalition and the Alliance to better protect minors online, among others.
You can collaborate too: report
We remind you that there are various reporting channels available, to report and to get help to:
Report any child sexual abuse content you come across on the Internet anonymously.
Contribute to the protection of minors online by reporting inappropriate or harmful content.
Resolving concerns about the online safety of children and young people.
Responsible television viewing
Although the way we consume television has changed, we all make a more intensive use of audiovisual content, especially children and young people. Screens also constitute an essential part in their personal, social, and civic development, which is why at Movistar+ we have:
Labelling and cataloguing of content by age and typology.
Parental controls, parental PIN number, and purchase PIN number in the device which allows the customer to block minors from viewing on demand channels and contents.
Option to configure different profiles on the devices for each member of the household so that each one can access their favourite content. Availability of a specific children's profile for under 12 so that the youngest members of the household can move around in a safe environment (available for tablets and smartphones Android 8 or higher and iOS 12 or higher).
Content with a commitment to promote gender equality, healthy habits, the positive use of technology and awareness of climate change, among others.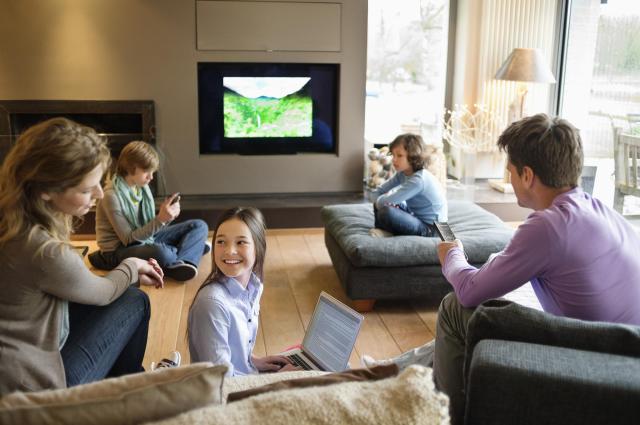 Key Products and Services
Telefónica is committed to the promotion and development of products and services (parental controls and other security solutions) which help families to successfully face the challenge of the digital world.
Similarly, together with our suppliers, we also evaluate the implementation of the basic parameters for the protection of minors, especially in the area of security, from the design of computer terminals to operating systems.
A task involving all of us
Guaranteeing a more secure Network is a task that we cannot address alone. We therefore rely on sectoral allies and society in general to work together to promote a more positive digital space through partnerships with law enforcement agencies, governments, NGOs, organisations and numerous experts.
Concern and Whistleblowing Channel
You can consult or complain about the compliance with our Business Principles