Leverage ratio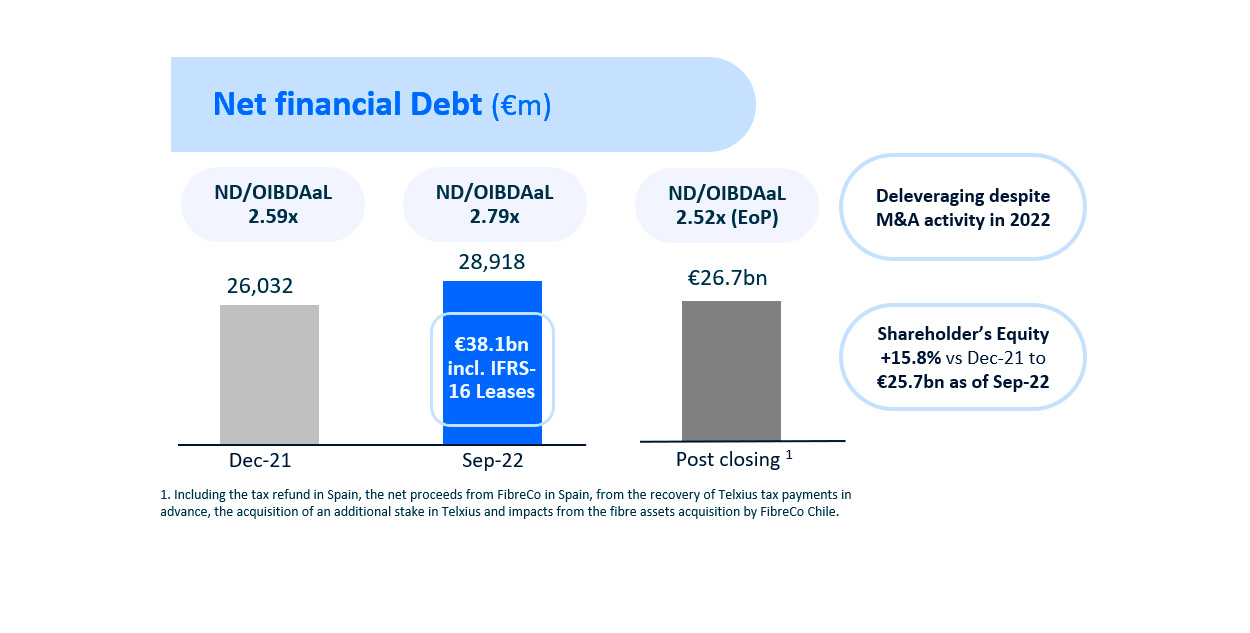 Net financial debt and commitments
Unaudited figures (Euros in millions)
| | December 2021 | September 2022 |
| --- | --- | --- |
| Non-current financial liabilities | 35,290 | 37,009 |
| Current financial liabilities | 7,005 | 5,496 |
| Gross Financial Debt | 42,295 | 42,505 |
| Cash and cash equivalents | (8,580) | (7,275) |
| Current financial assets | (3,823) | (3,022) |
| Non-current financial assets | (4,580) | (5,573) |
| Mark-to-market adjustment by cash flow hedging activities related to debt | 22 | 1,272 |
| Other current assets and liabilities | (13) | (219) |
| Other non-current assets and liabilities | 711 | 1,230 |
| Net Financial Debt | 26,032 | 28,918 |
| Lease Liabilities | 8,080 | 9,163 |
| Net Financial Debt including Lease liabilities (1) | 34,112 | 38,081 |
Notes: Net financial debt includes a positive value of the derivatives portfolio for a net amount of €2,196m, €2,950m included as financial liabilities and €5,146m included as financial assets.
(1) As of December 2021, includes assets and liabilities defined as net financial debt including lease liabilities of T. El Salvador, classified as non-current assets and disposal groups held for sale and liabilities associated with non-current assets and disposal groups held for sale.
| | December 2021 | September 2022 |
| --- | --- | --- |
| Net Financial Debt / OIBDAaL adjusted (1) | 2.59x | 2.79x |
Notes: (1) OIBDA plus adjustments and after Leases.
Financing activity
Telefónica, has raised long term financing in 9M 22 by €9,984m, of which €7,584m correspond to re-financing of the Group's debt (excluding commercial paper and short-term bank loans) while €1,740m equivalent correspond to a sustainable-linked term loan signed at VMO2, €599m equivalent correspond to new financing at Cornerstone and €61m to FiBrasil. Telefónica's financing activity allowed the Group to maintain a solid liquidity position of €22,108m and maintain long debt maturities with 2023-2026 gross debt maturities average at €2.9bn, 56% lower vs four-year average at Sep-16. Gross debt maturities amount to €3.0bn in 2023, €2.2bn in 2024, €4.3bn in 2025, €2.0bn in 2026 and €25.8bn in >2026. As of Sep-22, the Group has covered maturities over the next three years. The average debt life stood at 13.0 years.
Financing activities in Q3 22:
In July, T. Brasil closed an issuance of debentures for a total amount of BRL 3,500m (BRL 1,500m with maturity in 2025 and BRL 2,000m with maturity in 2027).
In August, VMO2 signed a GBP 1,474m sustainable-linked term loan with maturity in Sep-27.
In September, Telefónica S.A. signed a €150m bilateral loan with maximum maturity in Dec-32 while FiBrasil issued BRL 315M debentures with maturity in Sep-26.
Telefónica, S.A. and its holding companies continued their issuance activity under the Promissory Notes and Commercial Paper Programmes (Domestic and European), maintaining an outstanding notional balance of €226m as of Sep-22.
Undrawn committed credit lines with different credit institutions amounted to €11,811m as of Sep-22 (€11,414m maturing over twelve months), which combined with the cash equivalents position and current financial assets, placed liquidity at €22,108m.
Financial debt
Total Financial Liabilities Breakdown Including Lease Liabilities
Unaudited figures (Euros in millions)
September 2022
Bonds and commercial paper
Debt with financial institutions
Other financial debt (including governments) and net derivatives
Total financial liabilities (1)
89%
7%
4%
(1) Includes positive value of derivatives and other financial debt
Net financial debt plus Lease Liabilities structure by currency
Unaudited figures (Euros in millions)
September 2022
EUR
BRL
HISPAM
OTHER
Net financial debt plus Lease Liabilities structure by currency
74%
16%
11%
-
Financial expenses
Interest payments increased by 7.5% y-o-y in 9M 22 due to higher debt and interest rates in Brazilian real due to its appreciation against the euro, partly offset by debt maturities not refinanced in Europe. Thus, the effective cost of interest payments over the last 12 months stood at 3.95% as of Sep-22 (excluding lease interests: 3.94%).
Note: For further information, please access the January – September 2022 Results Report.