Leverage ratio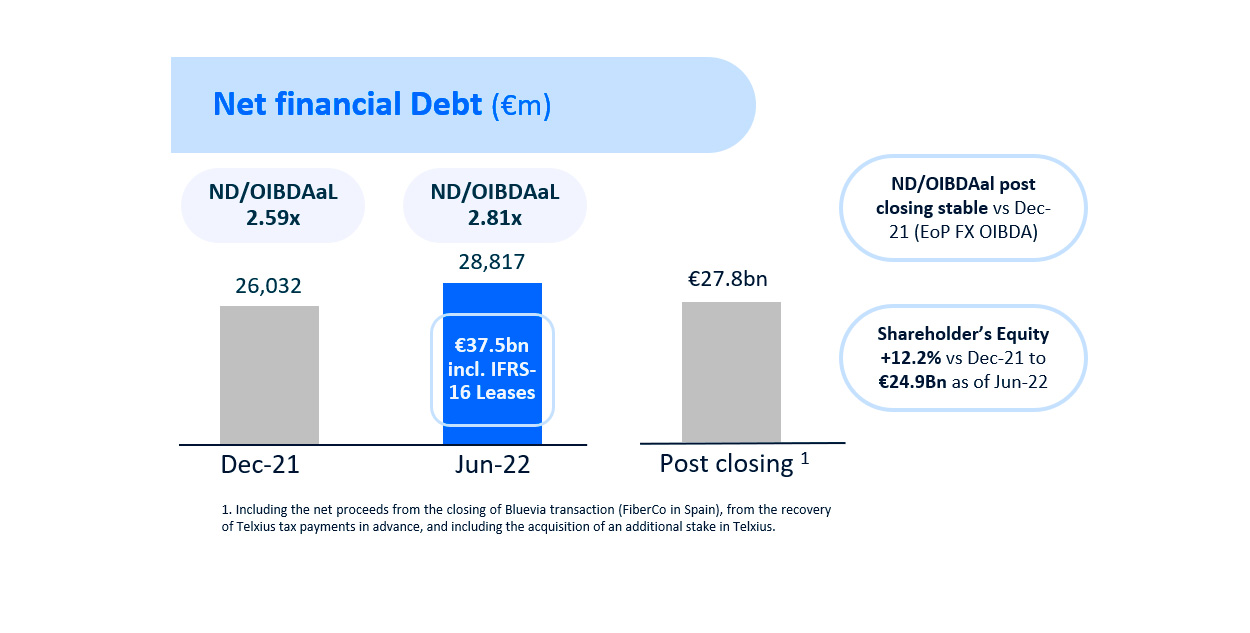 Net financial debt and commitments
Unaudited figures (Euros in millions)
| | December 2021 | June 2022 |
| --- | --- | --- |
| Non-current financial liabilities | 35,290 | 34,914 |
| Current financial liabilities | 7,005 | 5,387 |
| Gross Financial Debt | 42,295 | 40,301 |
| Cash and cash equivalents | (8,580) | (6,385) |
| Current financial assets | (3,823) | (2,659) |
| Non-current financial assets | (4,580) | (4,579) |
| Mark-to-market adjustment by cash flow hedging activities related to debt | 22 | 1,031 |
| Other current assets and liabilities | (13) | (169) |
| Other non-current assets and liabilities | 711 | 1,277 |
| Net Financial Debt | 26,032 | 28,817 |
| Lease Liabilities | 8,080 | 8,683 |
| Net Financial Debt including Lease liabilities (1) | 34,112 | 37,500 |
Notes: Net financial debt includes a positive value of the derivatives portfolio for a net amount of €2,507m, €1,495m included as financial liabilities and €4,002m included as financial assets.
(1) As of December 2021, includes assets and liabilities defined as net financial debt including lease liabilities of T. El Salvador, classified as non-current assets and disposal groups held for sale and liabilities associated with non-current assets and disposal groups held for sale.
| | December 2021 | June 2022 |
| --- | --- | --- |
| Net Financial Debt / OIBDAaL adjusted (1) | 2.59x | 2.81x |
Notes: (1) OIBDA plus adjustments and after Leases.
Financing activity
Telefónica, has raised long term financing in H1 22 by €7,392m, of which €6,793m correspond to re-financing of the Group's debt (excluding commercial paper and short-term bank loans) and €599m equivalent correspond to new financing at Cornerstone. Telefónica financing activity has allowed the Group to maintain a solid liquidity position and to further extend debt maturities. As of Jun-22, the Group has covered debt maturities beyond 2024. The average debt life stood at 12.8 years.
Financing activities in Q2 22:
In Apr-22, T. Emisiones completed a €100m reopening of an existing bond with a coupon of 1.864% and maturity in Jul-40.
Also in April, T. Brasil signed a USD 212.4m bilateral loan with maturity in Sep-23.
In May-22, Telefónica successfully issued its first senior sustainable bond, amounting to €1,000m and a term of nine years.
After the closing of H1 22, in July, T. Brasil closed an issuance of debentures for a total amount of BRL 3,500m (BRL 1,500m with maturity in 2025 and BRL 2,000m with maturity in 2027).
Telefónica, S.A. and its holding companies continued their issuance activity under the Promissory Notes and Commercial Paper Programmes (Domestic and European), maintaining an outstanding notional balance of €916m as of Jun-22.
Undrawn committed credit lines with different credit institutions amounted to €11,558m as of Jun-22 (€11,156m maturing over twelve months), which combined with the cash equivalents position and current financial assets, placed liquidity at €20,603m.
Financial debt
Total Financial Liabilities Breakdown Including Lease Liabilities
Unaudited figures (Euros in millions)
June 2022
Bonds and commercial paper
Debt with financial institutions
Other financial debt (including governments) and net derivatives
Total financial liabilities (1)
91%
8%
2%
(1) Includes positive value of derivatives and other financial debt
Net financial debt plus Lease Liabilities structure by currency
Unaudited figures (Euros in millions)
June 2022
EUR
BRL
HISPAM
OTHER
Net financial debt plus Lease Liabilities structure by currency
69%
20%
10%
1%
Financial expenses
Interest payments increased by 14.6% y-o-y in H1 22 as the reduction of debt in European currencies and seasonality effects were offset by the increase in interest rates and debt denominated in Brazilian real. Thus, the effective cost of interest payments over the last 12 months stood at 4.25% as of Jun-22 (excluding lease interests: 4.40%).
Note: For further information, please access the January – June 2022 Results Report.