At Telefónica, we are committed to respect and to the promotion the rights of all people. We work proactively to prevent any abuse related to our activity or that of our business partners.
Human rights must be respected in all situations by both us and our suppliers, whether when we deploy telecommunications networks or use technologies such as Artificial Intelligence
Our main challenges are privacy, freedom of expression and information, equality, working conditions, health and safety, and respect for the environment.
Moving forward requires a push from the company's higher level. For this reason, the ultimate responsibility lies with the Board of Directors of Telefónica: the Sustainability and Quality Committee ensures that we meet the human rights objectives set out in our Global Responsible Business Plan.
Have a look at our Due Diligence Report to get an overview of our Human Rights Management and insights into our latest Global Impact Assessment conducted in 2022.
We manage possible risks in human rights
In order to avoid or mitigate risks, we have a policy where we show our commitment, analyse the impact of all our activity on people's rights, integrate the measures necessary to promote said rights within our processes, monitor progress and challenges, and have a channel for anyone to raise queries or complaints with us.
Get to know the "Guiding Principles for Business and Human Rights"
Since 2022 we are part of B-Tech, a United Nations initiative, that aims to promote human rights in the digital sector and provides a multi-stakeholder platform for exchange and learning.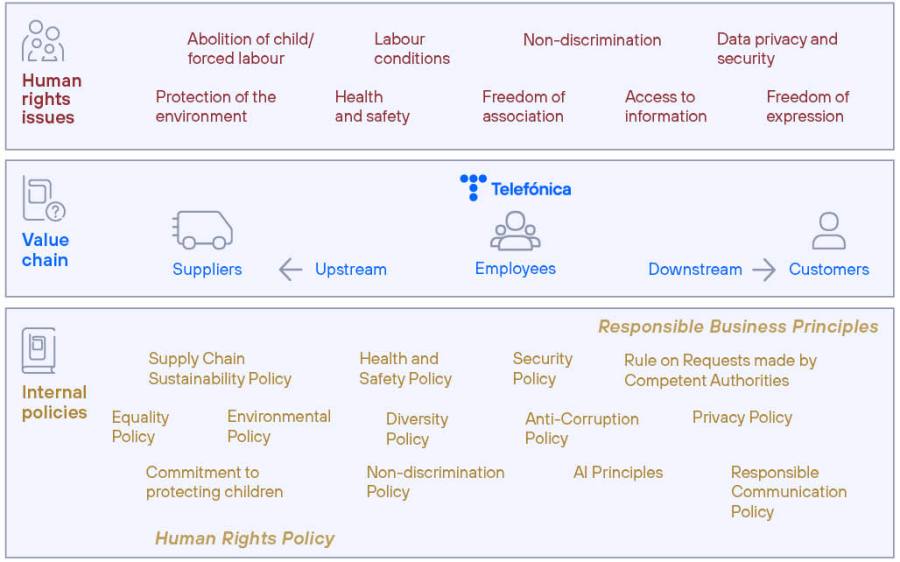 We assess our impacts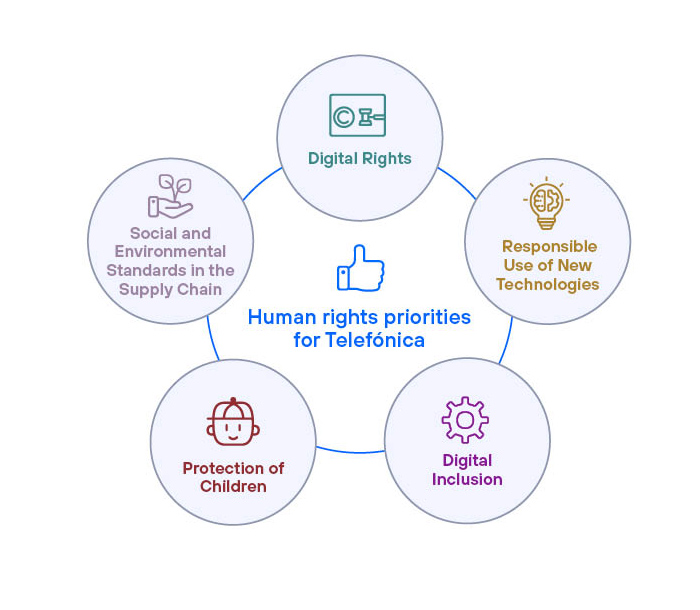 We conduct global human rights impact assessments to identify the actual and potential human rights impacts of our products, services and business activities and address them. In addition, we conduct biannual risk assessments:
We conduct bi-annual human rights risk assessments in all our markets in accordance with Corporate Risk Management.
We conduct specific impact assessments with a regional or thematic focus to get a more accurate picture.
Based on our impact assessments, the priority themes are: e-inclusion, digital rights, responsible use of new technologies, social and environmental standards in the supply chain, and child protection.
In 2022 we conducted a human rights and environmental impact assessment with external experts and different stakeholders, following the new national, European and international due diligence requirements.
We take action
We implement the recommendations of the impact assessments in the relevant areas of the company.
We train employees in human rights.
We integrate human rights into the design of our products and services.
At Telefónica we address human rights "by design" as part of our Responsibility by Design project. Thus, product managers analyse, at the beginning of the development of products and services, the possible impacts on human rights in general and privacy, freedom of expression, non-discrimination or vulnerable groups in particular.
Information and complaints
At Telefónica, we regularly monitor our risks and progress in human rights, which we make public in the Integrated Report and share with the Responsible Business Panel, where customers, employees, suppliers, investors and civil society are represented. In addition, anyone can submit queries and complaints to us on the Concern and Whistleblowing Channel.
Human Rights Policy
We promote respect for the rights of customers and employees, and seek to contribute to the progress of society.