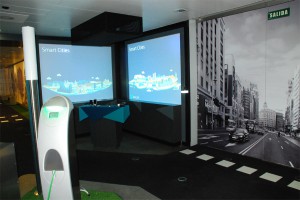 Cities are powerful engines of economic growth, fuelled by intensive interpersonal communication and high concentrations of specialized skills. However, urbanization's correlation with economic growth is mirrored by significant sustainability challenges, with cities today accounting for over 70 per cent of global greenhouse gas (GHG) emissions and 60-80 per cent of global energy consumption. Given that
an estimated 70 per cent of the world's population will live in cities by 2050
, sustainable urbanization has become a key policy point to administrations across the world. Here ICTs have a crucial role to play by increasing environmental efficiency across industry sectors and enabling innovations such as intelligent transport systems (ITS), 'smart' water, energy and waste management.
Aware of these needs, Telefónica is working hard on ICT innovative solutions for smarter and more sustainable cities and contributing to the work of international projects and working groups, such us the Standarization Group of Spanish Smart Cities and the recently created ITU-T's Focus Group on Smart Sustainable Cities (see Telefónica's Sustainability and CR Blog).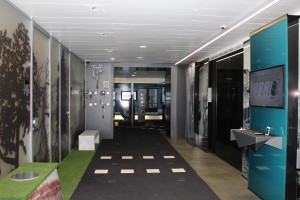 Currently, the Smart Cities portfolio of Telefónica could offer 27 different applications, including traffic and fleets management, smart parking and real time environmental monitoring. Telefónica customers, especially corporate clients and public administrations, can now see some of these ICT services at the permanent 'Smart Cities' showroom that Telefónica has opened at the Corporate Innovation Center within its HQ in Madrid. 'Smart Cities' is the first permanent showroom in Spain that hosts a wide range of intelligent solutions and services designed to optimize urban resources through the use of technologies such as M2M, mobile applications, Cloud Computing and Big Data. The 'Smart Cities' showroom allows its visitors to live the experience of being in an urban environment that is connected with the latest technology and check how actual innovative ICT services work. The showroom gathers the smart cities services around five thematic areas – urban mobility; energy, environment and quality of life; tourism and economy; eGovernment and Telefónica's Smart City platforms; and eLearning solutions – and is divided in two different areas: the guided tours area – with demos and projections- and the technological corridor – a street that shows the different services. Among the demos and projections we can highlight the following:
Services that provide information to electric car users and public administrations when the car is recharging its battery.
Innovative solutions that provide advice to drivers of corporate fleets on how to drive more efficiently.
Applications to inform drivers about the traffic.
Services that inform public administrations and drivers about availability of parking spots in urban areas.
Services that inform citizens on the availability of free taxis in the surrounding area and the route that the requested taxi has taken on its way to pick the customer up.
Services that allow bus users to pay the ticket through the mobile.
A variety of building automation and domotic services for energy efficiency, ranging from simple to very sophisticated ones.
A pilot project to improve efficiency on recycled cooking oil collection that consists on sensors placed at the oil tank which provide real time information on the tank's level.
Smart water sensors that inform the section of the water pipe in which a water leak has occurred.
An open data platform.
Smart services to develop tourism and economy.
Public classrooms to train citizens on the right use of technology and on the different Smart City services. This demo can be of great interest for public administrations.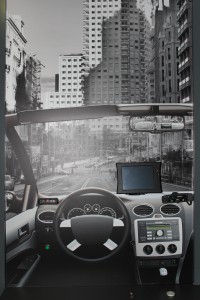 ]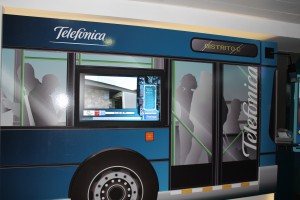 In regards to international projects and working groups, Telefónica has joined the ITU-T's Focus Group on Smart Sustainable Cities created on January 2013. This Focus Group acts as an open platform for smart-city stakeholders, such as ICT companies, organizations, municipalities, academic and research institutions, Non-Governmental Organizations (NGOs), industry fora & consortia, among others, to exchange ideas and best practices, with its primary goal being the identification of the standardized frameworks needed to support the integration of ICT services in smart cities.
This Focus Group is chaired by Telefónica and includes the following deliverables and specific tasks:
Defining the role of ICTs in environmentally sustainable smart cities, and identifying the ICT systems necessary to the development of a Smart Sustainable City.
Collecting and documenting information on existing smart city initiatives and technical specifications, focusing on the identification of standardization gaps.
Identifying or developing a set of Key Performance Indicators (KPIs) to gauge the success of smart-city ICT deployments.
Establishing relationships and liaison mechanisms with other bodies engaged in smart-city studies and development.
Identifying future smart-city standardization projects to be undertaken by its parent group, ITU-T Study Group 5.
Developing a roadmap for the ICT sector's contribution to Smart Sustainable Cities, providing cohesion to the development and application of technologies and standards.
The creation of the Focus Group answers a Call to Action on "Smart Sustainable Cities" proposed in September 2012 at ITU's 2nd Green Standards Week in Paris. "Smart Sustainable Cities'' is also the theme of ITU's 3rd Green ICT Application Challenge
See you at Telefónica's HQ in September 2013 at ITU's 3rd Green Standards Week!
Post written in collaboration with Paloma Villa, Telecom Policy Department, Telefónica S.A.