European Commission President Ursula von der Leyen recently stressed that "we need to focus on de-risk – not de-couple". With these words, Von der Leyen specifies that the strategy to exert greater influence on economic growth and reduce the risks of strategic dependencies is focused on promoting a level playing field in economic interactions with third countries, not on de-coupling.
Europe's strategic vulnerability has become evident when the dependencies of its industrial value chains on third countries have had a direct impact on its economy. The concepts of "Open Strategic Autonomy", also known as "economic security", and "reindustrialisation" are re-emerging strongly in an environment of geopolitical tension, economic uncertainty, and the polarisation of technological competitiveness between the United States and China.
Open Strategic Autonomy, the European strategic option supported by the Spanish Presidency
Europe seeks to design an industrial policy adapted to the 21st century, focusing on digital innovation and the dual transition to a more digital and green economy.
The aim is to strengthen the autonomy and competitiveness of strategic sectors. One of the most challenging aspects is to minimise the risks arising from asymmetries in economic interdependencies without sacrificing global business cooperation.
The Spanish Presidency of the Council of the EU supports this strategic option and prioritises the reindustrialisation of the EU and its Open Strategic Autonomy. Spain has the opportunity to promote those dossiers that foster the development of strategic industries and technologies, the diversification of trading partners and the strengthening of supply chains.
Digital Autonomy: beyond energy autonomy
When talking about Strategic Autonomy, the energy, defence, raw materials, or semiconductor industries come to mind. Digital and technological autonomy, however, should receive the same level of attention.
In the digital domain, Open Strategic Autonomy involves balancing autonomy in strategic technology areas with international cooperation. The latter is key to ensuring continued access to critical technologies and secure digital supply chains.
Connectivity and areas such as AI, edge-cloud computing, quantum computing or cybersecurity are important in the digital space. To promote digital autonomy, approaches that boost Europe's relevance in strategic digital areas and ensure the harmonised development of emerging technologies and balanced rules are needed.
In Telefónica's public positioning, we propose a 21st century industrial policy model focused on improving European competitiveness based on technology and innovation.
Digital autonomy and its relevance for a tech-based competitiveness
The global technology race is generating fundamental advances that have a decisive impact on the competitiveness of economies and their autonomy. The development of key technological areas has become a competition that will determine the economic leaders of the 21st century.
This competition is mainly between the United States and China, with Europe lagging behind. According to the Australian Strategic Policy Institute, China leads 37 out of 44 technologies in crucial technology fields such as defence, space, robotics, energy, environment, biotechnology, AI, advanced materials, and quantum computing, followed by the United States. And there is a big gap with the rest of the countries.
In addition, building digital infrastructures, key to driving robust and innovative technological and industrial ecosystems, is progressing at a slower pace. For example, 15% of mobile connections in Europe are 5G, compared to 40% in the United States, almost 53% in South Korea or 74% in China.
The technology gap is leading a loss of digital autonomy, especially sensitive in the age of industrial data. More than 90% of Western data is stored in the United States and a small number of large platforms, none of them European, generate almost 60% of data traffic on global networks.
This situation exposes Europe to decision-making by third parties, perhaps subject to different values and standards, in the digital domain. All this is taking place in a context where, according to the European Commission, 174 billion euros are needed to meet the connectivity targets of the Digital Decade 2030.
The technology gap affects the competitiveness of industries. Industrial policy must therefore strengthen those technological sectors that cut across industries and boost their competitiveness.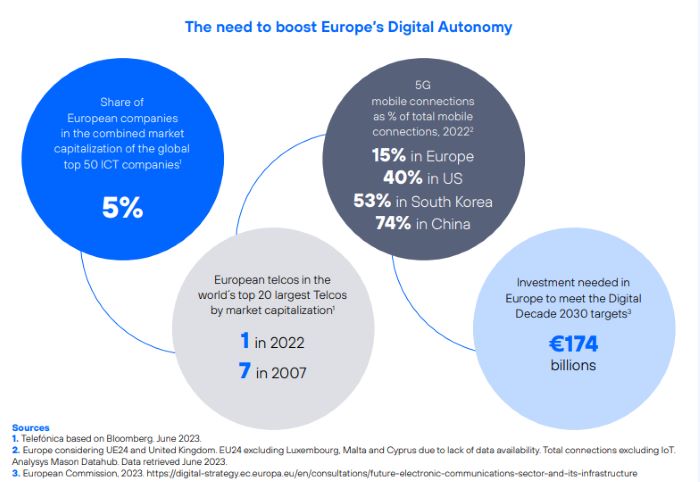 The telecommunications sector: a key partner
Telecommunications operators are key partners in shaping a 21st century industrial policy that promotes technological competitiveness and reduces the digital divide.
As operators, we deploy high-capacity, future-proof networks such as fibre and 5G and digital services based on a wide range of advanced technologies. This is the first step towards achieving effective Strategic Autonomy and fostering a sustainable and digitally advanced economy.
Connectivity is at the heart of the development of emerging technologies such as AI, edge-cloud computing, industrial robotics, digital twins, or immersive technologies such as the metaverse or web3.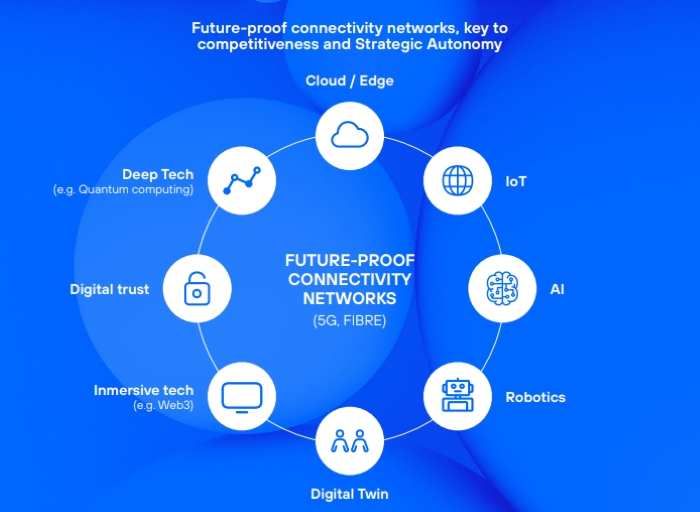 5G is a platform for business innovation: 5G will enable innovative use cases that will allow more efficient management, and higher performance of agriculture or industries.
And green transformation goes hand in hand. According to Ericsson, although the ICT sector's carbon footprint is around 1.4% of global emissions, it has the potential to reduce global greenhouse gas emissions by more than 15% by 2030.
Beyond connectivity, our sector offers technological solutions that accelerate the digital and green transition of all businesses: boosting the competitiveness, innovation, export and job creation capacity of industries, strengthening industrial ecosystems and positively impacting economic growth.
Recommendations for a 21st century industrial policy
Public policies should strengthen the competitiveness and sustainability of sectors that are decisive for economic growth in economies highly dependent on digitalisation. And the telecommunications sector plays an essential role in the European economy.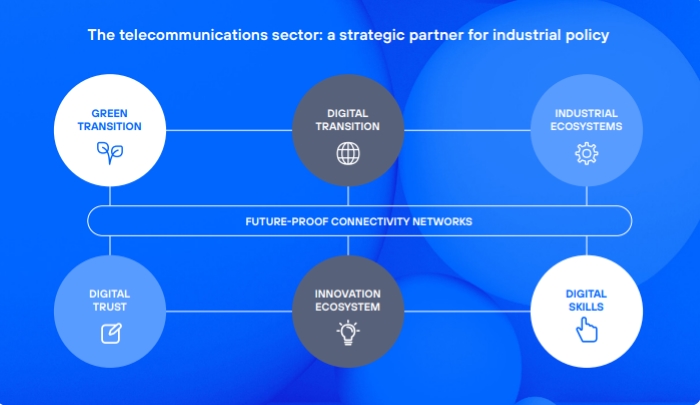 The availability of future-proof and ubiquitous networks is a competitive factor. Their strategic value calls for new approaches to ensure network readiness and sustainability over time.
Therefore, at Telefónica we believe that an effective approach should, in the first place, promote incentives for investment and innovation in connectivity networks to ensure adequate return on investment and resources. From this perspective, it is essential to foster sustainable market structures. And also, to simplify regulation, reducing deployment costs, eliminating sector-specific taxes and ensuring the availability of spectrum at reasonable conditions.
Secondly, it should foster a level playing field for the balanced development and smooth functioning of the digital ecosystem, for the sustainability of network investments. This requires promoting mechanisms that guarantee the fair contribution of ecosystem players. But it also requires promoting a level playing field in areas such as privacy, consumer rights and security.
Thirdly, connectivity infrastructures should be recognised as enablers of the green transition. Key to this is to include them in the European taxonomy of sustainable activities for attracting sustainable investment. And, also, building a coherent and consistent framework to foster the dual digital and green transition.
Finally, a holistic approach will be key to promote innovation and competitiveness of European industry: from public policies promoting R&D to commercialisation, to policies stimulating digital adoption, digital trust, employability and cooperation for the harmonised development of emerging technologies, such as immersive technologies or Artificial Intelligence.