For a competitive, digital, green, social, and open to the world Europe
The Spanish Presidency of the Council of the European Union is a milestone for promoting Open Strategic Autonomy, i.e. operating more autonomously in strategic areas, cooperating with other parts of the world and always acting on the basis of European standards and values.
For six months, from July to December 2023, and in the final stretch of the European institutional cycle before May 2024 elections, Spain will have the opportunity to influence and shape the European Union's agenda.
Europe's competitiveness will depend on its industrial capacity to offer services and products that contribute to successfully achieving the digital and green transition. It is therefore essential to strengthen permanent dialogue and cooperation between the public and private sectors to promote growth, sustainability and competitiveness.
In this common agenda, Telefónica advocates for:
Facilitating resilient and competitive markets in a digital world
Promoting a balanced digital ecosystem
Boosting digitalisation for a green transition
Open Strategic Autonomy:
Driving growth, sustainability, and competitiveness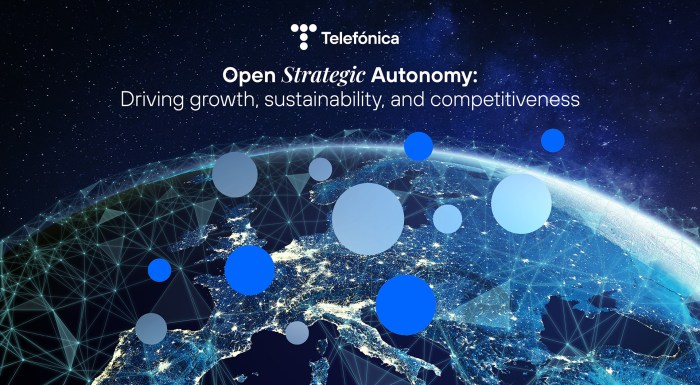 At the same time, the renewed cooperation between the European Union and Latin America is opening up a new horizon of joint initiatives that will strengthen institutional and business ties between the two regions. The EU-Latin America Digital Alliance and the Global Gateway will be fundamental driving forces in this new phase.
EU-Latin America Alliance:
Renewing a digital and green agenda