On March 2021, the European Commission presented a vision for Europe's digital transformation by 2030, the EU Digital Compass, with ambitious targets. With the start of a new investment cycle in the advent of 5G and future digital demand, Europe must seize the opportunity. Europe needs to focus on the long term and put in place the right policy framework to strengthen key strategic sectors and technologies and reinforce industries' investment and innovation capabilities.

Download the policy paper "Towards pro-investment market structure in the telecom sector: A necessary condition to meet Digital Decade goals"
The telecom sector is a strategic and key partner for Europe to emerge stronger
The telecom industry is one of Europe's strategic sectors and a key asset. Telecommunications is Europe's leading technology business, one of the few, with an added value of €141.5 billion per year. The sector is building the infrastructures that are the foundation to digital and green transformation and accelerating the technological adoption with 5G, edge computing, cloud, Artificial Intelligence, IoT, cybersecurity among others.
More than ever, Europe needs a strong and sustainable telecom sector as it becomes a reliable and strategic partner to modernize infrastructures, drive innovation and foster inclusive digitization of society and businesses. It can also accelerate the green transition of all sectors and strengthen industrial ecosystems, boosting competitiveness and strategic autonomy.
The European telecom market structure issue
However, the European telecom industry needs to be reinforced. The sector has a market structure issue that is weakening its investment capabilities jeopardizing the ability to meet on time EU digital and green goals.
This sector is highly fragmented at Member State's level. The current European regulatory and competition policy approach continues promoting artificial competition by increasing the number of players, and a preferential asymmetric treatment of new entrants.
Therefore, market fragmentation has become endemic by the rejection of in-market consolidation or the application of stringent remedies as condition for mergers, to preserve prices and number of players.

The approach taken to introduce competition during the liberalization process in the 1990s has hardly changed. Not even after the successful removal of entry barriers, and a complete swift in the digital market competitive landscape. This outdated approach after 25 years of liberalization of markets is leading to unsustainable telecom market structures.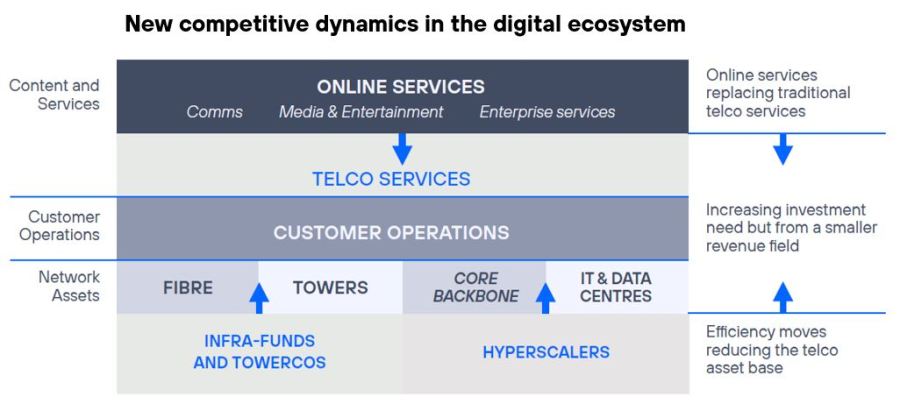 The consequences of the European telecom market structure issue
As a result, the value of the European telecom sector has been steadily declining due to falling revenues and investment returns, in contrast to other regions such as the US. This is a cause for concern, as this situation translates into a decline in the competitive and investment capacity of a strategic partner for Europe such as the telecommunications sector.

Investors attribute the sector's deflationary revenues outlook and depressingly low returns to an overly artificially competitive and fragmented landscape. The European operators lack in-market scale compared to their US counterparts. According to JPMorgan, "seven out of the top nine largest European Telecoms markets are characterized by four network-based competitors, and only two have 'just' three. This is before even considering the plethora of non-infrastructure-based competitors i.e. MVNOs".
This could have serious consequences not only for the sector, but also for the competitiveness of the European economy. Investments could and are already being redirected to other market sectors and geographies with more profitable telecom sectors. Undervalued European operators could also increase their vulnerability to acquisitions by agents from third countries.
This has already become a reality. By the end of 2021, Deutsche Telekom, one of Europe's leading operators, has divested its Dutch unit in favor of its US unit T-Mobile, reinforcing the German group's transatlantic focus, while Telecom Italia has received a takeover offer from US fund KKR.
Value destruction jeopardizes the sector's investment capabilities and is dramatic for Europe. It entails reduction of consumer welfare and a high risk of technological decapitalization, loss of competitiveness, strategic autonomy, and digital sovereignty. And a damaged telecom sector faces the challenge of investment to achieve Europe's ambitious digital and green goals for the decade. All this, in a context where 5G and digital autonomy may be game changers defining new paradigms.
Europe needs to adapt the competition framework to improve the European telecom sector's investment climate
To bend the tipping point towards a new path of sustainable growth and progress, Europe needs to take strong policy action to improve the telecom sector's investment climate. More telecom concentrated markets in Member States would better serve the consumer through sustainable competition and efficient investment in higher quality infrastructure. This will also facilitate adequate returns on investment.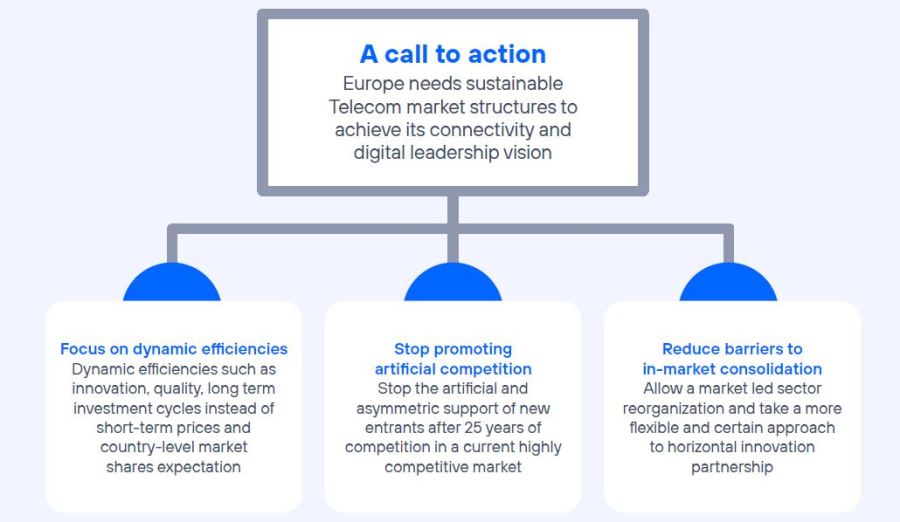 Competition policy needs to be updated and focus on reducing barriers to consolidation in Member States, like other regions are doing. It also needs to stop promoting the artificial competition and focus on long term investment sustainability and non-quantitative factors instead of on short-term prices and market shares. This is a necessary condition for Europe to promote pro-investment telecom market structures in order to meet the objectives of the Digital Decade on time.
Recursos Relacionados