Open data represents an important opportunity to solve some of the social and economic challenges we face today, such as reducing energy consumption and pollution or optimising traffic. However, the Covid-19 pandemic has shown us a clear example of how anonymised and aggregated data can contribute to challenges as important as combating the virus.
This is the case of the creation of two concrete tools available to European health authorities as a result of the public-private partnership between the European Commission and 17 Mobile Network Operators (MNOs), covering 22 EU countries. The European Commission's Joint Research Centre has been responsible for realizing this idea by receiving data from Mobile Network Operators integrating it and building these tools for health authorities.
The first tool combines mobility data from MNOs with official Covid-19 data and shows at country, region and province level the correlation between mobility and cases. In this way, it allows to understand ingoing, outgoing and internal movements and flows between different areas. This functionality was used in Spain during the first stage of the pandemic by the Ministry of Health. Furthermore, it helps to estimate how mobility restrictions can affect economic activities through the so-called mobility functional areas. Finally, it visualizes the vaccination situation in each Member State.
The second tool is a Scenario Analysis toolbox that allows health authorities to simulate infection scenarios by manipulating variables such as intensive care occupation, R (reproductive number of an infectious disease) and vaccination strategies. The tool is already being tested or used by health authorities in several European countries, including Spain.
In summary, aggregated and anonymised MNOs data has revealed its value for fighting the crisis and solve several COVID-19 problems. Among other advantages, it can draw on mobility patterns to predict the early spread of the virus, quantify the impact of distancing measures to make better decisions, improve epidemiological models of the spread of the virus or make better estimates, for example, in economic matters.
On this point, it is important to remember the differences between personal and non-personal data. Non-personal data include anonymised and aggregated data used in the tools mentioned above.
Personal data is considered as any information about an individual whose identity can be determined, directly or indirectly, e.g. by means of a name, location data or various elements of that person's physical, physiological, genetic, economic, etc. identity. On the other hand, non-personal data refers to information that is not linked to any specific user. For example, anonymised data are non-personal data and therefore their use respects the privacy of users. In this line, the European Union Data Protection Supervisor (EDPS) supports the use of such anonymised data in the fight against COVID-19, as confirmed in a public letter from the EDPS to the European Commission
Before being shared, the data are anonymised and aggregated in a complex process that includes the removal of personal information, hashing, removal of singularity, clustering and adding noise. The results are so-called mobility matrixes that represent the number of journeys between two different locations, such as <Madrid-Barcelona, Tuesday 17 March, 31.357 trips>.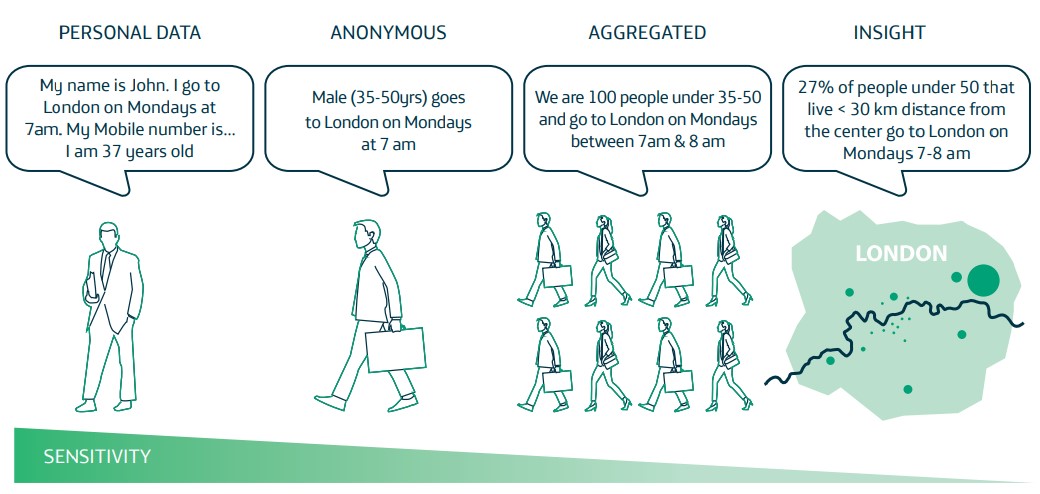 Source: A Manifesto for a New Digital Deal, Telefónica (2018)
As explained by Yvo Volman – Acting Director for Data at the European Commission:
"This collaboration between the Commission and mobile network operators has confirmed the value of mobility data in combating the pandemic and its consequences. I take this opportunity to thank Telefónica and all mobile network operators involved for their contribution. This initiative has enabled national health authorities to better understand and predict the spread of Covid-19 and to assess the effectiveness of public health policies and measures based on a data-driven approach".
A movement transcending European borders
Apart from Europe, in many other countries around the world, MNOs have been and are collaborating with governments in the fight against COVID-19. The Cambridge University Press Data & Policy Journal is publishing several special collections dedicated to specific experiences of MNOs and governments around the world in their fight against COVID-19. The first edition is being launched at Mobile World Congress 2021 on 30 June in a session on Pandemics and Technology.
Governments and mobile network operators around the world have experienced a steep learning curve on how to use anonymised and aggregated data to fight COVID-19. The GSMA and several European MNOs believe that the current collaboration should be developed into a permanent and sustainable early warning and management system for future pandemics. Initiatives such as this seem to fit well with the EU's Recovery and Resilience Funds. Moreover, this initiative could be the seed for the ambitious Health Data Space of the European Data Strategy.