Eduardo Navarro

Chief Commercial Digital Officer of Telefónica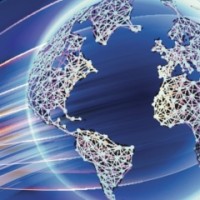 The Digital Revolution
We are evolving towards a hyper-connected and intelligent digital world that is opening up new opportunities for us all, from the digital natives, to those with disabilities and increasingly so, to the elderly too. Many of us can find the vast digital landscape disruptive, but we can see that connectivity is essential in our day to day lives with 43% of the world's population is connected to the internet. But if we think those figures are staggering, the predicted growth we have ahead of us is even more impressive: by 2020 90% of 6 year olds and over, worldwide, will have a mobile phone! Not to mention 50 billion 'connected things' thanks to the internet of things.
The digital revolution opens many doors and brings opportunities flooding to many, but that doesn't detract from the fact that Europe's main challenge is economic growth and job creation. If utilised intelligently, the future of the digital economy will bring new prospects to an era of productivity and innovation, which are the two catalysts for wealth creation in Europe. When compared to the USA, Europe is worryingly behind with 41% of European companies not yet on the road to being digitized. However, in the US between 2001 – 2011 55% of its GDP growth was due to the incorporation of ICT services. When compared to the EU, it is left straggling behind with a 30% in the same time frame. This comparison alone highlights that Europe is massively missing out on a leadership opportunity within the technology field.
The new digital era is based on connectivity, as much fixed as mobile, making the Telco sector a key player for the future but there are only 2 major European technology and major internet companies within the top 10! The key to the new digital landscape will be to ensure that everyone and everything is connected, thus creating opportunities for many more people, worldwide. Not only is Europe not featuring prominently enough within the Top 10, but the US' annual investment into the Telco industry is 40% higher. Europe needs to act now, but what is the solution?
By developing and strengthening an innovative digital ecosystem based on best in class, ultra-fast broadband connectivity that supports the best digital services, we can promote a level playing field among all players of the digital ecosystem to avoid regulatory asymmetries which would in turn create competitive disadvantages. This in turn would allow us to establish the appropriate conditions to stimulate entrepreneurship and innovation. But as with all good ideas, comes the bottom line and in this case it is the need to have a correct policy and regulatory framework in place.
The Commission's DSM (Digital Single Market) strategy provides a unique chance in this regard as it rightly places a high priority on these issues. Policies and regulations, should be revised, considering the whole Internet value chain and ensuring non-discrimination and a level playing field amongst parties, applying the principle "same services, same rules, same rights". No agent in the digital ecosystem should be treated in a different way in areas such as privacy, transparency, security and data protection.
Another crucial solution for Europe's success is to foster the creation of new innovative digital companies and it could use other countries that suffered severe economic crisis in the past as an example. South Korea is a shining example of how to tackle economic issues: between 1998 and 2003 (just after the Asian crisis) South Korea increased by 50% their investment in R&D. Whereas comparatively, in Europe, Spain for instance, recently reduced R&D investments by 10%.
It may seem like an uphill struggle for Europe, but on the plus side, it does boast a dynamic and healthy landscape of accelerator and incubator initiatives as well as early stage funds. Telefonica realizes that more needs to be done and as a result, in 2014 invested around €7bn in R&D. Due to being so committed to entrepreneurship and innovation, they also launched Telefonica Open Future, a platform that has achieved no less than 553 digital startups and scaleups invested, 62 public and private partnerships in 18 different countries and €550 million of committed investments. We believe strongly in cross-sector collaboration and that is why we partner with the European Commission and other company initiatives such as the European Digital Forum or the Startup Europe Partnership.
Unfortunately, no industry is immune to the digital revolution but Europe faces a unique chance to foster investment in best in class connectivity and leverage on its potential to promote an innovative digital ecosystem. Carried out successfully, this will allow European citizens and industries to fully reap the benefits of the digital revolution, which is a nutshell is what we're after.