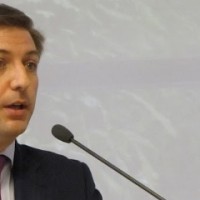 As Chairman of ETNO's newly formed Trade Working Group and Manager for Latin American Affairs and Trade Policy at Telefónica, David Frautschy Heredia shares his thoughts on trade negotiations and their place in the new Digital landscape: "Trade agreements should incorporate a chapter on the Digital Economy, settling a new scenario of market openness, with equivalent responsibilities and obligations for all market participants" #ThinkDigital
Why does ETNO have a specific Working Group on Trade issues and what topics does the group follow?
A few ETNO members have made important investments outside the EU: Telefónica is present all across Latin America; Deutsche Telekom has operations in the USA and in some Eastern European countries; Orange is active in Africa and the Middle East; Telecom Italia is in Brazil and Telenor is a growing operator in the Far East. Moreover, the EU has finalised or is currently negotiating Trade Agreements with many of the countries in those regions. These pacts contain provisions on regulatory issues, including telecommunication services and eCommerce. It is important to follow the processes and provide guidance to DG Trade officials, so they are aware of the challenges faced by European operators in those countries, both during the negotiations and also after the signature, to assure that the implementation of the accords is executed as expected.
In addition to this, the EU, together with a set of countries that represent 70% of global trade in services, is negotiating the Trade in Services Agreement (TiSA). The objective of this agreement is to renew the much outdated WTO's General Agreement on Trade in Services (GATS), that was agreed 25 years ago in a very different competitive scenario and that is still the basis for most regulatory frameworks. TiSA aims at opening up markets and improving rules in areas such as licensing, financial services, telecoms, e-commerce and professionals moving abroad temporarily to provide services. It's important to have ETNO's opinion on these matters shared with the relevant EU officials.
The competitive landscape for telecoms has changed in Europe and between different geographic regions. How are global trade discussions reflecting this new reality?
Indeed, the competitive landscape has changed globally. We face new entrants in our market: we all know about the challenges that internet-based service providers place upon traditional telecommunication providers; but we are also challenging others, delivering audio-visual content, providing banking and payment services or security surveillance, to name a few. These changes have some reflection on trade negotiations, but not always in the most desirable fashion. We are witnessing exclusions – carve outs, in the trade jargon – of entire service sectors, like the audio-visual and the financial; we see growing eCommerce chapters, where negotiators seem to be dumping the issues they don't know where else to fit, like Net Neutrality or roaming. Finally, the negotiations are also tackling cross-cutting issues, like the flux of data across jurisdictions that is very relevant to all economic sectors, not only Digital Economy players.
The reality of service convergence, where customers don't really care about the underlying technology that is utilised to deliver a service, should have a reflection on the structure of the agreements. In our view, the new agreements should incorporate a new single chapter for the Digital Economy, settling a new scenario of market openness, with equivalent responsibilities and obligations for all market participants.
As Chairman of the ETNO Trade Working Group, can you explain ETNO's position on TiSA and TTIP?
ETNO has been a supportive association for trade agreements: as a tool that brings stimulus to the economy and certainty to investment, these deals are more than welcome. This has been the case with previous agreements that the EU has signed with less powerful economies. The TTIP and the TiSA are quite different, in the sense that for these agreements, the main focus of the deals shifts from lifting import/export tariffs, to eliminating obstacles to  trade, like red tape, redundant compliance tests  or obsolete obligations. These negotiations will be a success if the EU and its trading partners can agree on common rules for products and services – e.g. on issues like car safety or pharmaceuticals – or enter in a process of reviewing and comparing current obligations trying to find modern ways to approach the new market realities. Both TTIP and TiSA shall help in this direction.
ACTA was a very high profile trade debate. To what extent do you believe ACTA has had an impact on how trade agreements are and will be negotiated going forward?
The defeat of ACTA revealed three important factors to be considered by trade negotiators from now on. First, the power of mobilisation of the general public is enormous; if an agreement contains issues that are perceived negatively, they will react fiercely against it and make sure that politicians react accordingly. Second, the powers granted to the European Parliament by the Lisbon Treaty on Trade Policy (all agreements shall be ratified by the EP, with no power of amendment, but rather a "yes or no" vote), have been used and may be used again. Third, in this era of collaborative thinking, secrecy is hard to maintain and negotiators must realise that sooner or later their working documents may be subject to leakage. Transparency on the substance of the objectives and permanent stakeholder consultation must be incorporated to the daily work of negotiating teams.
E-Commerce is a driving force for citizen's welfare and for economic growth in the EU and beyond. In what way do trade agreements foster its development and create a positive Digital environment?
I agree, eCommerce has meant a revolution, not only for the large providers of eCommerce services, but also for SMEs who benefit from the possibilities of expanding their markets and for citizens, who see their purchasing options expand enormously. Trade agreements are already tackling this issue, for example by assuring that the data that allows these transactions can flow across borders, by assuring that legal e-signatures are valid in other markets or by abolishing customs duties on electronic transmissions. But if eCommerce is to be expanded even more, trade negotiators must introduce provisions to assure the compliance with privacy and security laws. It should be guaranteed that data that has crossed borders and is stored in other countries, is handled and processed in compliance with data protection and security rules in force in the country of residence of the data subjects. This would enhance trust of users and certainty of companies, thus creating the positive Digital environment you mention.
By ETNO #ThinkDigital, Brussels, 04.01.2015
***
David Frautschy, Manager for Latin American Affairs and Trade Policy, Telefónica
David Frautschy is Manager for Latin American Affairs and Trade Policy at Telefónica S.A., and has been based in Telefónica's Brussels Office since 2009. He is Chair of ETNO's Trade Working Group. He has worked for Telefónica since 2000, first in its mobile unit in Germany, then joining Telefónica Internacional working as Technology and Operations Manager for Latin America. He is a graduate in Telecommunications Engineering and holds a Master in Business Administration.
This post has originally been published at ETNO ThinkDigital blog.