The Fashion group SMCP has selected Telefónica as a partner to modernise its communication infrastructure and is developing its European network deploying a "full IP" infrastructure. The modernisation of the SMCP group's WAN network and voice services through Telefónica's SD-WAN and Cloud PBX solutions enables the implementation of a secure private network while rationalising the associated costs with an economic model adapted to the current context.
SMCP relies on a Telefónica robust and reliable platform, which enables the modernisation of the SMCP Group's telephony network with minimal impact on the habits of its users. This new infrastructure will allow an increase in terms of innovative services for customers (cloud-based) that require more bandwidth with the best user experience.
Telefónica is supporting SMCP's digital transformation in 900 points of sale in 14 countries across Europe, from customer experience transformation to data processing and facilitating the implementation of omnichannel services, thus contributing to SMCP's 'One Journey' strategic plan.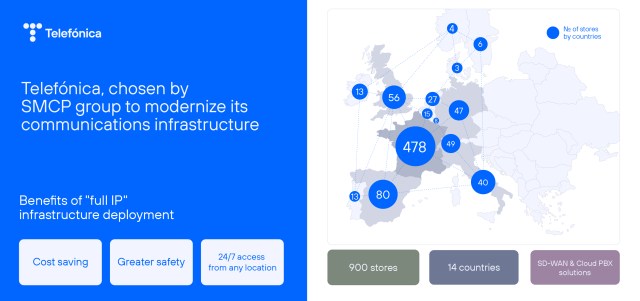 Telefónica offers a stable, global platform with extensive fibre coverage across Europe to support SMCP Group sites.
Sylvie Quandalle, Chief Information Officer (CIO) of SMCP, commented: "We have chosen Telefónica because of its strong platform and presence in the area where we operate. The SMCP group is currently implementing the "One Journey" strategic plan, which will lead to a seamless customer experience between the physical network and e-commerce. I especially appreciate Telefónica's ability to industrialise the support and support our local teams".
For his part, Javier de la Plaza, Global Head of Multinational Clients for Telefónica Global Solutions added, "We are proud to have been chosen by the SMCP group to support their digital transformation. We have some exciting opportunities to support them with a range of complementary services, from site digitisation to data exploitation.