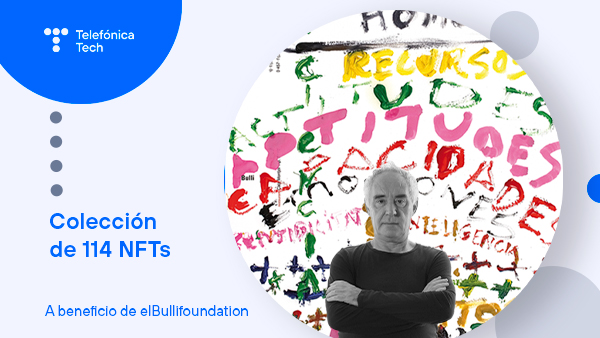 Telefónica creates a collection of NFTs from a series of drawings by Ferran Adrià reflectinghis theory of culinary evolution 
• The collection consists of 114 unique NFTs associated with drawings by Ferran Adrià, which can now be purchased for 0.1846 ETH each, equivalent to around 500 euros.
• Telefónica has immersed itself in Web 3.0 and the metaverse by developing a virtual space on the website elbullifoundation.com where it is possible to visit the collection of drawings and make purchases through it.
• Telefónica Tech, through its TrustOS product, makes possible the publication of this collection of NFTs in marketplaces and public networks that are accompanied by a certificate that makes it possible to attribute and prove the ownership of the content.
• All proceeds will go to elBullifoundation, a foundation that helps to promote the gastronomic legacy created at elBulli throughout its history.

Communication
Contact our communication department or requests additional material.