October 18 marks World Menopause Day, a physiological period in women's lives conditioned by hormonal changes. And although 50% of the world's population is going through or will go through this vital moment, it has historically been a subject surrounded by taboo, stereotypes, misinformation and doubt. So much so that 85% of women with menopausal symptoms do not receive effective therapy.
However, in recent years, cultural shifts have resulted in more open and productive conversations involving women's health. The startup ecosystem has joined the conversation, seeking to fill the gaps evidenced by these cultural shifts. They are providing solutions that range from wearables that relieve hot flashes, to mobile apps that support women through the phases of the hormonal cycle. FemTech,  the tech space that serves needs related to women's health, continues to attract entrepreneurs and technologists, who undeniably are delivering a positive impact to their customers.
What is FemTech
The FemTech sector is here to stay, as evidenced by the more than 1,224 startups and $20 billion invested (reported in early 2023).
The growth of this industry is due in great part to the boom in diversity initiatives that are closing the gender gap in healthcare. This is evidenced across the entire value chain: from scientific research, to better training of healthcare professionals in women-specific conditions, as well as the development of gender-specific technology, which is often backed by a growing number of women managing partners in venture capital.
FemTech solutions span a range of health tech products and services sharply focused on the biological needs of women. A subcategory of HealthTech, Femtech highlights and mitigates the historic and systemic exclusion of women's healthcare needs in the healthcare industry.
FemTech solutions address the different stages of a woman's life, from puberty to advanced age: menstruation, contraception, abortion care on demand, fertility treatment, gynecological disorders, culturally and ethnically inclusive solutions, maternal and fetal health, breastfeeding, menopausal health and geriatric care or cancer screening, among others.
Femtech solutions can be quite specific. The best served subcategories include fertility, maternal health, and female sexual health. Other types of solutions are less specific and overlap with general Healthech, such as primary care, telecare, mental health, wellness, cancer or nutrition.
Gaps in the Femtech market
While FemTech startups have traditionally been underfunded or underfunded, some promising changes are occurring, thanks to:
cultural-societal factors that have recently driven new growth opportunities in FemTech, including increased representation of women in the venture capital industry and greater awareness and acceptance of women's health issues.
These developments have contributed to a steady increase in funding for FemTech over the past decade. In 2019, the global FemTech market generated more than $820 million. According to PitchBook, that figure will reach $3 billion by the end of 2030.

While most FemTech products have traditionally focused on reproductive health, PitchBook analysts believe that new approaches in women's health research will open the door to new products and services, and new investment opportunities, as there are still plenty of unmet needs to serve related to menopause, contraception and infections.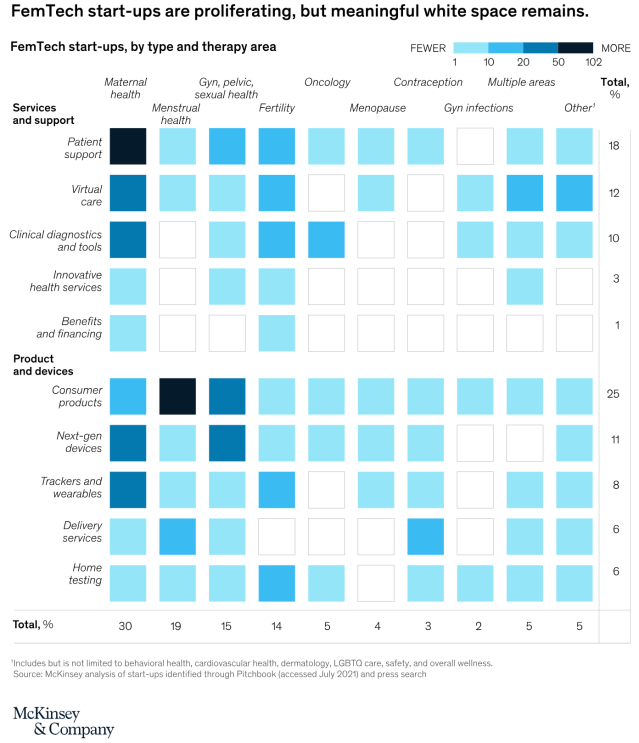 source: https://www.mckinsey.com/industries/healthcare/our-insights/the-dawn-of-the-femtech-revolution
MenopauseTech, the new FemTech frontier
If FemTech is a niche category in the healthcare industry, menopause is the niche of niches. The menopause market is now in an early stage focused on raising awareness and breaking taboos, revealing a previously uncovered market: women between the ages of 45 and 55, who generally enjoy higher purchasing power than at other stages of life, and suffer distressing menopausal symptoms such as cognitive decline, vasomotor symptoms (e.g. hot flashes and sweating) or insomnia. They are seeking solutions (e.g.: medical treatment options and wellness therapies – nutrition, fitness, mental health) to stay active and healthy in every way.
Furthermore, women are living longer (increased life expectancy) and women-specific longevity opportunities are expected to grow. After all, longevity is about living longer, better. Today, among the main solutions offered to women experiencing perimenopause –  the time during which your body makes the natural transition to menopause, marking the end of the reproductive years – and/or menopause are:
1.Traditional medical care: when professional medical support is required (space with strong health regulations)
2.Wellness and lifestyle:
HRT (Hormone Replacement Therapies)
Education and communities
Nutrition and supplements
Fitness and lifestyle habits
Sleep health
Mental health
Smart clothing
Cosmetics
3.   Technological solutions: the technologies used (such as Artificial Intelligence- AI-) are the same as those applied to health technology in general, the differentiation lies in the specificities of women:-      Women's data for scientific research.
Women's data for scientific research.
Monitoring of specific biomarkers + AI diagnostics (for prevention and digital therapeutics)
Ecosystem of startups around MenopauseTech
We can see that startups in MenopauseTech could fit into 4 types of solutions:
1. Devices: These solutions, which include but are not limited to wearables, are catching the eye of their target audience. This is the case with Embr Wave, a wristband that gives you immediate relief from hot flashes and improves sleep or Moona a device that contains a heat pump that uses water to regulate the temperature of your pillow.
2. Physical products: The biggest market in terms of valuation and value proposition seems to be physical products that are offering different solutions for consumer needs. One example is Mina Health, a home menopause hormone analysis kit that provides real-time information on the status, duration and cycle in which the user is in menopause.
3. Digital assistance and therapy: These types of solutions focus on digital trackers and companions to control and regulate the different symptoms in each phase of menopause. MBody (Baby-to-Body) is a Wayra-invested company that offers a wellness program for women. It is designed to help users understand their body, hormones and health at each stage. It can also build a customized program based on age, stage, goals and symptoms.
4. Virtual care: The main objective of these startups is to connect users with specialists who aid them across the patient journey. Symptom trackers and other supporting features help healthcare specialists with their work. For example, Gennev is a platform of menopause specialists equipped with scientifically supported and proven treatments to alleviate menopausal symptoms. Gennev's diagnoses provide patients with a personalized view of their menopause journey.
FemTech and MenopauseTech at Telefónica
Telefónica already facilitates FemTech solutions focused on menopause in health marketplaces, as is the case of Vivo con Vida V (Vivo just acquired the startup Vale Saúde Sempre)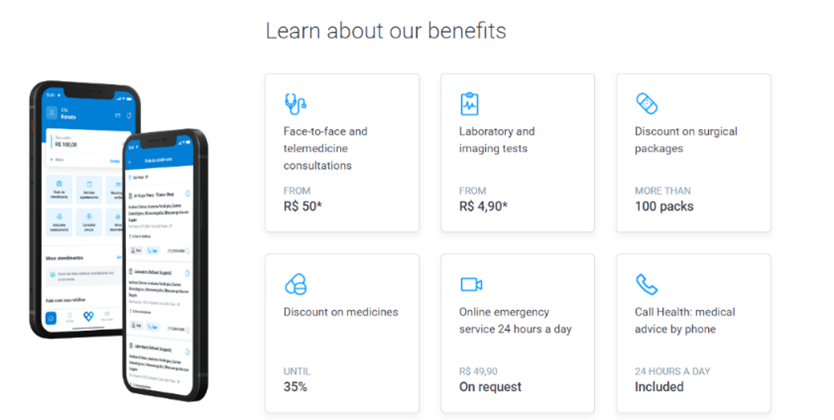 Wayra also is betting on FemTech. Wayra-backed Body Collective offers Baby2Body, an app for pregnancy health, and MBody , a new menopause-related app. We also back Virtue Health's app Caria, a support community for women in perimenopause and menopause that offers help and support from professionals.