On Thursday 22 May, I attended with other representatives of Telefónica a Lisbon Council event at the Residence Palace, Brussels, where a "who's who" of successful web entrepreneurs and leaders met to talk tough on digital. At the event, President Barroso highlighted the importance of digital to the European recovery.
Then, Vice President Neelie Kroes formally launched two new initiatives first announced in Davos in January. First, a brand-new think tank, the European Digital Forum, to raise the political profile of this sector, and show just how essential is. And second, the Startup Europe Partnership, a new platform to help start-ups break beyond the glass ceiling and go global. Speaking from New York prior to the event, where she just addressed the UN General Assembly, sharing her vision for a Connected World, Neelie Kroes said:
"European start-ups can innovate and create jobs like no-one else. We need to give them the opportunities to compete, to raise funding, and to break through the glass ceiling to global success. I am thrilled to be sharing the floor with so many top leaders in tech, who can share their experiences, and tell their political leaders what more we can do to help".
A panel of real-life startup success stories then set out how to strengthen the European tech scene, including the heads of Rovio, Spotify, and The Next Web. All of them are global big-hitters – and all of them contributed to the Startup Europe Manifesto, a collection of 22 ideas to help support tech entrepreneurs in Europe – which first suggested the idea for these two initiatives.
Ahead of the event, founder of The Next Web, Boris Veldhuijzen van Zanten, said:
"Entrepreneurs are by nature strong individuals who believe in making it on their own. That doesn't mean we shouldn't help them to achieve even greater things. We can do that by removing obstacles or giving them a head start or lending them a hand when they need some help. I'm proud that I'm part of a European group of entrepreneurs who work together with politicians and policy makers to help European entrepreneurs excel, even before they ask for our help."
Founding partners of the two initiatives — including BBVA, Orange, Telefónica, and the European Investment Fund – set out why this matters to them. When asked why they are so happy to be involved in these initiatives, José María Alvarez Pallete, COO of Telefónica said:
"We are very pleased to be Founding Partners of the European Digital Forum and the Start-Up Europe Partnership, taking forward the recommendations of the Digital Manifesto launched at Campus Party London. It is our belief that securing a more prosperous and innovative Europe can only be achieved by combining efforts of industries, SME's and institutions through initiatives like the ones launched today. "
José María's comments follow those he made at the World Economic Forum in Davos earlier in the year, where he praised Telefonica's Think Big initiative for succeeding its Grand Coalition pledge in providing digital skills for young Europeans across Europe.
Fellow founding partner, BBVA, added:
"At BBVA we firmly believe in the opportunities of the digital transformation in the financial services industry and therefore are proud to be among the founding members of both the EDF and the SEP, who will be key contributors to promote innovation and a level playing field in the context of the European Digital Agenda".
And we aren't talking peanuts: over one thousand European start-ups have succeeded in breaking the million-dollar investment barrier! 57% of these companies were founded after 2010 (data collected by the SEP, for more info contact Serena Orizi on sorizi@mindthebridge.org).
So, another great day for entrepreneurs in Europe, with the EU providing a practical, concrete boost!
Follow link to the EDF press release.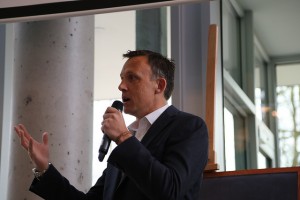 Frederic Michel, Global Director of Public Engagement, Telefonica SA
Europe Director of Public Affairs, Communications and Social Impact,  Telefonica Europe