Tuesday 3 December 2019
More than 1,300 million people in the world live with some form of disability, and 80% of these people acquire this condition at a working age. In this context, companies can play a key role in improving their quality of life and promote and take advantage of this great social and economic contribution.

With this dual objective in mind, as part of the Telefónica Accessible project, the company has joined the global initiative known as The Valuable 500 together with a growing list of major companies committed to reinforcing the presence of disability on the global agenda. Telefónica thus takes a step forward in promoting equal opportunities through four specific commitments:
Review critical internal processes and create the appropriate framework to ensure full integration of people with disabilities in the Group. We will guarantee that our recruitment policy prioritizes candidates with disabilities.
Develop innovative projects that harness the full power of technology to improve the lives of people with disabilities and contribute to the Sustainable Development Goals of United Nations.
Implement actions that allow us to ensure a more inclusive work environment, in which the uniqueness of beliefs, backgrounds, capacities and ways of life are incorporated and used to make the best business decisions
Make public our commitments and ensure senior management engagement via our Diversity Council.
José María Álvarez-Pallete, Chairman and CEO of Telefónica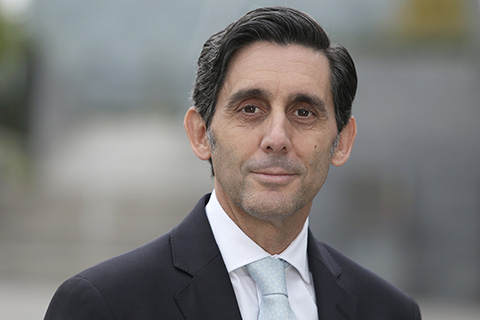 "I'm delighted that we are joining The Valuable 500 and pledged our commitment to disability inclusion. At Telefónica we aim to use the power of technology to improve people's lives, and recognize that having a workplace that reflects the diversity of the communities we serve is vital to understand the needs of our customers. Around 1.3 billion people live with some form of disability and companies are key in promoting concrete measures to ensure diversity"
Accessibility as the starting point
Our aim is to become a fully accessible company and actively contribute to creating equal opportunities for people with disabilities. To achieve this, we are integrating the "Design for All" philosophy into our value chain, incorporating accessibility into our processes from the earliest stages. We believe that accessibility and usability go hand in hand and reinforce our customer-focused approach.
But this is just a first step. To achieve true integration, we need to improve our understanding of the multiple realities and needs of people with disabilities, putting ourselves in their shoes to recognize the obstacles they face in their daily lives. We believe in the value and importance of awareness-raising initiatives to foster empathy and to break down underlying biases and prejudices.
To improve something, it has to matter to us, and it can only matter to us if we understand it.
Moving towards a more accessible Telefónica
Technology is a key tool to improve the lifes of people with disabilities. Technological innovation helps people with hearing disabilities to communicate with colleagues, people with reduced mobility to overcome physical barriers and people with intellectual or cognitive disabilities to carry out everyday tasks that were previously unapproachable for them.
Aware of the enormous value of these advances and our responsibility as a communications provider, Telefónica has been working in this field for more than 40 years with the conviction that new technologies applied to products and services can, and must, break down barriers.
We have a solid starting point, ATAM, our mutual support association. This unit continues to work daily to improve the value proposition for employees who face situations of disability in their families, applying technologies such as IoT, cloud computing, artificial intelligence and Big Data.
Other technological projects that illustrate of our commitment with accessibility include our TV service, Movistar+ 5S , which has allowed us to become the first private television channel in the world providing accessible high-quality content with subtitles, audio description and sign language for people with visual and hearing disabilities. Finally, another noteworthy project is Mapcesible, a collaborative platform on which anyone can map the accessibility facilities of the sites they visit and read other users valuations to plan their trips.
Our aim is to ensure that all our customers can access information and make their decisions on equal terms. Therefore, we have classified our catalogue of mobile devices by accessibility criteria and adapted our stores to the varied abilities of users. In addition, in operations such as Spain and Colombia, we are striving to improve the accessibility conditions of our call centres, with the aim of enabling communication between a customer with a disability and an advisor through an interpreter.
Telefónica Accessible project does not limit itself to the promotion of products and solutions, it also exploits the dimensions of talent, physical premises and processes. Working on these four strategic pillars enables us to approach accessibility from an encompassing perspective. We do this because we are convinced that this strategy, in addition to responding to the principles of social justice, provides major benefits for the business.
#SomosDiversos #SomosTelefónica
Tatiana Espinosa, director of Labor Relations at Telefónica, and
Arancha Diaz-Lladó, director of Diversity of the group