Chema Alonso
Chief Data Officer, Telefonica.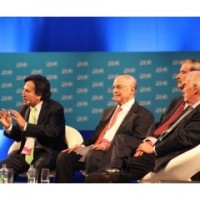 After delivering Telefonica's recent Global Millennial Survey (GMS) findings to young leaders from across 190 countries, Ronan Dunne, CEO Telefonica UK, welcomed four former Latin American presidents onto the stage at the One Young World Summit in Dublin, Ireland.
President Alejandro Toledo (Peru), President Ardito-Barletta (Panama), President Vicente Fox Quesada (Mexico) and President Pastrana (Colombia), took their seats for what was an intimate look inside a continent from those who governed a combined population of over 170million.
Chairing the session, Ronan Dunne started by revealing findings from the second millennial survey, which found millennials in Latin America to be far more optimistic than their North American and European counterparts, although interestingly, an interactive vote from those in attendance found the majority (30%) identified Asia as the most optimistic region with Latin America a close second (24%).
After Ronan had set the scene, each president gave a brief description of their time in office and then questions were taken from the floor, at which point, millennial leaders – who had filled the Dublin Convention Centre to capacity – took every opportunity in gaining insight from the former heads of state.
Delegates from Colombia, Venezuela, South Africa and the United States were among some of those who fielded questions on important issues ranging from corruption, poverty and the protection of indigenous lands, with the presidents giving thoughtful and, at time, impassioned answers.
"60% of the world's oxygen is produced by the Amazon Basin. And we are destroying it!" said president Andres Pastrana, who also described how he become a political prisoner of the medellin cartel and has been a fighter against the drug cartels ever since:
President Alejandro Toledo of Peru, discussed how education was vital in overcoming all challenges faced in modern-day Latin America:
'We have decided to dedicate our lives to fighting poverty, inequality and discrimination and I do not know any other effective weapon to kill poverty and inequality than education. Had it not been for education, I would not have had the privilege of being here with you today.'
President Vicente Fox Quesada told those in the audience that eradicating corruption 'has to start with education' and that his focus is now on promoting leadership:
President Nicolas Ardito Barletta told the audience how he 'relished' this opportunity to engage with millennial leaders but warned that Latin America still faces many issues, which they must work hard to combat:
It was President Alejandro Toledo, who summed up the importance of events like One Young World in activating real leadership potential in young people:
'There's a crisis of leadership. And so this event is so propitious where the young people can fill the vacuum of leadership. Leadership not only to solve the problems today; but don't let anyone wake you up from your dreams.'
You can watch the entire Global Millennial Survey session, including the Latam president Q&A by clicking here. Also follow our delegation via Twitter using #TelefonicaOYW
This post has been originally published on the Telefónica Global Millennial Survey blog.