Under the theme "Full fibre: for a digital and sustainable Europe", this year's annual FTTH 2023 Conference took place in Madrid from April 18-20 and brought together players from the connectivity ecosystem, investors, and policymakers. The conference is recognised as one of the leading fibre optic events, with a programme that featured more than 150 high-level and knowledgeable tech specialist speakers and the presence of more than 3,000 delegates from over 88 countries. It was the occasion to discuss and have a deep dive on future-proof connectivity, its benefits, and challenges.
"You can't buy happiness, but you can buy a plane ticket to Madrid". With these warm words, Eric Festraets, President of the FTTH Council Europe, welcomed the attendees. He presented Spain as an example of leadership in fibre deployment and take-up, while relying on policy makers to support deployment and create an environment with favourable conditions to attract investors.
Taking advantage of the event, the FTTH Council Europe unveiled several market reports outlining the latest figures on fibre trends, including market panorama, deployment and take-up, rural areas deployments, forecasts and an investment tracker for selected European countries.
The importance of future-proof connectivity networks for competitiveness
As Vincent Garnier, Director General of the organisation stressed, future-proof connectivity is a vital component of competitiveness. It is key to developing breakthrough technologies and to achieving sustainable, digitally advanced economies.
The transformation of networks has been a necessary condition to keep pace with the rapid change of the digital economy. In particular, to meet new digital demands, increase productivity, industrial capacity, and living standards. The advent of new digital technologies such as 5G, Artificial Intelligence, and immersive technologies is triggering a new wave of innovation. To seize the opportunities, it is necessary to adapt networks and explore new connectivity business models.
During his speech at the FTTH conference, Roberto Viola, Director General of EC DG CONNECT, emphasized that the coming years will see a transformation of connectivity towards high-capacity smart networks. This transformation will bring about an era where connectivity infrastructure becomes a service, with telecoms transitioning to becoming Network-as-a-Service (NaaS) providers. This shift will accelerate the path to innovation. Thus, it is crucial to accelerate the deployment of future-proof networks today to ensure a prosperous and innovative future.
A better connectivity needs investments
Throughout the FTTH conference, it was highlighted on several occasions that providing gigabit speeds for all and 5G everywhere are goals of the European Digital Decade 2030 and it is a clear indication of the strategic importance of connectivity.
The demand for fibre has risen significantly in recent years, yet there is still a considerable gap in terms of fibre deployment and take-up across European countries. Romania, for instance, boasts nearly 90% fibre coverage in homes, while Belgium lags behind at only 20%. This disparity jeopardizes the overall competitiveness of the region. Furthermore, Kamila Kloc, Acting Director in Directorate B Digital Decade and Connectivity of EU DG CONNECT, pointed out that Europe faces the challenge of meeting the Digital Decade 2030 targets with a departing investment shortfall of 174 billion euros.
The message is clear. Future-proof connectivity networks need investments. Efforts to create incentives to accelerate deployments and close the gaps is a top priority for policymakers to secure future competitiveness.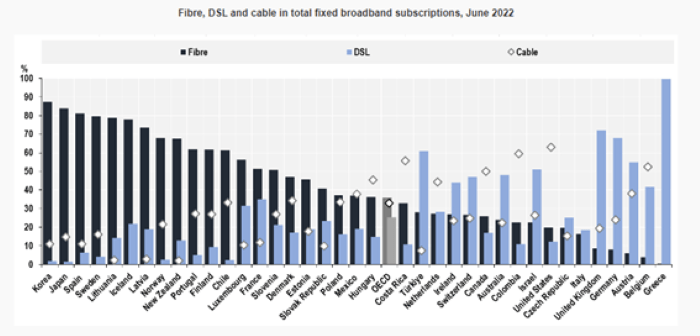 Policy makers' view for better connectivity
The first major challenge for policy makers is to promote a policy environment conducive to triggering a new phase of investment. In the FTTH conference, policy makers had the opportunity to share their vision on this issue.
Matías González Martín, Secretary General of Telecommunications and Regulation of Audiovisual Communication Services in Spain, shared that Spain's successful deployment of fibre networks was mainly due to three policy tools: i) industrial policy including a digital transformation strategy aligned with the EU's strategy, ii) state aid for rollouts in remote or non-profitable areas, and iii) an investment-friendly regulation, promoting simplified administrative burdens and network sharing agreements. As a result, according to OECD data, Spain now ranks third globally at OECD countries, behind South Korea and Japan by fibre subscriptions in total broadband subscriptions. And he pointed that Telefónica will be the first operator to switch-off copper in 2024 marking the operator's centenary.
Roberto Viola, Director-General of EC DG Connect, discussed the Commission's latest regulatory initiatives, including the Gigabit Infrastructure Act and the Gigabit Recommendation. Both aim at promoting faster and cheaper deployment of high-capacity networks. He also mentioned that an exploratory consultation on the future of the connectivity sector is underway. The goal is to explore new instruments to ensure the sustainability of network investments, including the fair share debate.
Finally, Secretary-General of OECD Ulrik Vestergaard Knudsen and Secretary-General of ITU Tomas Lamanauskas, addressed the plenary room on the importance of secure and resilient connectivity for competitiveness and the evolution of our businesses and societies at global level.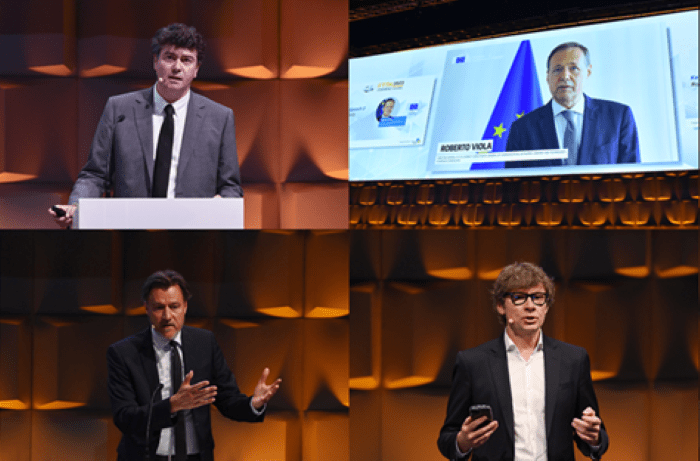 The European connectivity package and the passive infrastructure market
Last February the European Commission launched three main initiatives that constitute the connectivity package, aimed to achieve its connectivity Digital Decade goals: the proposal for a Gigabit Infrastructure Act, the draft Gigabit recommendation, and an exploratory consultation on the future of the connectivity sector and its infrastructure.
This connectivity package and the passive infrastructure market were topics addressed during the policy panel moderated by Philippe Defraigne, Cullen director.
Kamila Kloc, Acting Director in Directorate B Digital Decade and Connectivity of EU DG CONNECT, underlined the need for further cooperation in order to walk together towards the common goals, with the Digital Policy Programme as a means. Konstantinos Masselos, Chairman of BEREC, emphasised fibre as a future-proof technology and the challenges of encouraging investment for its deployment and uptake. Alex Blowers, CityFibre's Director of Regulatory Affairs, pointed to the need for fair rules and conditions that do not foreclose the fibre or infrastructure market. Jakob Greiner, DT Vice-President for European Affairs, insisted on the notion of an enabling framework, noting the paradox between the European vision and reality.
Juan Montero Rodil, Telefónica's Chief Policy Officer also pointed out the gap in investment between regions that is hindering the achievement of the digital goals (investment of 104 euros per capita/year in Europe vs 210,7 euros per capita/year in the US in 2021, despite Europe's higher investment intensity). He proposed three key levers to meet the goals: i) sound market structures to create sustainable operators able to further invest ii) fair relationship among players in the internet value chain and iii) a framework that enables efficient deployment while fostering a passive infrastructure market.
In terms of permits, the issues addressed in the Gigabit Act are universal. And Juan Montero summarised the desired goal: "making simple what is complicated", allowing for a faster implementation and harmonisation, based on best practices.
The topic of how to create a passive infrastructure market (including utilities' infrastructures, etc.) was raised regarding the relation between the draft Gigabit Recommendation and the proposal for the Gigabit Infrastructure Act. The framework should be consistent and not deter competition in the passive infrastructure market or in adjacent markets, including while switching off copper.
Asymmetric regulation with cost-oriented pricing, associated with the Significant Market Power (SMP) regime, could prevent the creation of this passive infrastructure market pursued by the Gigabit Act. Cost oriented prices can discourage other infrastructure providers to enter in the market The Gigabit Act symmetric regulation, and fair and reasonable prices, should be sufficient in most cases and will avoid distortion of the general regime of the Gigabit Act. In case that the general regime is considered insufficient a geographic analysis should be undertaken to consider specific circumstances. The Electronic Communications code allows for a wide range of situations and the final Gigabit recommendation should provide a clearer guidance on deregulatory measures for national regulators, in order to foster investment in very high-capacity networks.
Seeking an enabling environment for future-proof connectivity
From the telecoms sector view, policies must provide an enabling framework that creates the necessary incentives for private investment and innovation in connectivity infrastructures.
A comprehensive and holistic policy approach is necessary to accelerate future-proof connectivity rollouts. This includes policies that simplify procedures, reduce deployment costs, and promote market structures that allow for an adequate return on investment. Moreover, a fair contribution across the digital value chain for networks deployments is also important to preserve the smooth functioning of the digital ecosystem.
But regulation cannot replace the market and should not hamper it. We need to move towards a concrete recognition of the role of commercial agreements and symmetric regulation. Only a more flexible and market-driven approach to access prices of civil infrastructures could lead to a true competitive market, where commercial agreements could be entered into and where operators could choose between building a civil infrastructure or accessing an existing one, from all kinds of utilities, in a level playing field.
And finally, recognition through taxonomy of the importance of connectivity infrastructures to enable the green transition of all sectors would drive sustainable financing in the sector.