Thursday 5 March 2020
At Telefónica, we are convinced that the diversity of our teams, combined with an inclusive leadership style, helps us to achieve better business results. That is why diversity management and inclusion are part of our strategic agenda.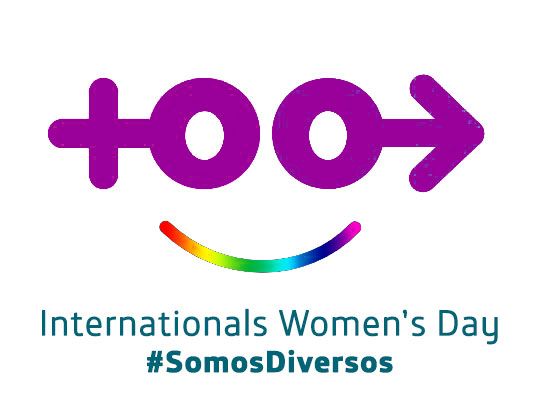 We see diversity as an essential source of talent. We believe this because we start from the principle that only by working to guarantee an inclusive working environment, where equal opportunities are a reality, will we promote an attractive working environment that is conducive to the growth of all people, regardless of their personal characteristics.
We know that our Company is in the midst of a comprehensive internal transformation to meet the challenges posed by the digital revolution. In this context, can we afford not to have the best team? The answer is clear. Therefore, we are strongly committed to developing an organisational culture and identity of equality, pluralism and inclusion, in which the uniqueness of our employees' skills, capabilities and ways of thinking help us make the best decisions.
For this to work, it is important to place major emphasis on inclusion. We do not want to reinforce the pigeon-holing of people in closed groups, but rather seek what unites us and create an inclusive company discourse that embraces all our employees equally. We are convinced that only by managing diversity from a crossover perspective of inclusion and integration will we succeed in breaking down the inequalities associated with labels.
Diversity: a firm commitment by Management
Our commitment to promoting diversity at every level has the clear support of management, and took concrete form in 2016 with the creation of a Diversity Council including top-level executives, women and men of different nationalities, disciplines, and background. Its purpose is to promote initiatives aimed at consolidating diversity as a key lever towards digital transformation.
This committee is led by Laura Abasolo, Chief Finance and Control Officer (CFCO), and is represented by a sponsor of each country, which in many cases is the country's own CEO.
In addition, we have Diversity Champions, leaders in all areas who, thanks to their commitment to diversity, act as agents of change throughout the organisation.
Losing out on female talent costs too much
Despite the under-representation of women in certain sectors of the economy and levels of responsibility within organisations, the fact is that women make up more than half of the world's workforce and, in many high-income countries, outnumber men in terms of training. In addition, in business terms, they account for three times more purchasing decisions than men.
We know that organisations with an equal presence of women and men in their governing bodies are more competitive and profitable. Having balanced percentages of both genders in the decision-making process makes it possible to have different viewpoints.
Proof of our commitment to female talent is the numerous impulse and development initiatives that we currently have underway, among which we can highlight our women's leadership development schemes such as Woman in Leadership and Talentia, which strengthen the network of contacts and make the female talent in our company visible. Or Women's Age, an Open Future initiative that positions us as a leader in female Entrepreneurship.
Today, 38% of our staff and 26% of our executives are women, 3 points more than a year ago. Despite progress, we want decisions to be made more equally between the two genders, and we are aware of the road ahead. To promote this commitment, we continue to work to achieve the target of having 30% of women in management positions by the end of 2020.
However, we are aware that in many cases gender inequality is structural; particularly so in the ICT sector. Telefónica therefore has a specific course of action to address the shortage of women in STEM (science, technology, engineering and mathematics) careers, with the aim of reversing the situation of under-representation that currently exists and building the basis for a future where there is effective gender equality. One example is our participation in the 'Technovation Challenge', the international entrepreneurship and technology competition that seeks to inspire girls and young women between the ages of 10 and 18 to become STEM leaders.
Our commitment to equality has been included in the Bloomberg Gender Equality Index (2020 Bloomberg Gender-Equality Index or GEI), which especially values our diversity and inclusion strategy, and our work/life balance policies.
Although Telefónica's strategy for reducing the gender gap is producing good results, we want to go further. Therefore, our ultimate intention is that in the future we can do without all these actions and programmes because they will no longer be necessary, as effective equality will have been achieved.
On the occasion of 8 March, International Women's Day, we are organising several actions and initiatives in our operations to open the debate on the main challenges facing women today and the opportunities available to them. You can consult the international agenda in the following map.
Marta de las Casas, Director Talent and Development Discipline at Telefónica
Arancha Diaz-Lladó, Director of Diversity at Telefónica
img.imagen-asociada-left { float: left; padding: 0 2em 2em 0; max-width: 320px; width: 100%; height: auto;}
img.imagen-asociada-right { float: right; padding: 0 0 2em 2em; max-width: 320px; width: 100%; height: auto;}
@media (max-width:668px) {
img.imagen-asociada-left { float: none; padding: 1em; max-width: 280px; margin: 0 auto;}
img.imagen-asociada-right { float: none; padding: 1em; max-width: 280px; margin: 0 auto;}
.quote { padding: 1em 2%; margin-bottom: 2em; border-radius: 0;
}