Digital transformation is enabling innovation in education and offers new learning opportunities from classrooms to workplaces.  In educational institutions, hybrid learning possibilities and collaborative tools enable a richer and more ubiquitous experience that paves the way for a more integrating and inclusive education.
In the corporate sector, training in new digital skills and disruptive technologies for workers facilitates evolution, growth and adaptation in today's changing environment. These two issues are essential to address one of the most pressing challenges of our current and future societies: the transformation of the workforce and the adaptation of education systems to the digital skills needed for this new era.
The Digital Revolution in education enables new learning opportunities, democratizes access to quality knowledge, and lays the foundations for sustained economic growth in countries.
This situation calls for urgent action on two fronts: adapting formal education to the changing demands of the labor market and ensuring that workers can stay ahead of the curve and update their skills.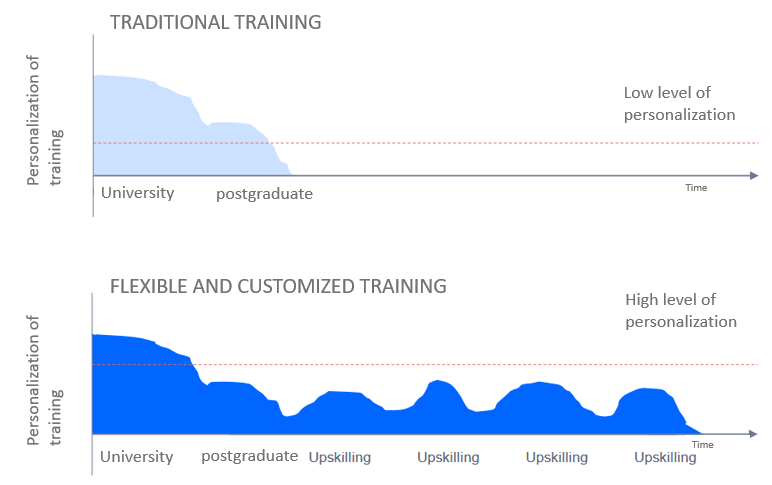 Education revolution
Educational models and training plans need to adapt to the demands of the labor market. The educational center needs to be the agent of change where new learning opportunities are provided and where the roles of teachers are reformulated to meet the new needs of students. This involves the integration of digital knowledge with other collaborative and disruptive skills. The digitalization of education enables the development of new methodologies based on digital technologies, which transform content and spaces, making students the active protagonists of their own learning.
As a much more digital environment is imposed, this classroom revolution will require a transformation of education, where the roles of teachers, students and parents are redefined, and families are naturally incorporated into the learning process. Furthermore, spaces are going to be key in reinforcing the new training models. Technological equipment will transform spaces into hybrid places and will allow remote learning by incorporating multiple tools such as connected screens, IoT or 5G.
Telefónica is committed to leading this innovative field with the creation of the Global Innovation and Talent Hub, which aims to turn the Group's headquarters into a large interconnected center for 5G, AI, fibre, Edge Computing, Deep Learning, IoT, Cloud, Cybersecurity, Blockchain and video. Today, it already brings together Universitas, the corporate university, which is a key part of this new Hub. In addition, the Digital Operations Centre (DOC) for cybersecurity and cloud has also recently been opened to provide service to Telefónica's business customers, the guidance and training initiatives of Fundación Telefónica such as EnlightED, an initiative promoted together with South Summit, or 42, as well as the open innovation initiatives, such as Wayra, Open Future or Telefónica Ventures.
Digitalization of the workforce
Talent is the differentiating element in every organization. Workers' skills and attitudes, together with the use of technologies such as big data or learning analytics, enable new models of development and growth.
The world is changing faster and faster, and knowledge that was valid today may not be valid tomorrow. Sooner than later, jobs are going to change on a massive scale. According to the World Economic Forum, by around 2025, 85 million of today's jobs will disappear and 97 million new jobs will be created through technological change. However, according to McKinsey & Company, 375M workers will need to learn new knowledge and skills by 2030 in order to work in them.
Faced with this reality, companies around the world are investing in upskilling their employees. José María Álvarez-Pallete, Chairman and CEO of Telefónica, chairs the Employability, Skills and Impact Committee of the European Round Table (ERT), which focuses on reskilling and aims to promote projects to improve and reskill employees to adapt them to a changing world of work and ensure that no one is left behind.
In addition, Telefónica and Fundación Telefónica have training projects for the development of basic, intermediate and technical skills, such as Conecta Empleo, one of the most recognized employability programmes. We also promote free online courses, programmes and digital tools to acquire the necessary skills for the most in-demand jobs today, and Skillsbank, an innovative reskilling tool that uses Big Data and Artificial Intelligence to recommend training and promote development within the company.
An era of explosion of digital knowledge as we have never known it before is dawning. The application of different technologies and digital skills in the classroom and in the skills of companies is already a reality and this is reflected in the real cases included in the Transformation Handbook on "Digital Education". At Telefónica, we are convinced that education is a pillar for innovation and a driver of change and development, which is why universal connectivity is necessary to enable both access to digital resources in the classroom and the hybridization of training.