On October 15, I had the honor to give the keynote address of a big data event organized by European Voice in Brussels, just after the opening by Neelie Kroes (by video). The participants were a mixture of European Commission, businesses, NGOs, associations, start-ups, regulation and privacy specialists. A "digitally literate" audience, evidenced by the social media activity during the event. The main theme was about what Europe needs to do to take full advantage of the (big) data opportunity, and avoid loosing (more) ground to the rest of the world.
There was general agreement that the explosion in data could mark the moment when Europe changes its course, overcomes its current economic situation and starts to regain its leadership in innovation. But to achieve this, there are specific actions that are required of Europe's policy makers to boost the data economy, build digital confidence and deliver digital neutrality.
One of the key challenges Europe faces is finding the right balance between seizing the data opportunity, on the one hand, and protecting individual's privacy. To create great services based on data that people both understand and want, we need to pay close attention to the 'TACT' data values framework. TACT: Transparency, Added Value, Control and Trust. Respecting those values, Europe will create the needed digital confidence.
The inventor of the World Wide Web, Tim Berners-Lee, concurs – telling an audience in London last week that personal data must be owned by its subject, rather than corporations, advertisers, and analysts. Berners-Lee argues that if you give people the ability to see how data is used, and you ban its misuse, then people would be much happier to open up to their data being used.
At the same time it is vital that the reform of the European data protection rules is completed soon with the right mix of detailed rules and risk-based controls that consider not only how data is collected but also how it is used. And the rules should aim to protect people first, rather than data.
Telefónica has identified several priorities that should be reflected in the programme of the new European Commission. In order to boost the data economy, there should be a clear focus on Open Data ecosystems, and Europe's data protection rules. To build digital confidence, action is needed on data transparency as well as a clear focus on digital literacy. And finally, to deliver an open and safe Internet experience we need rules that allow consumers to have a portable digital life – giving individuals the same service and same rules regardless of the device or platform they are using.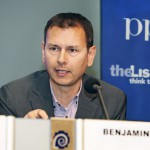 Dr. V. Richard Benjamins, Group Director BI & Big Data – Internal Exploitation, Telefónica