Chema Alonso
Chief Data Officer, Telefonica.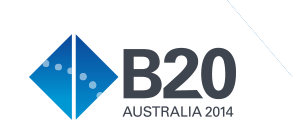 This year, Australia holds the G20 Presidency after Russia, who assumed last year´s G20 Presidency.
Like in previous years, Australia has also established a B20, chaired by Richard Goyder AO, Managing Director and CEO of Wesfarmers. The B20 leads engagement with G20 governments on behalf of the international business community.
As you all know, the Business 20 (B20) is a forum through which the private sector produces policy recommendations for the annual meeting of the Group of 20 (G20) leaders. The B20 brings together business leaders from across G20 member countries to reflect the key role of the private sector as the main driver of strong, sustainable and balanced growth.
In 2014, the B20 will focus on developing a set of clear, actionable recommendations that drive global economic growth and create jobs. To ensure that global regulation does not inhibit growth and the creation of jobs, the B20 has examined how the core reforms can be implemented in a way that promotes an integrated global financial system, reduces harmful fragmentation and avoids unintended costs.
The B20 Summit will be held over three days from 16-18 July in Sydney and will bring together international business leaders to discuss, finalise and prioritise B20 recommendations ahead of the November G20 leaders Summit in Brisbane.
Telefónica has always participated in the previous B20 summits in Korea, France, Mexico & Russia. The company is present this year too and has contributed to the "Infrastructure & Investment Taskforce".
This taskforce has identified five areas where the G20 can take action to support infrastructure investment. This taskforce recommends taking specific actions to ensure a pipeline of productive projects, improve delivery of infrastructure projects, enhance the enabling environment for investment and remove the barriers to financing for long-term investment. The main conclusions will be published on the 18th July.
Other key issues for the economic growth will also be discussed during the B20 Summit, such as energy security, food security and the digital economy and there will be sessions to explore global investment opportunities, the role of business in shaping public policy and international trade.
Have a look at the B20 Programme here.
If you are interested in the debates, you can also have a look to the hastag #B20Summit or the Twitter account @B20 during these two days!