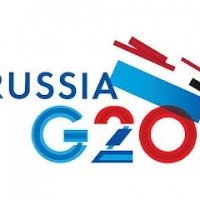 On 1st December, Russia took over the G20 Presidency, after the Mexican G20 presidency.
For the launch, President Putin announced that the main focus of this presidency will be how to stimulate growth and create jobs through 3 main priorities (quality jobs and investment, trust and transparency and effective regulation) and 8 main areas of work such as:.
– Framework for strong, sustainable and balanced growth;
– Jobs and employment;
– International financial architecture reform
– Strengthening financial regulation;
– Energy sustainability;
– Development for all;
– Enhancing multilateral trade;
– Fighting corruption.
Have a look at this chart, for a more visual perspective: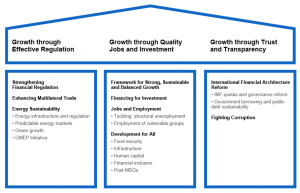 As in the previous years, "B20" has also been settled.
Just as a reminder, B20 gathers main relevant international business companies and their duty is to issue recommendations and commitments for the business community to help to reach the objectives announced by the Russian Presidency.
To achieve this, The Russian Union of Industrialists and Entrepreneurs (RSPP) hosted the B20 kick-off Meeting. Last 12th December in Moscow.
Seven different task forces covering Trade, Investment & Infrastructure, Financial stability, Employment & Labor market, Transparency & Anti-corruption, Global priorities for innovation & development, and finally G20/B20 efficiency, have already been organized and have begun to work this same week.
Concerning the working group on Global priorities for Innovation & Development, headed by Mr. Victor Vekselberg, President of Skolkovo Foundation, discussed that the main areas with huge potential for global development are energy, ICT and biotechnologies. However, there is work to do in this area as we need to stimulate competitiveness and cooperation, on one side, and on the other bring a strong support to innovation in all its forms, adapting innovation there where it is needed.
We will follow this process as we consider that ICT is key for the objectives announced and has a relevant role for future growth, so stay tuned!