Environmental Management
Caring for the planet's resources must be a daily habit. That's how we see it at Telefónica. What's our objective? To minimise our footprint and help maintain the fragile environmental balance as we all depend on it.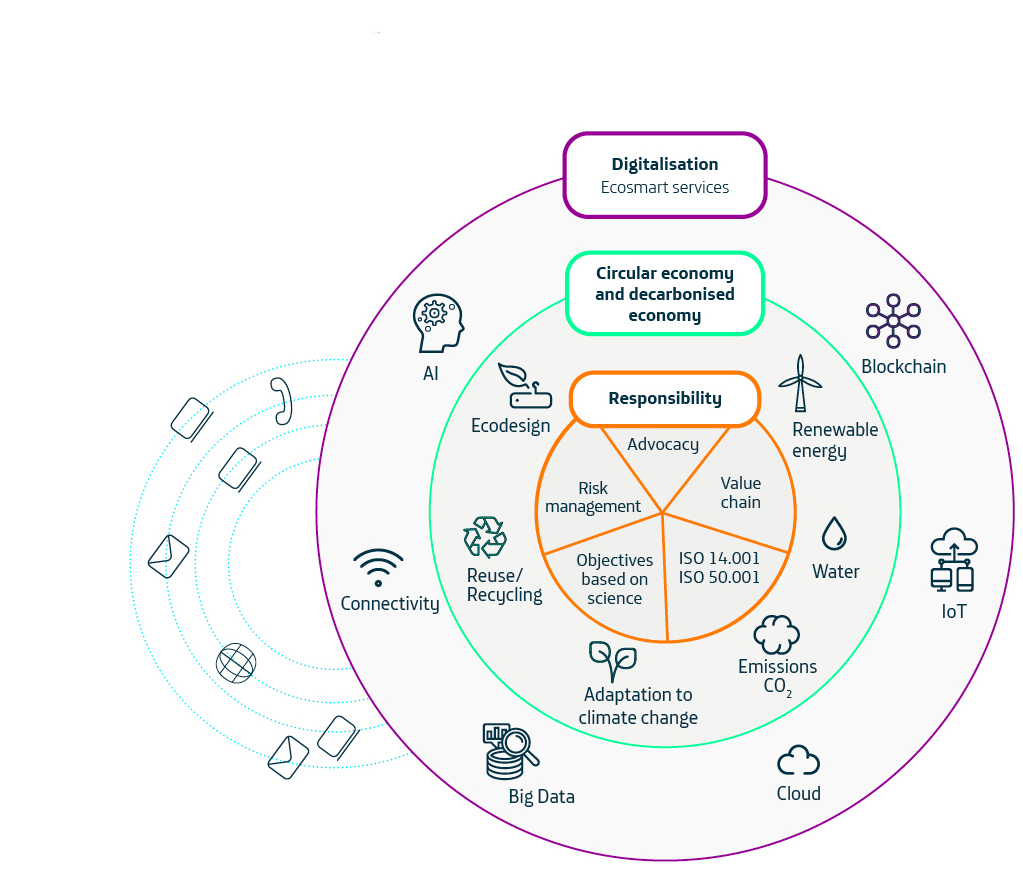 >Click on image to enlarge
Being aware of our impact on the environment is the first step towards a sustainable business model. In our case, it comes mainly from communication networks: fibre optics, 4 and 5G, submarine cables, etc. which connect people and businesses. It is our responsibility to minimise it, as well as to facilitate solutions to environmental challenges through digitalisation.
Reducing the environmental footprint of our networks
In network design, operation, maintenance and decommissioning:
We pay special attention to legislation in areas such as waste management, efficient use of resources, respect for the landscape and the measurement of electromagnetic fields.
We share facilities with other carriers or companies which manage the communication towers. The result is less visual impact and reduced energy consumption, as well as reducing waste.
We promote energy efficiency and use renewable energy to reduce CO2 emissions as part of our strategy to be part of the solution to climate change.
We shut off old networks so that they no longer consume energy, and we recycle all the materials derived from their decommissioning.
We respect biodiversity with precautionary measures during construction, locating base stations outside protected areas whenever possible and through corrective measures when necessary.
We share more than 70% of the antennas
A robust and measurable Environmental Management System
In order to control our footprint, we ensure compliance with environmental legislation and prevent risks, we have an Environmental Management System which enables us to ensure global standards in all countries, with homogeneous processes and indicators for rigorous monitoring.
Responsible Business Channel
Telefónica's Environmental Policy
> Click on image to download document
> Donwload our
Environmental Policy
infographics (EN-
).
> Descarga nuestra
infografía de Política Ambiental
(ES-
).
> Baixe nosso
infográfico sobre a Política Ambiental
(PT-
).