At Telefónica we seek to promote the development of the countries in which we operate and protect the natural environment while generating a profitable business model for the company. To this effect we promote solutions that contribute to the UN Sustainable Development Goals (SDG).
Responsibility by Design
It is our approach to developing products and services that incorporate sustainability into all phases of development, from initial planning to delivery and use by the customer.
Responsibility by Design is structured on the following pillars: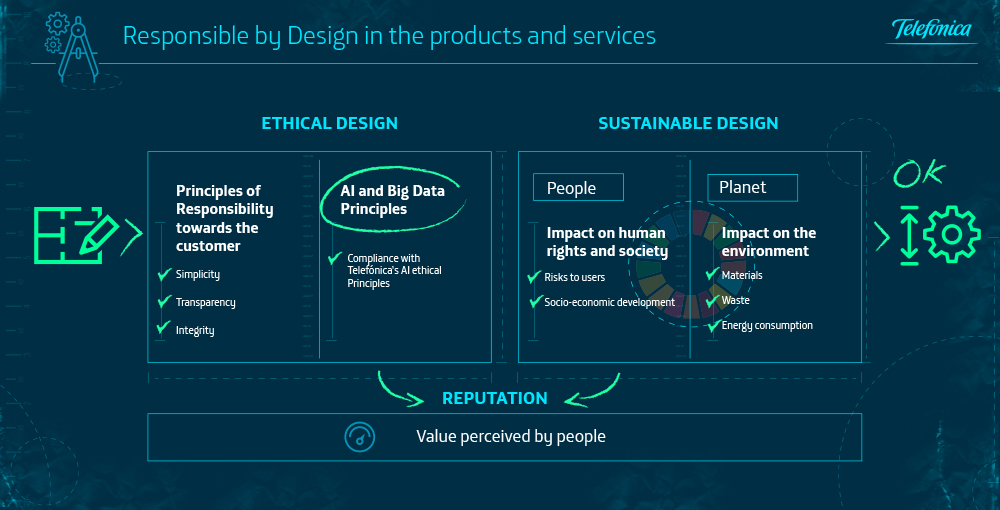 > Click on image to enlarge
Ethical design

Complying with our ethical commitments of responsibility to customers, ensuring the accessibility of apps, websites or devices, the transparency and reliability of all information we offer and seeking simplicity in the management of products and services.
Applying our Ethical Artificial Intelligence Principles, avoiding biases and ensuring the proper use of information and transparency in getting results.
Sustainable design

Evaluating how our products impact on people and society and ensuring that they comply with human rights principles.
Ensuring that our solutions generate a positive impact on the planet, guaranteeing the use of sustainable materials, incorporating eco-design criteria, properly managing waste and maximising energy efficiency.
Because of the implementation of Responsibility by Design approach, we generate value in company's reputation, and achieve an offer in accordance with our Business Principles; becoming a more respectful company, more aware of its social and environmental impact and more sustainable and inclusive.
Innovation with an impact
At Telefónica we invest in technological solutions with a social or environmental impact by means of different tools such as the Sustainable Innovation Initiative, during which we select and promote the disruptive ideas of employees, suppliers, startups and universities in order to overcome global challenges.
The main areas the innovation in new sustainable products and services is geared towards are as follows: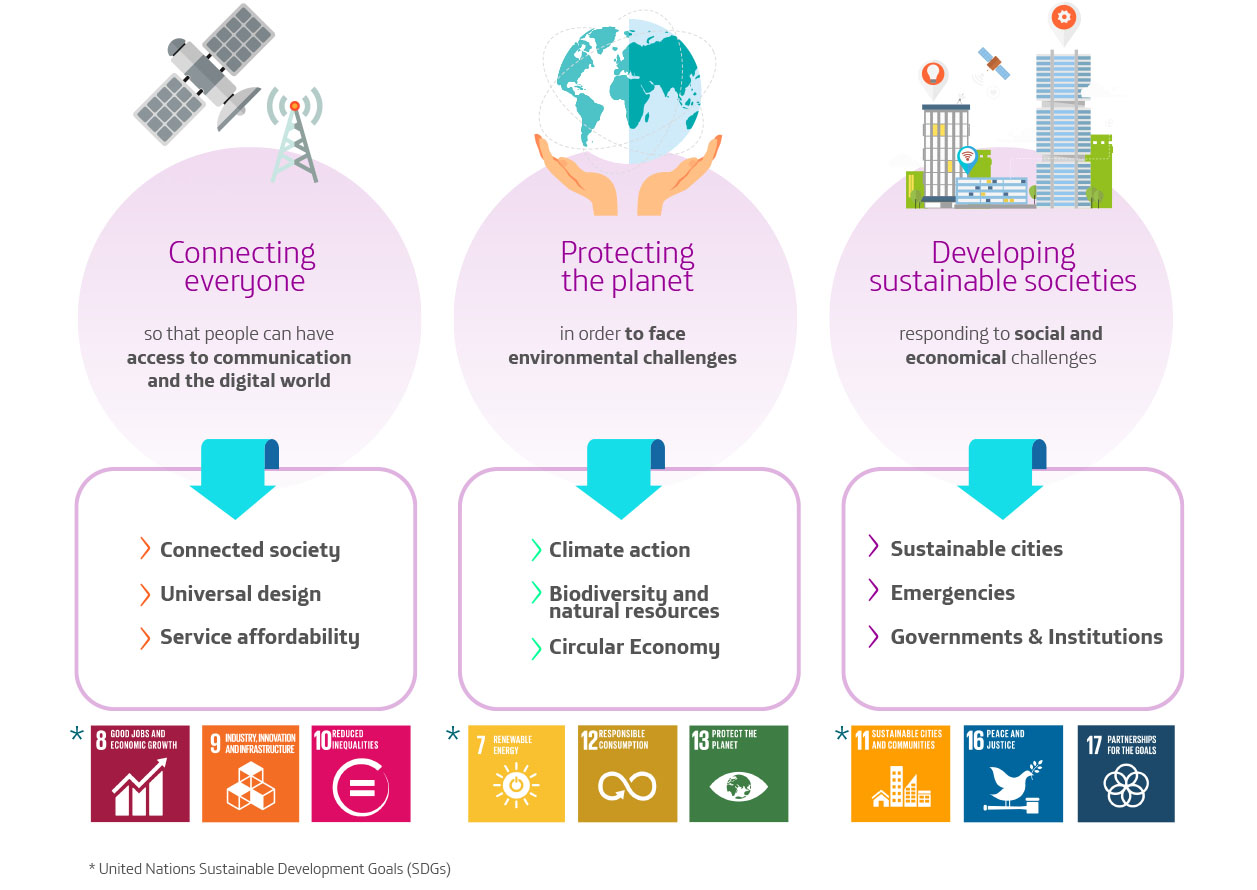 >> These are the projects selected for the 5th Sustainable Innovation Initiative:
Scooter station - Solum, startup of Telefónica Open Future
The intelligent charging station for electric scooters aims to reuse telephone booths to provide cities with parking and charging infrastructure for electric vehicles. This is possible thanks to the 100% traffic-resistant solar floor, which generates clean energy with the photovoltaic cells integrated inside it. It will be developed by the startup Solum accelerated in Andalucía Open Future's The Cube, an initiative of Telefónica and Junta de Andalucía.
Zero emission devices - Telefónica's Group Devices Unit (GDU)
This solution, powered by Telefónica's Group Devices Unit (GDU), will allow customers to offset the carbon footprint of their smartphone purchase. From the Mi Movistar app, the user will be able to invest in compensation initiatives through a tokenization process based on blockchain technology.
Air quality hyperlocal map - Telefónica Tech team, IoT & Big Data Unit
This is a system for measuring and controlling the levels of pollution in cities. To this end, the Telefónica Tech team will create a kit consisting of self-installing boxes on the roofs of the vehicles that contain air quality measurement sensors. These sensors will have Movistar SIMs that will send the data in real time to a platform for later analysis.
Congratulations also to the Finalists:
Movistar eStore - Telefónica Spain's Public Viewing Channel Team
Inclusive Customer Service (API) - Telefónica Argentina's Sales and Customer Service Team
Aquadat + Drones IoT water theft - Telefónica Tech Team
Berlin One - IT Operations Team, Telefónica Germany
Panel of judges
The jury responsible for analysing the proposals is made up of Telefónica directors: Elena Valderrábano (Corporate Ethics and Sustainability), Eva Fernández and Aitor Goyenechea (Communication), Jaime Rodríguez-Ramos (Strategy), Blanca Drake (Telefónica Open Future), and José Juan Haro (Telefónica HISPAM); and to company associates: María López (Fundación Compromiso y Transparencia), José Luis Ruiz (Foro Impacto), Esther Rodriguez (BID), and Iván Martínez (Emprendimiento UPM).
Would you like to see some of the projects presented in previous editions?
Climate-smart Farming (Big Data For Social Good - LUCA team and Wayra Brazil BovControl startup)
The aim of this project is to assist rural producers in managing their production taking into account the social and environmental aspects of their properties. In this way, producers are able to gradually and continuously improve their productive practices, creating new business opportunities.
Electricity and connectivity for all (Internet for All Team and Acciona.org Foundation)
Creation of a joint electricity and connectivity in the homes model in the remote areas of Latin America, starting on the shores of the Napo River in Peru. Exploration of a sustainable model of microelectricity generation in homes in isolated areas through this pilot.
Vivo Financial Assistant. A solution to reduce the economic gap. (Innovation and Strategy Team of VIVO Brazil)
The project focuses on financial education and access to products that help people become more aware of their consumption and credit. The aim is to educate the client in the field of personal finance so that they can improve their economy.
Fire Prevention Drones. Early warning of forest fires. (Global Innovation IoT Team and Carlos III University of Madrid)
The initiative is based on the early detection of forest fires by means of a drone that tracks the affected area and returns the information to the control teams.
Partnerships
We cooperate with other entities so as to multiply the impact and scope of the initiatives we conduct within the framework of sustainable innovation.
For this purpose we cooperate with public and private organisations, universities, research centres and domestic and international administrations in order to use innovation and technology to promote initiatives that address the Sustainable Development Goals.