Open your future with Telefónica's Open Future_ plans
during 4YFN Barcelona 2018!
Telefónica started looking at the potential benefit of working with startups to bring external innovation into the company more than 10 years ago. As a result of digitalisation and the birth of the startup culture, Telefonica decided to take advantage of this new wave of entrepreneurship, as a more efficient way of bringing innovation that only exists outside big companies, being one of the pioneers in deploying open innovation initiatives.
This precise reason highlights exactly why Telefónica is such a perfect fit to be a Host Partner during the forthcoming 4YFN at Mobile World Congress Barcelona 2018 from 26 – 28 February.
Throughout the years, we have built a unique ecosystem where we support startups in different maturity stages through our initiatives and tools such as Wayra and the crowdworking spaces -for early stage projects, helping them accelerate, scale-up, making early stage investments- and venture capital funds for more mature companies, like the network of third-party funds, Amerigo, and the corporate fund, Telefonica Ventures.
Overall, TOF, having analysed more than 20,000 projects, has invested in over 800 startups worldwide, and accelerated more than 1800 startups. With direct presence in 18 countries, TOF has managed over 120 fit success stories, this is, startups working with Telefonica business units on a continuous basis.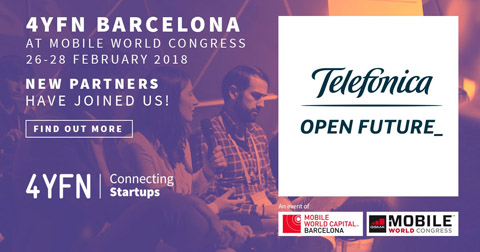 Telefónica Open Future was conceived with an open approach, looking to collaborate with partners, both private and public. The 4YFN Barcelona event in particular is the perfect occasion for TOF to reinforce and broaden our partner´s network, which currently adds up to over 150 global partners. This network allows us to access innovative technologies and solutions in markets where TOF is not present, together with opening international business development opportunities for our portfolio.
In these intense 3 days we will try to clear unknowns related to our ecosystem, show this year´s main achievements and reveal novelties in our value proposition and strategy in the coming year.
Our objective this year during 4YFN could be summarized via a journalistic approach, using the 5 W´s and 1H that every article should answer: Why is Telefónica interested in open innovation? How are Wayra and Telefónica Open Future_ evolving and who is in charge of this change? What will be the milestones of the coming year and when will they take place?
Do you join us to challenge the standard rules?
Tuesday 27, from 12:00-13.00.
The aim of this event is to share the constant challenge the entrepreneurial ecosystem has to face in order to progress towards new models and disruptive solutions. With Miguel Arias, Global Director of Telefónica Open Future_, and Sara Canals, reporter. Then, Andrés Saborido, Director of Wayra Spain, and Ferran Adrià will talk about the essential aspects, the nuances and the common elements that are part of any innovation.
The event will take place at 4YFN (Nestlé Stage)
How technological innovation is a springboard for transformation
Tuesday 27, from 16:00-17.00.
Moderated by Christian Lindener, director of Wayra Germany, and with the participation of Gonzalo Martín-Villa, Chief Innovation Officer at Telefónica; Chema Alonso, Chief Data Officer at Telefónica; Mariano de Beer, Chief Commercial and Digital Officer at Telefónica; David del Val, Director of Product Innovation at Telefónica; Guillermo Freire, founder and CEO of Trocafone, and Pedro Castillo, CEO of LogTrust.
The event will take place at 4YFN (Nestlé Stage)
Discover the trends in the telco industry
Wednesday 28, from 11:00-11.30.
Four of the world's leading telcos, together under the GoIgnitea alliance, will highlight the most prominent technologies. With Edgar Hardless, CEO of Singtel Innov8; Axel Menneking, General Manager of hub:raum; Bertrand Rojat, director of the startup ecosystem at Orange, and Miguel Arias, Global Director of Telefónica Open Future_.
The event will take place at 4YFN (Nestlé Stage)
Last but not least, we will also have a stand where we will be happy to meet and greet partners and entrepreneurs at the entrance to the venue, and where visitors can interact with some of our most visually appealing projects, such as Airtime Rewards, Babooni Technologies, Floorfy, Highbrow, Innospot, Rysta, 3Ants o Tokbox, so don't be shy! Come and explore our interactive space and say hello!
28th February 2018
Go Ignite invigorates programme with open call for co-innovation with start-ups
23th February 2018
Telefónica Open Future's entrepreneurs will be showcasing AI, IoT, big data and virtual reality solutions that are transforming our daily habits