Thousands of employees enjoy a new digital experience at Sodexo Iberia's new onsite restaurant at Telefónica's global headquarters in Madrid
Madrid/Paris, 12 November 2018 – Sodexo Iberia, the world leader in Quality Life Services and France's number one private employer in the world, and Telefónica Business Solutions, leading provider of a wide range of digital services and integrated communications solutions for the B2B market, have agreed to widen the scope of their collaboration with the provision of new digital services. The new scope of work will help Sodexo to enhance its value proposition embedding innovative digital screens into its services.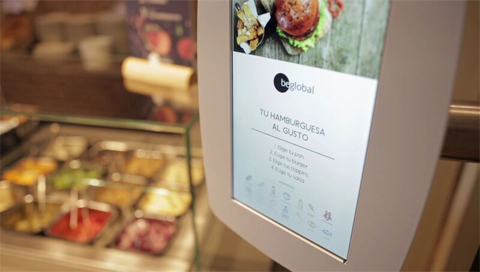 First results of this new collaboration are being showcased at the global headquarters of Telefónica in Madrid, at a new Sodexo Iberia designed and managed onsite restaurant where more than 12,000 Telefónica employees are already enjoying a full new digital and sustainable restaurant experience.
Juan Vicente Martin Fontelles, Director Multinationals at Telefónica Business Solutions, commented: "This new agreement with Sodexo Iberia represents a step further in our long relationship with the Sodexo Group deploying several local communications solutions such as voice, mobile and Global WAN services in 30 countries."
Carina Cabezas, President at Sodexo Iberia, commented: "we are thrilled to partner with Telefonica to improve the quality of life of our consumers with new solutions to renew and enhance their experience at our restaurants."
A real digital 3.0 experience for Telefónica employees
Leveraging Telefónica On The Spot Services, Telefónica's IoT unit specialized in digital signage and digital transformation of physical environments, Sodexo has reimagined the employee restaurant experience redesigning the entire premises and creating a new dynamic and more efficient space by integrating the latest digital services and offering a personalised experience to each customer.
Telefónica On the Spot Services working with Sodexo have created an immersive experience through the use of multiple digital screens showing news, nutritional information, offers and dynamic content. The automatically updated content on the screens has been made possible by integrating Telefónica's smart retail platform with Smart, Sodexo's food management platform, allowing a more efficient, agile and better service to customers.
About Telefónica Business Solutions
Telefónica Business Solutions, a leading provider of a wide range of integrated communication solutions for the B2B market, manages globally the Enterprise (Large Enterprise and SME), MNC (Multinational Corporations), Wholesale (fixed and mobile carriers, ISPs and content providers) and Roaming businesses within the Telefónica Group.
Business Solutions develops an integrated, innovative and competitive portfolio for the B2B segment including digital solutions (Cloud or Security) and telecommunication services (international voice, IP, bandwidth capacity, satellite services, mobility, integrated fixed, mobile, IT services and global solutions).
Telefónica Business Solutions is a multicultural organization, working in over 40 countries and with service reach in over 170 countries.
In June 2015, Telefónica Business Solutions and Bouygues Telecom Enteprises strengthened their alliance on the French market, with the creation of "Telefónica Business Solutions France, A Telefónica & Bouygues Telecom company", a joint venture that offers services dedicated to multinationals.
About Sodexo
Founded in Marseille in 1966 by Pierre Bellon, Sodexo is the global leader in services that improve Quality of Life, an essential factor in individual and organizational performance. Operating in 72 countries, Sodexo serves 100 million consumers each day through its unique combination of On-site Services, Benefits and Rewards Services and Personal and Home Services. Sodexo provides clients an integrated offering developed over more than 50 years of experience: from foodservices, reception, maintenance and cleaning, to facilities and equipment management; from services and programs fostering employees' engagement to solutions that simplify and optimize their mobility and expenses management, to in-home assistance, child care centers and concierge services. Sodexo's success and performance are founded on its independence, its sustainable business model and its ability to continuously develop and engage its 460,000 employees throughout the world.
Sodexo is included in the CAC 40, FTSE 4 Good and DJSI indices.
Key figures (as of August 31, 2018)
20.4 billion euro in consolidated revenues
460,000 employees
19th largest employer worldwide
72 countries
100 million consumers served daily
13 billion euro in market capitalization (as of November 7, 2018)
Press contact:
Miren Olcoz
Directora de Marca y Comunicación Sodexo
C/Chile 8, 1ª planta 28290 Las Rozas,
Madrid
Tel.: + 34 636967574