Super Apps, understood as mobile applications that cater to various user needs in their daily lives (messaging, social networking, entertainment, shopping, transportation, financial services, etc.), are nothing new. In the Asian market, apps like WeChat (2011, China) with a penetration rate close to 90%, or Grab (2012, Singapore) with a 70% penetration rate among the country's citizens, have been serving their users as all-in-one apps for over a decade.
The success of Super Apps in Asia is so significant that digital service providers in the West are seeking to emulate this model to make their mobile apps the default entry point for customers into their digital lives. The Super App makes life simpler for the end customer. They can access everything they need through a trusted provider that handles the management of their personal data (including payment information). For the company providing the final service, being on the Super App is a way to reach a customer base that would otherwise be very expensive, while also participating in powerful cross-selling and loyalty campaigns. Moreover, the Super App provider participates in the business by charging a transaction fee for every operation they facilitate.
In 2023, several factors are bringing Super Apps back into the spotlight. It all began in October of last year with Elon Musk's purchase of Twitter and his vision of transforming it into "X, the everything app," perhaps diverging from the traditional banking system and including its own currency (cryptocurrency) for payments and microtransactions.
But Elon Musk is not alone. Big tech companies like Meta, which integrates payments into WhatsApp, Amazon with Amazon Pay, and of course, Apple and Google with integrated payments in their respective mobile operating systems, are also competing to become the trusted payment provider for consumers. In addition to these, there are other significant players like Revolut, Uber, Rappi or Mercado Libre, which are extending their core businesses into adjacent verticals.
On the other hand, the advancement of natural language technologies for consumers, with applications like ChatGPT, and the development of connectors for integrating digital services using natural language as an interface (ChatGPT plugins), could disrupt how we access and consume services, potentially transforming companies like OpenAI into Super App platforms overnight.
At Telefónica Open Innovation, we delve into the Super App business, analysing the pros and cons of these solutions, the investment of Venture Capital funds in Super Apps, and the opportunities and challenges that Super Apps present to startups.
East Wind, West Wind
Super Apps have experienced massive adoption in the Asia-Pacific region, a region with 4.3 billion people (60% of the world's population). Government support to accelerate financial inclusion for the unbanked population (and, in some cases, to exert societal control), the widespread use of low-end smartphones, lower presence (or even bans) of major Western tech companies, strong backing from providers like Tencent or Alibaba, and user convenience have driven the growth of the Super Apps market in the region. In this area, the market is already quite mature, and providers offer aggressive incentives to retain users and gain a competitive edge.
It's a volume-driven business: competition is based on transaction volume, so scaling up the customer base is necessary for profitability. The nature of the business also implies that the number of Super Apps per geography is limited, with 2 or 3 strong Super Apps coexisting in a single country.
Taking the example of WeChat in China, the Super App, originally launched as an instant messaging application, facilitated the widespread adoption of Internet usage among the population, creating a mobile-first society and offering a platform where all service providers want to be. WeChat has effectively become the true mobile operating system in China. Instead of developing native mobile apps (for iOS or Android), service providers choose to be on the Super App with their brand accounts (for communication with their customers) and develop mini-apps, lightweight applications that offer the core functionalities of their service and run on the WeChat platform. These mini-apps utilize common platform components (search, single-sign-on, localization, payments, etc.), creating a powerful and user-friendly experience.
Challenges for Super Apps in the West
The Super App model in Asia involves a single entity responsible for managing customer data privacy and security (personal and payment information) across all service providers. Users log in to the Super App and are automatically connected, allowing them to interact with desired service providers with a simple opt-in. However, Western consumers are hesitant to have a single company as the gateway to all aspects of their online life. Can we envision entering a single app to schedule a romantic date, a medical appointment, play video games, make a purchase, chat with friends, and initiate a bank transfer?
Furthermore, the starting point in the Western context is quite different. Society has transitioned from web-based Internet to mobile usage. The mobile app market is dominated by powerful vertical providers, and major tech companies have taken an approach of building constellations of apps. Microsoft (with its suite of apps), Google (similarly), Meta (with WhatsApp, Instagram, Facebook, Horizon, and Messenger), or Uber (separate apps for ride-hailing and food delivery) release vertical apps with some common features like log-in, single-sign-on, and basic integrations within their app constellations.
Lastly, regulations (such as competition and antitrust laws like the Digital Services Act and Digital Markets Act in the European Union) aim to prevent the creation of monopoly or oligopoly structures, potentially limiting the expansion of vertical Super Apps into other industries.
In essence, the differences in user behaviour, market dynamics, app landscape, and regulatory framework make the adoption of the Super App model in the West a complex challenge. Western consumers' reluctance to consolidate all aspects of their online life into a single app, the prevalence of established vertical apps, and regulatory measures all contribute to a unique environment that contrasts with the successful Super App model observed in Asia.
A market of $61.3 billion in 2022
The global Super Apps market was valued at $61.30 billion in 2022, and a growth of 27.8% is anticipated from 2023 to 2030. This growth projection is linked to the increasing Internet and smartphone penetration in emerging economies, as well as the widespread adoption of e-commerce and digital payments.
According to Gartner's estimates, the top 15 most popular Super Apps have been downloaded over 4.6 billion times worldwide, with 2.68 billion monthly active users. It's predicted that by 2050, more than 50% of the global population will be active users of Super Apps.
Socioeconomic, cultural, and regulatory differences across different regions of the world lead to varying approaches and penetration rates of Super Apps in each region. "Authentic" Super Apps, defined as all-in-one apps, will continue to thrive in the Asia-Pacific, Africa, and Latin America regions. Meanwhile, in Western societies, large companies will seek to leverage payment and messaging capabilities in their vertical apps to incorporate new revenue sources into their businesses.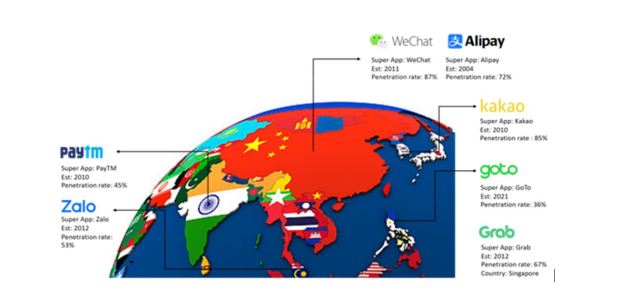 X-ray of the Mobile Apps Market
A possible classification of the current mobile apps market is the one we see in the following diagram:

We have already discussed verticalized applications or traditional apps, as well as the app constellations of major tech companies, and now we move on to defining what distinguishes vertical Super Apps from horizontal ones:
Vertical Super Apps: Examples of vertical Super Apps include neobanks (such as Revolut), e-commerce platforms (Amazon or Mercado Libre), or home delivery services (Rappi). These providers design services within a specific sector, primarily utilizing their in-house development teams. Their goal is to offer a consistent mobile experience across related services, while also seeking revenue growth by offering additional third-party services.
Horizontal Super Apps or "Authentic" Super Apps: As mentioned earlier, these are mobile applications that cover all aspects of their users' lives. Applications like WeChat in China focus on building a mobile lifestyle: users can call a taxi, order food delivery, buy movie tickets, play games, book flights, send money to friends, access fitness tracker data, schedule doctor appointments, pay utility bills, and more, all within a single app that allows external providers to offer their products and services within the app. The Super App acts as a platform, facilitates payments, and enables multiple unrelated services—often also provided by third parties—to coexist within a single ecosystem.
In either case, Super App platform providers play a significant role in driving entrepreneurship within the regions where they operate, as explained by our colleague Agustín Rotondo in this post about the impact of Rappi, Globant, and Mercado Libre on the Latin American ecosystem.
Ingredients of a Successful Super App
There are three essential ingredients that are a necessary condition (though not sufficient) for succeeding as a Super App:
The starting point for every Super App is a killer app: a use case with real market fit and massive adoption, backed by a great user experience and a payment wallet. The widespread use of the app makes it the go-to platform for every provider. The fundamental killer apps behind leading Super Apps include instant messaging (WeChat), transportation (Uber, Grab, or Gojek), home delivery (Rappi), e-commerce (Mercado Libre), or financial services (AliPay or Revolut).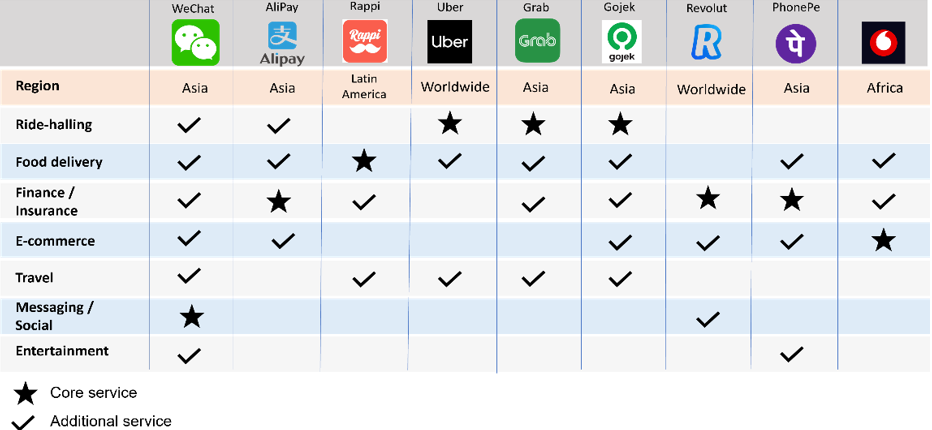 Secondly, the brand must have consumer trust, serving as a guarantor for the services provided and the management of personal data and payments.
Lastly, the Super App provider constructs the platform upon which third-party services are offered. Verified providers develop their services on the platform using APIs that expose functionalities such as payments, messaging, search and discovery, business intelligence (for customer segmentation, cross-selling, and loyalty programs), e-commerce tools, privacy and security management, among others. The following diagram presents a reference model for Super App platforms:

Venture Capital Investment in Super Apps
In 2023, the Venture Capital ecosystem continues to invest in Super Apps in the Middle East and begins to pay attention to the African market. The goal is to support payment and transportation apps that can serve as the technological infrastructure and user base for the development of Super Apps. Some examples of recent investments in this direction include Opay/ORide (payments and transportation) and Quickteller (consumer services) in Nigeria, SafeBoda (payments and transportation) and Tingg (payments) in Kenya, and the application led by the telecom company MTN, Ayoba (communication and entertainment), in South Africa.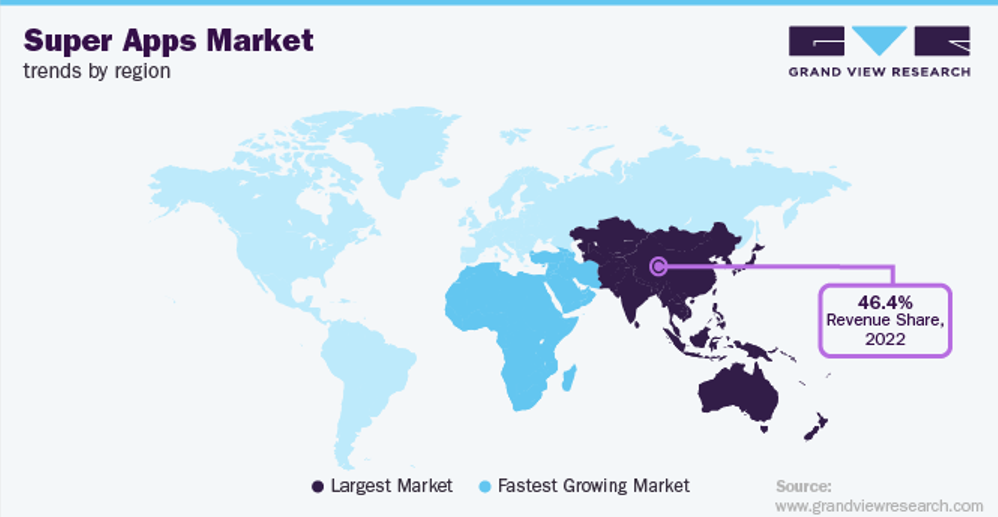 Regarding significant funding rounds, Yassir, a transportation and delivery-focused Super App in North Africa, raised $150 million in late 2022. MNT-Halan (offering financial products and e-commerce options) in Egypt announced a $400 million funding round in February 2023, with a final valuation of $1 billion. More recently (April 2023), Etisalat acquired a stake in Careem (the transportation services giant actively expanding its Super App platform through acquisitions) for $400 million, gaining a majority stake in the Super App.
Challenges and Opportunities for Startups
As can be inferred from the content of this article, there are many complex challenges that a startup faces when attempting to create a Super App from scratch:
Finding a killer app: It's easier for an existing app with massive adoption to evolve into a Super App than to start from scratch.
Building customer trust: Addressing customer concerns about e-commerce platforms like Amazon, where third-party sellers can offer prohibited or low-quality products, engage in review and price fraud.
Providing a good user experience: Facilitating customer adoption and retention.
Understanding cultural differences: A Super App that works well in one country might not be accepted in a different culture. Super Apps are relatively localized solutions.
Regulatory compliance: Managing personal data with third-party providers is heavily regulated, and antitrust laws can hinder expansion into different service sectors.
Payment management: Neobanks are better positioned in this aspect. Startups in other sectors need to integrate payment gateways and consider transaction costs in their business model.
Developing the provider ecosystem: Becoming the go-to platform requires significant effort and initial investment. Creating the business ecosystem can be an even greater challenge than technological implementation.
Handling technical complexity: Managing mini-applications under a single user interface is technically complex and requires many safeguards, especially if the mini-apps are developed by third parties.
However, there are also opportunities that startups can capitalize on:
Developing a Super App in an emerging country focused on payments, transportation, or delivery.
Providing technological enablers for Super App platforms.
Offering low-code/no-code solutions for third-party integration into the Super App ecosystem.
Additionally, startups can test their MVP on a Super App platform before committing resources to developing and marketing an independent native app. This way, startups can expose their MVP to a wide customer base and fine-tune it to find market fit with little effort and without having to support multiple mobile operating systems.
Telefónica Open Innovation and Undostres
UnDosTres is a Mexican Super App that is backed by Wayra and was included in the Telefónica Open Innovation 2022 Hall of fame for its impressive performance. UnDosTres offers a financial ecosystem centered around payments, allowing unbanked users to pay quickly and securely for over 100 services, including mobile recharges, household bills, urban transportation, cinemas, and entertainment.

To conclude, we are left with two main ideas: Super Apps as a means to facilitate digitalization and financial inclusion in emerging economies, and in the West, the battleground to become the user's entry point to their online life and to control, at least partially, the mobile payments business, in a highly regulated, vertically integrated environment where users are much more conscious of their privacy. Do you agree with our vision?