The consultancy firm Kreab has highlighted this framework in the white paper "Sustainable assessment of products and services", presented in Madrid, to stress the importance of creating increasingly sustainable products. During the event, Borja Adsuara, former director of the Spanish National Observatory of Technology and Society (ONTSI), stated that for innovations to be meaningful, it must improve people's lives and help the planet to bear the burden we place on it.
In the words of Alberto Muelas, Head of Sustainable Business at Kreab Worldwide, "this involves putting sustainability at the core of the business, minimising risks by addressing the requirements and recommendations of stakeholders".
Responsibility by Design at Telefónica
Responsibility by Design is an internal assessment framework that allows us to ensure that we incorporate ethical and sustainability principles right from the development of a new product or service (P&S) through to its delivery to the customer, and to be certain that they comply with our Responsible Business Principles. The framework is based on two pillars. Firstly, sustainability applied to design, which relates to the impact our products and services have on people as well as on the environment. And, secondly, design ethics, or, in other words, our commitment to the customer and use of data and Artificial Intelligence (AI).
It is a cross-cutting project involving the entire company. This represents a cultural change and a transformation of the entire organisation to transform the way in which we innovate and develop new digital solutions. This has led to the need to provide training to all areas of the company, emphasising the importance of ecodesign, accessibility, transparency, and digital rights and ethics, among other aspects.
In 2022 we assessed the sustainability of over 40 products and services under this framework, and our goal is to further integrate the Responsibility by Design framework in order to have 100% of our solutions assessed by 2025.

AI Ethics
The main benefit of a framework such as Responsibility by Design is to ensure that our digital solutions are more accessible or that we can develop responsible AI.
In this regard, all the AI projects that we develop internally or that we work on with our partners must be aligned with Telefónica's Ethical AI Principles. Adopted in 2018, they seek to ensure fair, transparent and explainable AI that is people-centric, with privacy and security by design. To this end, we also have a specific governance model in which we have RAI (Responsible Artificial Intelligence) Champions, to resolve problems and queries in relation to these technologies, as well as the Ethical AI Committee, which deals with important issues about new products that may pose an ethical risk in this regard.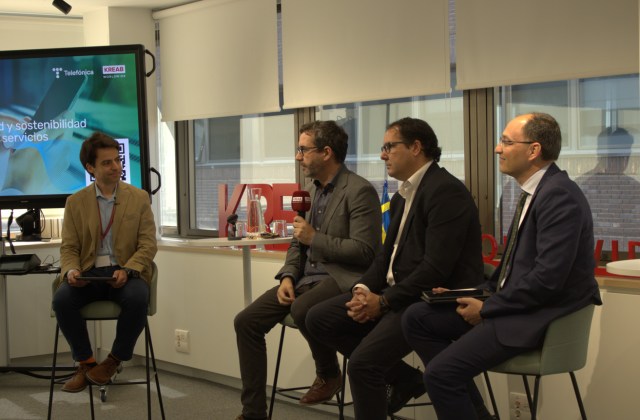 Digitalisation and sustainability
This tandem has a positive effect. It streamlines processes, creates efficiencies, drives growth, generates wealth and benefits the planet. Higher rates of digitalisation mean more environmental sustainability. "In Europe this tipping point equates to a DESI score of 48.8; from there on, one point of growth in said score corresponds to a reduction in CO2 emissions per capita of 0.003 metric tonnes", explained César Tello, CEO of Adigital, during the event.
One of the challenges of the digital world is to reduce the waste it generates. This is giving rise to a wave of innovation based on the circular economy. The company Éxxita be circular recovers over half a million devices per year (mobiles, computers, tablets, etc.) and has created a system that uses AI and big data for other companies to carry out their own self-diagnosis. This also covers other pillars of ESG; it has adapted this system for people with disabilities (S) and it improves traceability and transparency with blockchain technology (G).
The need to reduce electronic waste is also driving Nokia to transform itself. At the last Mobile World Congress, the company launched a smartphone designed to be easily repairable by users at home. In general, Nokia seeks to promote stronger materials and more recycled and recyclable materials, reduced plastic, extended warranties, smaller packaging and more sustainable transport (less air travel).
In short, these are examples that show that there is another way of doing things, while having a positive impact on business, people and the planet.