Digital societies by accident
Both fellow guests agreed that it is necessary to understand what has happened over recent months to analyze the impact of technology on today's society and economy. First, many companies have embarked on the path of digitalization at breakneck speed. Changes that would have previously taken years to materialize have been achieved in just a few weeks. "We live in digital societies almost by accident," commented the Telefónica executive. Beyond the speed, this transformation is an opportunity to accomplish a fairer, more inclusive, and sustainable society with a greener, more digital economy.
But there is still a long way to go. In Spain, 99.8% of the business fabric is made up of SMEs (including microenterprises in the total count), according to data from the Ministry of Industry, Tourism and Trade. On the other hand, large companies are the ones with the highest level of digitalization, according to the National Observatory of Technology and Society (ONTSI). This challenge can be overcome by paving the way to digitalization for smaller companies to remove potential entry barriers, and companies such as Telefónica can be catalysts for this change, Steck pointed out. This recommendation is also applicable to the public sector, according to Joaquín Flechoso, because of the urgency of "creating a 21st century Administration" to accompany this transition.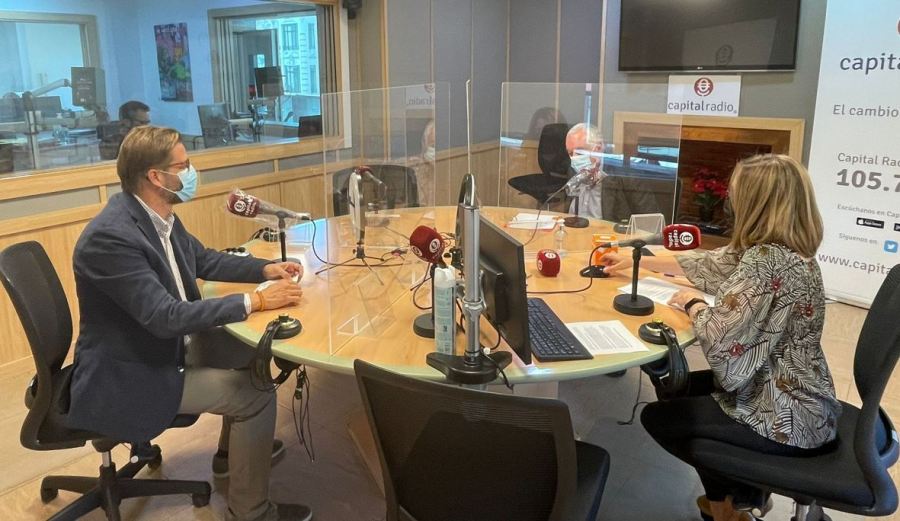 Listen the full interview here (only available in Spanish)
Public-Private cooperation: a necessity
The public sector and private companies must share the same objective: to achieve a fairer, more inclusive and sustainable digitalization, from a human-centric approach. In fact, this is the leitmotiv of the latest Digital Deal presented by Telefónica  as well as the structure of other international initiatives, such as the European Union's Next Generation Funds, or in Spain's Recovery, Transformation and Resilience Plan.
There are several challenges where collaboration is crucial. The deployment of next-generation networks is a paradigmatic case on how favourable investment conditions and a firm commitment to digitalization have turned Spain into one of the world's best-connected countries. Cooperation is also essential to train people in new digital skills, as well as to address the cybersecurity gaps that have increased during the pandemic.
Digital trust
The above analysis is only valid in a society that builds trust in the use of technology. "If digitalization does not benefit people or improve our lives, it is not going to succeed," claims Christoph Steck. The first requirement for achieving a safer digital space is to use technology responsibly. Artificial intelligence (AI) is a good case study in this regard. Until now, the responsible use of AI has been managed privately through self-regulation. However, the European Commission is already working on a proposal that categorizes the obligations to be fulfilled while considering the risks associated with the use of AI.
Proposals for digital bills of rights drafts in countries such as Spain, Portugal or Chile reflect the impact of technology on our lives. "We must apply human rights to the digital world," Steck states. In most cases, it is not about creating new rights, but about being able to implement them in the digital space as well.
All these features are essential to achieve a society in which no one is left behind, and people are at the centre because, as Joaquín Flechoso outlined: "Digital transformation is not just about digitizing a process, it is much more".