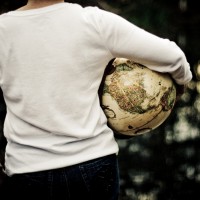 Modern design emerged as a people-centric profession that shaped the physical and cognitive environment around us, yet most design ignored the reality of "dis"abilities and addressed only the perceived needs of the so called 'normal' people. But then the iPhone arrived with all these "unique" features designed to simplify life – like Siri, text to voice, screen enhancements – ushering in the concept of universal design. And it is this which derails the idea that improving our designed environment for people with disabilities is no longer just a way of simply adding something on but rather supporting an improvement for all users. It works the other way round too; for example, push buttons that operate doors not only help people in wheelchairs, they are also useful when your arms are full or when you are pushing a stroller. Rather than creating a 'special' entrance for those in wheelchairs that has to be accommodated, the overall design is improved so that everyone benefits.
This trend was highlighted earlier this year at Mobile World Congress – the world's largest annual gathering of mobile and related industry C-Level executives – where analyst Chris Lewis of Lewis Insights published a whitepaper with Telefónica – entitled Digitising the Disabled Billion -Accessibility Gets Personal. Simply put, the individual is now at the centre of a hugely connected series of personal, environmental, societal and business flows – and that movement is true for all – regardless. With the ubiquitous mobile device at the heart of this step change, the lines are indeed blurring between assistive and mainstream technologies.
The study – as indicated by its title – is also beginning to see the disabled community itself producing apps appropriate for their peers. Telefónica's start-up incubator, Wayra Academy for instance, has received some 25,000 submissions over the last five years to be part of the company's innovation programme. Here are just three companies in the assistive space that Telefónica is helping to accelerate:
• GiveVision – develop software for glasses to improve functioning and independence for sight impaired/blind
• ChangeAlert – produce moisture sensors that fit into continence pads that alert carers to act
• uSound – app that turns your smartphone into high sound quality digital hearing aids for less than £25 vs £000s
Thus, although certain technologies create obstacles to independence for people with disabilities, other technologies—some of which are designed to accommodate impairments and some of which are designed for general use—provide the means to eliminate or overcome environmental barriers. These helpful technologies may work by augmenting individual abilities (e.g., with glasses or hearing aids), by improving the general environment, or by some combination of the two.
When you consider figures published by the Office of National Statistics that say well over 600,000 people will turn 65 each year until at least 2018 – a large-scale, long-term, repetitive public education campaign to increase the acceptance of assistive technologies can highlight what products are available to "make life easier" and convey that the time will come for us all when it will be normal to use smart technologies.