Shivvy Jervis
Head of Digital Media at Telefónica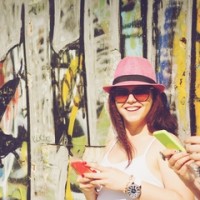 A fresh update to the largest-ever survey of more than 6,700 Millennials across Latin America, the United States and Western Europe has found that today's 18-30 year olds are strikingly optimistic about their prospects for the future.
I find this heartening, given most Gen Y-ers are having to kickstart their careers during a post-downturn phase that has made the hiring market more ruthless, competitive and unpredictable than ever.
Given my long-standing championing of #techforgood (using tech as a driver of social impact), another fact really struck me – Nearly two-thirds of Gen Y feel confident that they're able to create a positive impact on their local worlds. 40% were considerably more ambitious, saying they'd like to create impact on a global level.
Yes! This is a fantastic sign.
While creating ripples worldwide or rallying an international movement isn't an easy one (that's an understatement), the fact that my generation are seeing this as more attainable shows how much more socially conscious we've become.
Millennials in Latin America and the U.S have exceptionally high hopes for both their personal and their country's future – as many as 72% think their best days are ahead! More than half of U.S. Millennials felt this way too, rallying a positive mindset in the midst of what remains an economically challenging time.
Might there be the risk of a slightly blinkered, overly-intense focus on career though?
Both regions ranked having a "stable, well-paying job" as the personal goal they most hoped to achieve over the next 10 years (43%), far above all other choices, including buying a home (16%), having kids (10%)… and getting married!
I wonder if there's the tiny, lurking danger here of a myopic approach. And irony too – we're the most ferociously social of all preceding generations in the digital world, and I just hope we're not undervaluing personal relationships in real life.
The survey also revealed that moving countries is a non-issue – a staggering majority say they would happily look beyond their country's borders for their ideal job.
I found the stated motivation for this interesting as it varied by region: LatAm youth place more significance on the very valid concern of finding a high-paying job, while U.S. and Western European Millennials say gaining perspective on the world (64 and 53%, respectively) is their priority.
Then there's another angle. LatAm Gen Y-ers were less satisfied with their education systems than their Western Europe and U.S. peers 70%+ of whom felt they'd been given 'all of the educational opportunities they desired'. There's a strong case there for improving local education systems in the LatAm region and I hope governments and policy makers are listening to their needs.
Millennials have an innately entrepreneurial mindset: 72% agree they have opportunities in their countries to develop and bring an idea to market. All three regions felt consistently about this subject and expressed a desire to be able to shape their own careers and create jobs in an economy rife with unemployment. If you're interested, you can explore the full report findings here.
Alec Ross, a highly well-known commentator/expert on the subject and Senior Fellow, Columbia University insists that "millennials are a widely misunderstood segment of the world's people". He adds that 'it's critical to understand the views and behaviours Gen Y hold in common with older generations as well as those that set them apart'.
I concur. Today's 18-30 year olds are our future political, civic and business leaders. In a compelling report from the White House Council of Economic Advisers on the "15 Economic Facts About Millennials", we are told Millennials are now the largest and most diverse generation in the U.S. population.
An increasing number of the achievers I interview for the blog I curate (dedicated section here) or the video series I produce fall in that demographic. I don't need to look far – my younger sister Devika is making waves. She created a successful event series, has designed for some of the world's most creative brands and is now gaining experience with a brilliant Hollywood production company. All this by 25.
Millennials – the world is our playground. Onwards and Upwards!
This article has been originally featured on The Huffington Post and written by Shivvy Jervis, Head of Digital Media for Telefonica. You can find her on Twitter and The Huffington Post.