The opening of Campus 42 in Malaga in April brings the number of Telefónica Foundation programming campuses in Spain to four, which are based on a different way of learning, where digital education opens up to young people as a great door to focus their future on programming, cybersecurity, software engineering or video game development.
The 42 Madrid, 42 Urduliz (Bizkaia) and 42 Barcelona campuses had already shown all the possibilities that a methodology based on challenging projects allows, following Network 42, which is made up of a network of 36 campuses located in 23 countries. A partnership that began in 2019 and continues to grow.
It is a pioneering method in the world, whose pillars are free of charge, face-to-face, where there are no books or classes, and where no previous knowledge or qualifications are required.
It is a digital education based on learning to learn, through gamification and peer-to-peer training.
Centre of attraction
At the inauguration of this fourth campus, José María Álvarez-Pallete, CEO of Telefónica, made clear the company's intentions, such as "becoming a centre of attraction for cutting-edge technology and highly qualified professionals through its Innovation and Talent Hub".
Within this hub, he highlighted the 42 campuses, which with the one in Malaga reinforces Telefónica's commitment "to train the best digital professionals in one of the most cutting-edge cities in technological innovation".
The importance of this fourth campus in Spain is shown by the fact that more than 4,000 applications have been received and more than 1,000 digital experts are expected to be trained in the coming years.
172 pass the pool
At the beginning of Campus 42 in Malaga, the first generation of 172 students have passed the 'pool', which is nothing more than a virtual pool in which the candidates for the campus must immerse themselves for 26 days to show and demonstrate their abilities.
Of these, 17.5% are women, 88% are from Andalusia, the majority from Malaga, and the average age is 30.5 years.
42 Malaga is located in the Tabacalera Complex, where it has a 2,400 m2 campus with a capacity for 600 students and 210 computers. The Malaga campus, like the other campuses, is free of charge, with no age limit, open 24 hours a day, seven days a week.
This is a clear commitment of the Malaga and Andalusian institutions to training, and as the Mayor of Malaga, Francisco de la Torre, emphasised, it is very dear to the city.
As De la Torre acknowledged, the day after learning of the existence of the Telefónica Foundation's project for these campuses through the media, he wrote a letter to Álvarez-Pallete "in which I requested that the next centre be located in Málaga and offered him collaboration in finding suitable facilities; 24 hours later I received a letter from him in which he told me that he would be personally interested in this offer".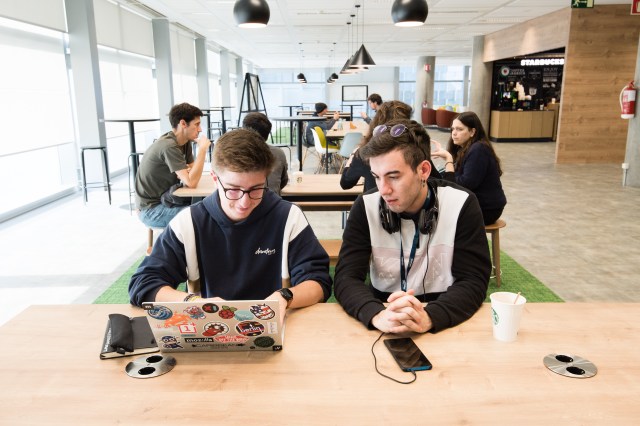 Open doors at Campus 42
While Malaga is beginning to write its own history, full of working days, anecdotes and a lot of learning, the rest of the Spanish campuses continue with their day-to-day work, bringing out the best in each one and with the possibility now of visiting them thanks to the open days that will be organised in the coming weeks.
As the organisers rightly say, it is about discovering why these programming campuses "are among the top 10 most innovative in the world, and third in ethical values ahead of Harvard, Yale and Columbia".
Therefore, these days have been organised, where not only will it be possible to get to know the different facilities and the working environment of the four campuses, but also where anyone who so requires will be given advice and details of the working method of this training method.
A good opportunity to find out more about a new way of working and learning, in which to enter you do not look at whether you have a great academic or work record but by the desire to increase knowledge and the attitude and perseverance to be able to learn skills and enjoy.
A commitment to talent
Campus 42 is part of the company's commitment to talent, but it is not the only project in this sense; it is a present and future Telefónica line.
An example of this is the recently inaugurated Universitas campus, a centre that is part of the global Innovation and Talent Hub that the company set up in the Telefónica District in Madrid.
Universitas, Telefónica's corporate university, offers Telefónica employees, without any limitation, a complete learning approach, which focuses on growth in digital skills, but also in the most necessary human skills.
Find out more about Campus 42 on Telefónica's Twitch channel
Next Tuesday 26th May at 5 pm Spanish time, the official Telefónica channel will broadcast live an interview with Pablo Gómez, a promising young Artificial Intelligence student at Campus 42 in Madrid.
During the programme, Pablo will explain how he joined the Campus, as well as the events that encouraged him to immerse himself in the world of Artificial Intelligence. Other topics that will be part of the programme include the ethics of this type of technology, the current uses it is being put to and the history of how it came to be known that such training campuses existed.