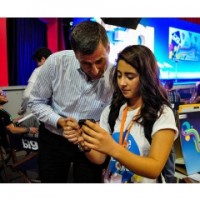 Ronan Dunne (pictured) will launch the GMS at One Young World
Ronan Dunne (@ronandunneo2), Chief Executive Officer of Telefónica UK (O2) and member of the Telefónica SA Executive Committee, will discuss this year's Global Millennial Survey at One Young World in Dublin, Ireland in front of 1,300 Millennial leaders from 190 countries.
The session itself will be streamed LIVE via the GMS homepage on Thursday, 16th October at 13:45pm (GMT+1).
The annual Millennial summit, which takes place between 15-18 October, is the second largest gathering of nations on earth, second only to the Olympic Games. After delivering the latest findings from the world's largest and most comprehensive Millennial survey, Ronan will then be joined on stage by four ex Latin American presidents to deliver a special session on the continent.
Click here to read the full post published on the Telefónica Global Millennial Survey.