Chema Alonso
Chief Data Officer, Telefonica.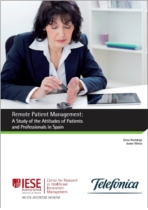 On October 29, IESE Business School and Telefónica presented the report "Remote Patient Management: A Study of the Attitudes of Patients and Professionals". The study reflects the views of almost 1,800 people, including chronic patients (hypertension, diabetes, heart disease and chronic obstructive pulmonary disease or COPD) and medical professionals across Spain (general practitioners, specialists and nurses) on Remote Patient Management (a system that, through the use of technology, allows patients to monitor their health from home and share the results in real time with their doctors).
The study shows that 70% of chronic patients and 80% of health professionals would be willing to use the system, if were available, for the benefits that it provides. Currently, only a small group of professionals (between 3% and 11%) and patients (7%) frequently use RPM systems, although they perceive many potential benefits in its use.
Although both professionals and patients are aware of the assets of Remote Patient Management (RPM), the report also reflects concerns the RPM raises and proposes nine recommendations for solving them and improving health care with fewer resources in times of budget cuts in health services.
These recommendations are the following:
1. Providing clear, relevant, transparent and timely information about RPM is the first essential step that should be taken for promotion and successful adoption of RPM.
2. There is a need to facilitate the dissemination of results and evidence of successful RPM experiences in different regions and settings, and to encourage prospective beneficiaries to adopt the system.
3. When providing information on RPM, special attention should be paid to increasing awareness of RPM among the groups with the least knowledge of it and its meaning, e.g. General Practitioners (GPs), patients with high blood pressure, patients with diabetes, patients with a low income, and those residing in the central, north-western and eastern regions of Spain.
4. Promotion of RPM among healthcare professionals (HCPs) should start in the public sector, as the HCPs working in the public sector were less skeptical about using RPM if it were available than those working in the private sector.
5. Promotion of RPM should start with the patient groups that perceived RPM more enthusiastically: patients with COPD, patients with heart disease, those having a higher income and those residing in the southern and north-eastern regions of Spain and in Madrid.
6. To successfully promote RPM among patients and to build patients' trust in the system, information about RPM should come from a "trustworthy, reliable and credible source".
7. There is a need to reassure patients that the introduction of RPM will not cause the personal patient-doctor relationship to suffer.
8. Clearer information should be provided on the technology and level of knowledge required from patients and HCPs to use RPM and less technologically literate patients should receive personalized applications adjusted to the level they feel comfortable with.
9. Strong privacy protection should be key in the deployment of any RPM initiative.
As the report says, the study findings are "good news for an industry striving to discover how to do more with less. It is our hope that the different stakeholders in the system will take notice of these results and move forward in the deployment of Remote Patient Management applications."
You can click here to see the report.