Telefónica Public Policy & Telefónica España Regulatory teams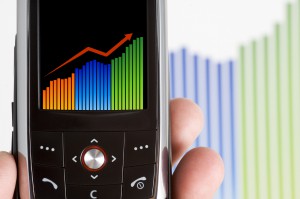 A doubling of mobile data use leads to an increase in GDP per capita growth of 0.5 percentage points.
Previous research has shown that mobile phones have a positive impact on economic growth but until now there has been no evidence to suggest that data consumption via mobile phones had any economic impact.
A new study from the GSMA, collaborating with Cisco and Deloitte, shows that mobile data consumption can have a big impact on economic growth:
In a sample of 14 countries, Russian 3G connection uses the most data, more than 2 Gigabytes per year on average, which boosts economic growth by 1.4 per cent in that country.
The UK comes second, with a typical 3G connection using just under 2 Gigabytes per year, driving economic growth by almost 1.2 per cent.
Marginal effect of mobile data usage per 3G connection on GDP per capita growth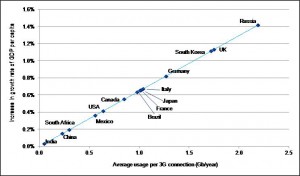 Source: Deloitte analysis
Data from Cisco's Visual Networking Index shows that total mobile data usage has more than doubled on average every year from 2005 to 2010 in each country in the sample.
In the USA, mobile data usage grew on average by 400% a year between 2005 and 2010, while in the Western European countries considered, it grew by 350%.
In countries such as India, Brazil and China total usage has also more than doubled every year on average since mobile data was introduced. Mobile data usage per each 3G connection also more than doubled on average every year in the period 2005 to 2010 in each country in the sample, despite the considerable increase in 3G connections.
Mobile data usage, Pb/month (2005-2010)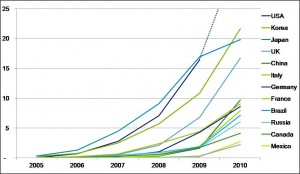 Source: Cisco Systems.
In 2010, in the USA, mobile data usage was approximately 40 Pb/month (Pb = Petabytes = 1015 bytes)
Cisco forecasts predict a continuation of this growth trend and we will aim to monitor the economic impact each year.
You can have a look at the whole report here.
Gabriel Solomon, GSMA.