Editorial Staff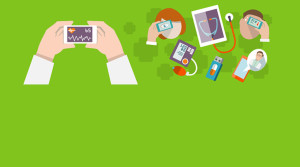 The area of healthcare is evolving towards a model based on personalised medicine. Thanks to technological developments, the possibility exists that the sector will transform to offer far more individualised, participatory and preventive services. With this in mind, mHealth, which is the provision of healthcare and information about health via the use of mobile devices and wireless monitors, is one of the great developments for patients, investors and providers.
Based on this, the firm PwC commissioned the Economist Intelligence Unit to carry out a study on the opportunities and challenges of mHealth that looked at patients, patient defence groups, health professionals, health institutions, providers, companies in the health sector and technological developments in ten countries.
The study showed that establishing mHealth brings important social and economic benefits and will drive a change in the health sector. In the report we can identify three key elements that will directly influence the development and the possible future implementation of these new technologies: patients, doctors and investors.
On the one hand, patients in emerging countries are more up-to-date with mHealth and have high expectations for its use. They are more optimistic when it comes to using it for their general care, mainly due to its ease of use, since ground links in these areas, like motorways and transport, are still being developed and there are few doctors relative to the size of the population. Conversely, in developed countries the hope for mHealth is not only to change the current health experience, but also to improve the quality and costs of these services. They also claim that they will only start to use it if it improves healthcare access and control.
Doctors consider the possibility of offering mHealth services to be a great opportunity and believe that its use would improve patient contact. The best incentive for both doctors and investors is the search for quality and efficiency.
For investors, the patient has to be the centre of attention in mHealth. Currently, they support various services of this type and plan to foster many more. It should be highlighted that there is greater interest in emerging markets that do not use mHealth yet. Consequently, investors prefer to support mHealth in these markets rather than in developed countries.
The fact that the use of these technologies is necessary must be taken into account, since in many cases, poor integration of IT systems prevents the implementation of mHealth. Furthermore, there is always a significant technological gap between the private and public sectors.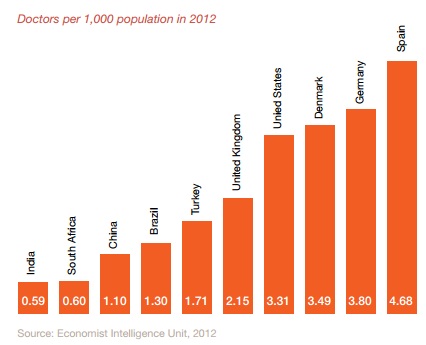 How to make mHealth prosper in complex health environments?
Currently, mHealth is being adopted in countries with the greatest need and where there are hardly any barriers to entry for its launch and development. These are emerging countries in which patients cannot obtain effective care within the existing infrastructure or cannot afford the services. The development of mHealth services allows for time to be saved, and also increases accuracy in diagnoses and prescriptions according to health professionals.
Companies that wish to encourage this service ought to take the following guidelines into account
Select the target carefully. Find applications and services that bring a concrete value to specific interest groups, and that will be easily identifiable. A study should be carried out on the potential benefits that can be obtained with the innovation, based on the necessary funding for its development.
Think in global terms. The current mHealth market is found and will continue to be found in emerging economies. These countries will be the source of innovations that can then be transferred to developed countries.
Focus on solutions and not on technology. An excessive emphasis on a specific device can lead to companies missing opportunities to resolve problems for which users will be willing to pay. There are companies whose field of activity is found beyond health care that can detect these business opportunities, but the key is that the majority of the health sector should understand the potential of new technologies first. They should understand the industry, work with existing providers and investors and cooperate with other companies, to contribute to the development of mHealth as an ecosystem that supports the long-term use of this technology.
Identify possible partners to have a greater impact and find a new value. Any technology is based on the existing relationship between providers, creators and users. The mHealth ecosystem is beginning to evolve and it is hoped that many beneficial relationships will be found. This evolution will also involve cooperation and co-creation between member organisations, including existing health companies, providers of new technologies, investors, doctors and even patients. In this way, it will be easier to identify the best way to use new technologies and will make the adoption of these smoother for society.
Above all, advocates of technology, especially those that do not belong to the health field, will need to avoid the trap of considering mHealth as something other than health care. Its greatest value is the way in which it integrates with health systems and allows them to offer better care to patients.
In conclusion, mHealth can bring important social and economic benefits, although it is necessary to remain cautious in implementing the technology, as there are many situations in which the patient-provider relationship is essential.
Discover the solutions that we at Telefónica provide to help improve the lives of patients, professionals and operators/providers of health services: http://ow.ly/GxoLi
You can see the complete PwC report here: http://ow.ly/Gx3wN