The amount of data generated and collected by the connected economy is staggering. According to one estimate, 90% of all data in the history of the world was generated in the last two years. The phenomenon of big data – where information comes from different sources ranging from connected devices to sensors and GPS – offers enormous potential to develop innovative products and services.
But big data challenges established ways to protect personal information. Do individuals understand well enough how big data works to be able to grant consent to their information being shared? Is the notion of consent becoming outmoded and should we look to new models based on control that would enable individuals to manage their data more effectively? The EU is currently overhauling its data protection rules which date back to 1995. Will the new rules been negotiated be able to deal with the challenges of big data? Or will they hold back innovation in the digital sphere?
European Voice is organising an online debate on these issues on 10 to 18 July. The motion to be debated is: "In the era of big data, the concept of informed consent is an illusion." Join the debate here.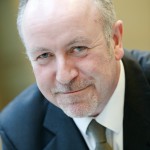 Simon Taylor, Assistant editor, European Voice.
Simon Taylor is the author of 'Data: the new currency?' a research report published by European Voice and sponsored by Telefónica. Based on extensive dialogue with industry, government and civil society stakeholders, 'Data: the new currency?' includes eight policy recommendations on issues which will be hotly debated in the EU during the coming months and years. They cover: building knowledge and data literacy, supporting open data in government and industry, rules for privacy that also support innovation, sanctions, redress and big data ethics, developing an integrated approach to data protection, competition and consumer protection, protecting human rights and freedom of expression, and a focus on enabling global data flows.  You can download the report here.
Simon Taylor was previously news editor from January 2010 and before that senior reporter from March 2006. He is a regular commentator on the BBC and other international media on EU affairs. Simon has also worked for the Sunday Times and Guardian newspapers and was Brussels correspondent for IDG News Service. He is a graduate in French and German from Cambridge University as he speaks both languages fluently in addition to his native English.