Telefónica is one of the most important engines for progress in the communities where it is present and now, thanks to a PwC analysis, we can back it up with data.
Some of the figures revealed in the study appear in our first Integrated Report 2015, a document that shows the relationship between the strategy, governance and financial performance of Telefónica and its social, economic and environmental surroundings.
Specifically in 2015, Telefónica contributed to employment with more than 1.2 million people. Thus, for each person recruited for our workforce, we generated 8.5 additional jobs in the countries in which we operate. In total, our contribution to employment represents, for example, close to 1% of the employed population in Spain and Peru.
How do we do this? Both directly, with our employees (at the close of 2015 we were a total of 129,890 professionals), and induced (through the purchasing power of our employees) and indirectly, which is what adds up most (60.2%) and comes from our significant purchasing volume: more than 23,700 million euros per year for more than 12,200 providers with close to 85% allocated to local suppliers.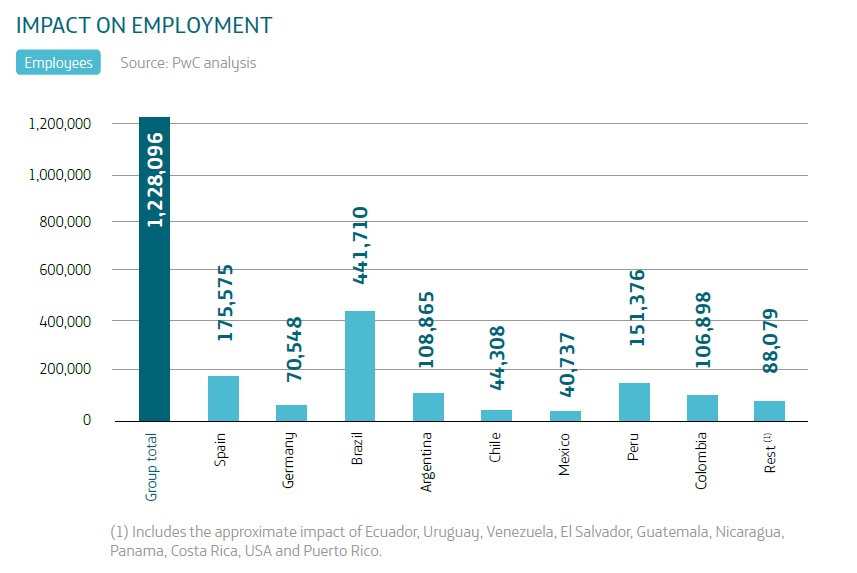 Additionally, in the markets where we operate, we contribute more than 53,600 million euros to the Gross Domestic Product (GDP): 3.7 euros per each euro we generate.
This includes our total tax contribution, 11,454 million euros in 2015.
Our network's values
According to PwC, the Broad Band, fixed-line and mobile that we have deployed represents 2.2% of GDP from the past year. In addition, this is a responsible deployment that strengthens energy efficiency and minimises environmental impact, i.e. with stations shared among other operators.

Behind the scenes is a large part of the company's investment, which rose to 9,578 million euros in 2015, which represents 20% of revenue and an increase of 10% with regards to the previous year.
Connectivity is not just the core of our business, but also the foundation for narrowing the digital divide and guaranteeing people's access to (digital) life with the very best technology and without leaving anyone behind.
The consulting analysis continues and soon we will be receiving figures that depict our environmental and social impact because, as highlighted in José María Álvarez-Pallete's Report, "at Telefónica we are set on promoting a responsible business model, one that is capable of generating trust in our customers, investors, employees and shareholders, and in society at large."
Other things that can be described in the Report
Our Responsible Business Plan includes projects in customer commitment and digital trust; talent and diversity; supply chain sustainable management; environmental management and sustainable innovation.
The satisfaction index of our customers totals 7.56 points, 0.10 more in relation to the goal we set for ourselves.
Just in Latin America we have invested 130,000 million euros over the past 25 years.
We have built differential technology platforms, with an investment of almost 40,000 million euros, between 2012 and 2015.
In 2015 we performed 24 audits in matters of personal data protection and 36 in cybersecurity.
Familia Digital, a free online platform for parents about responsible internet use continues to grow in Spain and is already present in seven Latin American countries as well.
47% of Telefónica professionals under the age of 30 are women.
With our fleet management service alone, we have avoided emissions of 1 MtCO2e.g. in 2015, the equivalent of 50% of our carbon footprint (ranges I and II).
We recycle 97.2% of our generated waste.
In 2015 we invested close to 6,600 million euros in R&D+i and we are the fourth global telco to invest most in R&D -1,012 millions- and the second in Europe.
We have sustainable innovation services for digital education, eHealth, intelligent environment and societies, finances and security.
We are the third largest company in the world in education investment. In 2015 we improved education quality for 1.5 million children and teenagers.