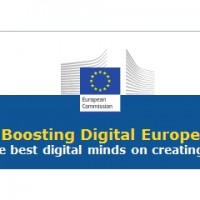 Below, founder of Tuenti – Spain's largest social network and mobile multiplatform – Zaryn Dentzel sets out why he thinks Europe should become more entrepreneur – friendly and how it should look beyond its borders to achieve global success
The Internet is one of the key factors driving today's economy. No one can afford to be left behind. Even in a tough macroeconomic framework, the Internet can foster growth, coupled with enhanced productivity and competitiveness.
The Internet provides opportunities for strengthening the economy: How should we tackle them? While Europe—and Spain specifically—are making efforts to make the best possible use of the Internet, there are areas in which their approach needs to improve. Europe faces a major challenge, and risks serious failure if it lets the United States run ahead on its own.
The European Commission, in its "Startup Manifesto," suggests that the Old World be more entrepreneur-friendly—the proposal is backed by companies like Spotify and Tuenti. Europe lacks some of the necessary know-how. We need to improve in financial services and in data privacy, moving past the obsolete regulatory framework we now have and making a bid to achieve a well-connected continent with a digital single market for 4G mobile connections. We need to make it easier to hire talent outside each given country.
The use of e-commerce should be encouraged among small and medium-sized enterprises so that growth opportunities can be exploited more intensely. Following the global trend of the Internet, companies should internalize their online business. And much more emphasis should be placed on new technologies training in the academic and business spheres.
Modern life is global, and Europe is competing against all regions and countries in the world. I do not believe in defeatism or victim culture. Optimism should not translate into callousness, but I sincerely believe that if you think creatively, if you find a different angle, if you innovate with a positive attitude and without fear of failure, then you can change things for the better. Europe needs to seize the moment to reinvent itself, grasping the opportunities offered up by the online world. We need to act, take decisions, and avoid "paralysis through analysis." I sometimes feel we are too inclined to navel-gazing: Europe shuts itself off, fascinated with its own contradictions and local issues, and loses its sense of perspective. Europe should open up to the outside, use the crisis as an opportunity to do things differently, in a new way—creating value, underlining its strengths, aspiring to be something more.
In the United States, for instance, diving headfirst into a personal Internet-related startup is regarded as perfectly normal. I'm glad to see that this entrepreneurial spirit is beginning to take hold here as well. I believe in working hard, showing perseverance, keeping your goals in view, surrounding yourself with talent, and taking risks. No risk, no success. We live in an increasingly globalized world: of course you can have a Spain-based Internet startup, there are no frontiers.
We need to take risks and keep one step ahead of the future. It is precisely the most disruptive  innovations that require radical changes in approach and product, which might not even find a market yet ready for them—these are the areas providing real opportunities to continue being  relevant, to move forward and "earn" the future, creating value and maintaining leadership. It is the disruptive changes that enable a business, product, or service to revolutionize the market— and, particularly in the technology sector, such changes are a necessity.
The future of Social Communications, Innovation, Mobile Technologies, and Total Connectivity in our lives
The development of the Internet today is being shaped predominantly by instant, mobile communications. The mobile Internet is a fresh revolution. Comprehensive Internet connectivity via smartphones and tablets is leading to an increasingly mobile reality: we are not tied to any single specific device, and everything is in the cloud.
The future of social communications will be shaped by an always-online culture. Always online is already here and will set the trend going forward. Total connectivity, the Internet you can take with you wherever you go, is growing unstoppably. There is no turning back for global digitalization.
Innovation is the driving force of growth and progress, so we need to shake up entrenched processes, products, services, and industries, so that all of us together—including established businesses, reacting to their emerging competitors—can move forward together.
Innovation is shaping and will continue to shape the future of social communications. It is already a reality that Internet connections are increasingly mobile. A survey we conducted from Tuenti in 2013 in partnership with Ipsos found that 94 percent of Tuenti users aged 16 to 35 owned cell phones, 84 percent of users connected to the Internet using their phones, and 47 percent had mobile data subscriptions for connecting to the Internet. A total of 74 percent of users reported connecting to the Internet from their phone on a daily basis, while 84 percent did so at least weekly. Only 13 percent did not use their phones to connect to the Internet, and that percentage is decreasing every day.
Mobile Internet use alters the pattern of device usage; the hitherto familiar ways of accessing the Internet are changing too. The smartphone activities taking up the most time (over three hours a day) include instant messaging (38%), social media use (35%), listening to music (24%), and web browsing (20%). The activities taking up the least time (under five minutes a day) are: SMS texting (51%), watching movies (43%), reading and writing e-mail (38%), and talking on the phone (32%). Things are still changing.
Smartphones are gaining ground in everyday life. Many of the purposes formerly served by other items now involve using our smartphones. Some 75 percent of young people reported having replaced their MP3 player with their phone, 74 percent use their phone as an alarm clock, 70 percent use it as their camera, and 67 percent use it as their watch.
We have been observing these shifts for a while, which is why we decided to reinvent ourselves by placing smartphones at the heart of our strategy. I want to use this example as a showcase of what is happening in the world of social communication and the Internet in general: mobile connectivity is bringing about a new revolution. Tuenti is no longer just a social network, and social media as a whole are becoming more than just websites. The new Tuenti provides native mobile apps for Android, iPhone, Blackberry, Windows Phone, as well as the Firefox OS app and the mobile version of the website, m.tuenti.com. Tuenti is now a cross-platform global service that lets users connect with their friends and contacts from wherever they may be, using their device of choice. A user with a laptop can IM in real time with a user with a smartphone, and switch from one device to another without losing the thread of the conversation. The conversations are in the cloud, so data and contacts are preserved independently of the devices being used.
This means the experience has to be made uniform across platforms, which sometimes involves paring down functionalities, given the processing and screen size limitations of mobile devices. Facebook, Twitter, Instagram, Linkedin, and so on are all evolving to become increasingly cross-platform experiences. But Tuenti is the first social network that has also developed its own Mobile Virtual Network Operator (MVNO)—the company is an Internet service provider over the mobile network. Tuenti is an MVNO with a social media angle, and this may be the future path of telecommunications, integrating services such as VoIP calls or cloud phone features.
Obviously, the Internet and Digital Economy also create challenges for policymakers due to the speed they disrupt established markets and its global reach, which goes across national jurisdictions. Telefonica has recently published its "Digital Manifiesto" where it lays out recommendations and its interesting vision of how to create an open and safe digital experience for its customers before the backdrop of this epochal change.
Social media are evolving to become something more, and innovation must be their hallmark if they are to continue being relevant. Tuenti now embraces both social communications and telecom services provision, offering value added by letting you use the mobile app free of charge and without using up your data traffic allowance, even if you have no credit on your prepaid card—this is wholly revolutionary in the telecom sector. The convergence of social media with more traditional sectors is already bringing about a new context for innovation, a new arena for the development and growth of the Internet.
Just about everything in the world of the Internet still lies ahead of us, and mobile communications as we know them must be reinvented by making them more digital. The future will be shaped by innovation converging with the impact of mobility. This applies not just to social media but to the Internet in general, particularly in the mobile and social communications field. I feel that many people do not understand what we are doing and have no idea of the potential development of companies like ours at the global level. Right now, there may be somebody out there, in some corner of the world, developing the tool that will turn the Internet upside down all over again. The tool that will alter our day-to-day life once more. Creating more opportunities, providing new benefits to individuals, bringing more individual and collective well-being. Just ten years ago, social media did not exist; in the next ten years, something else radically new will emerge. There are many areas in which products, processes, and services can be improved or created afresh. The future is brimming with opportunities, and the future of the Internet has only just begun. Europe cannot afford to lag behind.
by Zaryn Dentzel, CEO & Founder Tuenti
This article has originally been published on "Digital Minds for a New Europe" – a series of 'think-pieces' by the world's best digital minds on Neelie Kroes's site. Click here to read it.