Just a few days ago, the Ibero-American Business Summit took place in the presence of numerous heads of state and various civil society organisations. This meeting was held at a time when the Covid-19 is rebounding in several of the region's countries, which is preventing the economic recovery from gaining the necessary strength to accelerate all the challenges it has been facing for some time. Reducing informality and poverty levels, increasing productivity, and improving (and in many cases restarting) education systems are some of the issues that still require a response from institutions and society in Latin American countries.
Within this framework, the Digital Transformation and Industry 4.0 debate was held where professionals from Telefónica, Minsait-Indra, Banco Santander, Mobile World Capital and Andorra Telecom shared their vision of the region, the changes that are required and the role that technology can play at this critical time to transform companies, industries and Latin American economies as a whole.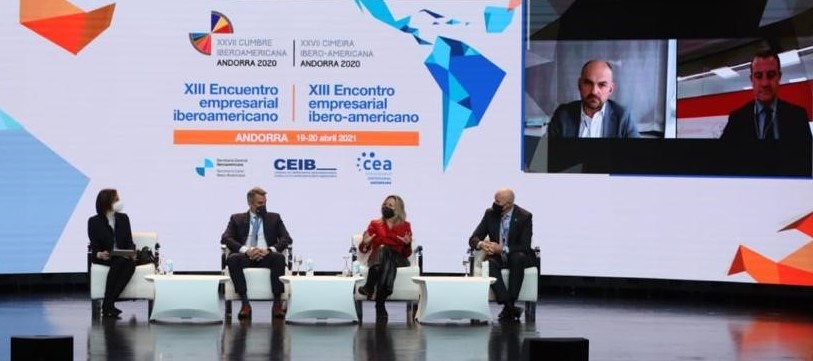 From left to right: Ana Valero (ASIET, Telefónica), César Marquina (Andorra Telecom), Trinidad Jiménez (Telefónica), Carlos Grau (Mobile World Capital), INDRA's representative and Luis Colorado (Banco Santander).
Digital emergency
The pandemic came as a surprise. Companies, governments and citizens do not usually plan for such crises. For the telecommunications industry, the pandemic was a structural change on the demand side. Connectivity needs grew by double digits overnight in the months of March, April and May, coinciding with the peak of the confinement. But this growth in demand for digital services was not fleeting. As economies regained mobility and the lockdowns eased, demand for connectivity has remained high and continued to grow rapidly.
As Trinidad Jiménez, Global Director of Public Affairs Strategy at Telefónica S.A., pointed out: "Moving 95% of your workforce to telework requires a very intense prior digital transformation process (…) even more so considering that only 5% of company workforces teleworked before the pandemic", a figure that today stands at over 60% in Spain. In Latin America, the number of employees who were able to telework in the first wave of the pandemic reached just over 25%, according to ECLAC data.
In many corners of the region, students had not returned to school a year after the start of the pandemic. Online education has been the only path to knowledge for millions of students.
Closing the digital divide is urgent, but the number of people living in areas without coverage remains above 20% of the population. More than 100 million citizens whose businesses cannot go digital, students forced to take a mandatory break in their education process, citizens who feel left behind. In this sense, Carlos Grau, CEO of Mobile World Capital described this situation as a "digital emergency". There is no more pressing need in the region today, nor a purpose that generates more consensus. Digitalisation is a fundamental element not only for progress, but also a key factor for inclusion and a generator of opportunities.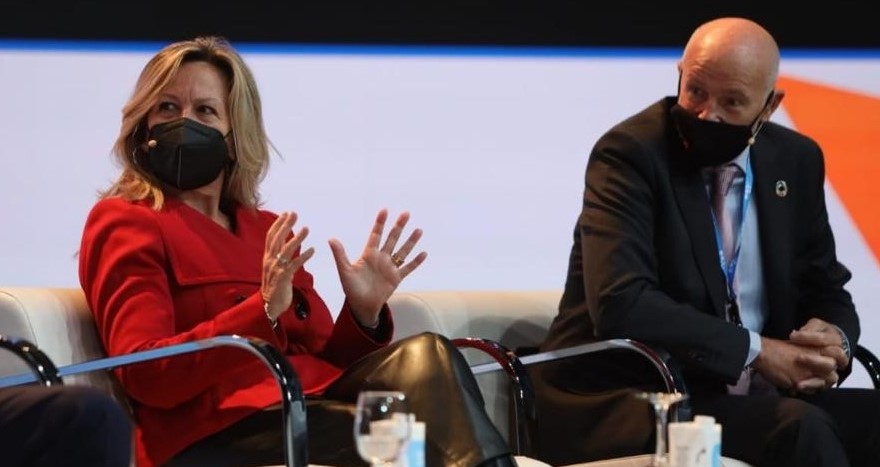 Trinidad Jiménez (Telefónica) and Carlos Grau (Mobile World Capital)
A Digital Deal for Latin America
The digital transformation provides an opportunity to advance the most urgent structural reforms. OECD, ECLAC, World Bank and the EU repeat this in their reports.
The OECD recently published its recommendations for improving connectivity among its member countries. Among other issues, it recommends public policies that encourage investment in technological infrastructure, content and applications that ensure the widespread adoption of technologies, the promotion of innovation in connectivity and the implementation of legal and regulatory frameworks in which decisions are taken independently, impartially and objectively. But the recommendation does not stop there. The OECD specifically points out the need to take measures to reduce the digital divide and encourage people who do not yet use the internet to do so. To this end, it recommends regulations and policies that address the most urgent issues to close the gap. These include: encouraging the adoption of technological and financial solutions to provide connectivity to rural or remote areas where infrastructure deployment is more complex, and implementing spectrum policies that encourage maximising social welfare, i.e. achieving the highest possible number of people connected as quickly as possible ahead of other objectives.
At Telefónica we presented our Digital Deal, which is nothing more than a guide for tackling the digital emergency that was discussed at the Summit.
The Telefónica Digital Deal advocates rebuilding economies and societies in a more inclusive and sustainable way, where digitalisation is another lever to tackle inequalities and improve people's lives. To this end, we believe in inclusive digitalisation, where internet access is for all, competition in markets develops in a balanced way, and ethical and responsible use of data is encouraged.
We believe that "promoting digital transformation in the Ibero-American space, in collaboration with public and private institutions, with the aim of guaranteeing universal access to new technologies, increasing productivity, reducing the digital divide in Ibero-American society and business fabric, promoting the creation of new products, services, processes and new business models (digital platforms and the development of Industry 4.0), and encouraging cooperation in cybersecurity" as stated in the document of Recommendations of the Ibero-American Business Summit in Andorra, is even more necessary today.