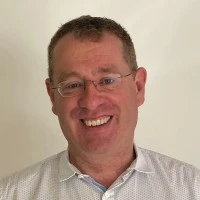 Antonio Muñoz Marcos
Data Protection Technical Director, Global DPO Office at Telefónica
Telecommunications Engineer, Graduate in Law and Graduate in Social and Cultural Anthropology.
For most of my professional life I have worked in different companies of the Telefónica Group. I started my professional career in 1996 in Telefónica I+D in Infovía (the first massive experience of Internet user access in Spain).
From 2001, I worked as Product Manager of Entertainment and Personal Information Services at Terra Mobile, first Telefónica's mobile internet portal.
From 2004 to 2011, I worked in the General Secretary of Telefónica Spain in new digital services, Internet and content and worked in the Broadband Lab of China Netcom in Beijing.
From 2011 to 2018 I have been responsible for regulation and privacy in Telefónica's corporate digital and commercial units, in big data and Internet of Things. 
Since 2018, I work as Data Protection Director of Global DPO Office, in charge, among other issues, of the implementation of the privacy governance model in the Telefónica Group.
---
Related Content