The new technologies applied to knowledge, culture and solidarity give us more opportunities than ever to work successfully on the transformation of society.
This is the focus of the social projects we undertake in Telefónica through sponsorships, agreements with the third sector, direct actions, our Foundation and the Telefónica Group Association for Attention to People with Disabilities (ATAM). In total, in 2017, we allocate more than 138 million euros a year to philanthropy, in accordance with the international LBG (London Benchmarking Group) methodology. Fundación Telefónica is the main driver of our initiatives.
It's mission consists in improve people´s development opportunities through educational, social and cultural projects adapted to the challenges of the digital world, through this strategy:
Education: improve opportunities for children in vulnerable environments, through educational transformation initiatives supported by an innovative and quality digital education.
Digital culture: present to society the latest expressions of culture and art, with digital, innovative and creative formats.
Employability and entrepreneurship: improve the skills, competencies and skills of young people to increase their opportunities for professional and personal development in the new digital society.
Volunteering: mobilize people linked to Telefónica to promote, with their solidarity action, the digital inclusion of vulnerable groups, online security and local and community development.
PROFUTURO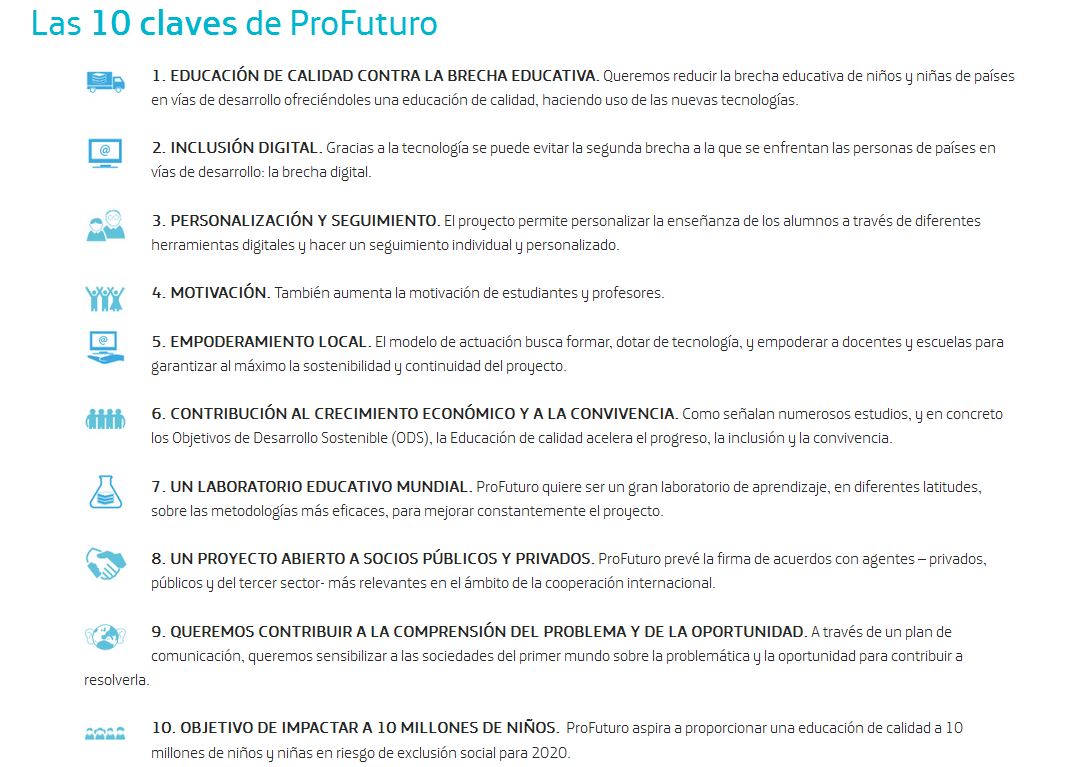 Education is the most powerful instrument to reduce inequality and build the basis for sustainable growth worldwide.
The initiative promoted by Fundación Telefónica and Fundación Bancaria "la Caixa" to bring digital education to children from vulnerable environments has already benefited 8 million children in 28 countries.
ProFuturo aims to favor ten million children by 2020.