The Chairman of Telefónica and the GSMA, José María Álvarez-Pallete, presented the GSMA Open Gateway initiative at the opening session of the Mobile World Congress (MWC), which will bring together telecommunications companies, industry, technology giants and developers to create the digital future together.
This project will, among other things, enable the sharing of open and standardised APIs with a clear focus on providing interoperable access to carriers' networks for developers and 'hyperscalers' (platforms that provide infrastructure, platform and hosted private cloud services).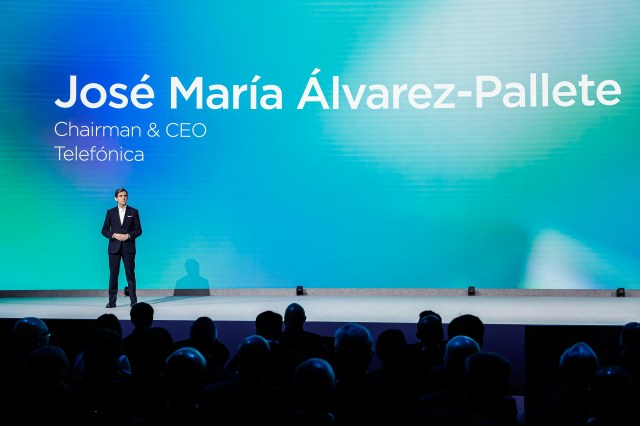 This is all under the framework of a Memorandum of Understanding (MoU), signed by 20 companies in the telecommunications industry.
GSMA Open Gateway launches with the capability to reach 3.8 billion people and eight standardised APIs under the CAMERA umbrella.
The chairman stressed that this project will create a new world of opportunities for the industry, generate choice and bring value to consumers. Álvarez-Pallete placed the launch of this project within the "tsunami of innovation" that is giving rise to a new era emerging from the accumulation of disruptive technologies that are acting as catalysts for this new paradigm. The combination of technologies and the evolution of the sector will offer innovative services and solutions with real uses and applications.
These are the demos presented by Telefónica at Mobile World Congress 2023
Holographic telepresence with 3D capture now a reality
Telefónica has also presented a 3D holographic telepresence system at the Mobile World Congress (MWC). The demonstration, called "Making Holographic Telepresence Happen", is based on fibre, 5G and Edge Computing technologies. The company has set up a volumetric capture room on its stand, where visitors can instantly see themselves transformed into a 3D avatar and transported into augmented and virtual reality environments with different scenarios. The technology makes use of massive amounts of data that are processed locally to generate a real-time avatar, which can be used for live streaming or recorded video.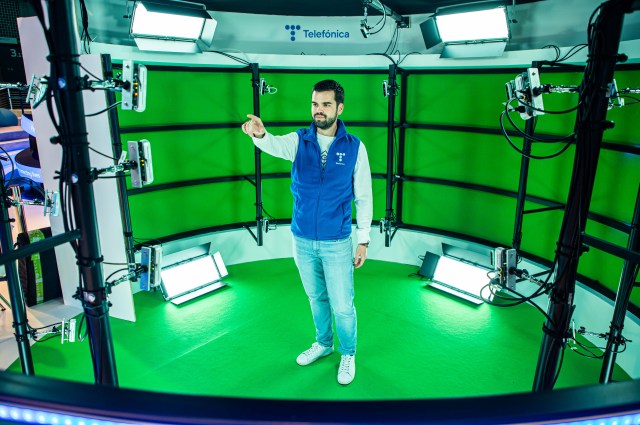 Telefónica's partnership with Amazon Web Services (AWS) provides AWS Edge services connected to the Telefónica network. The service enables live holographic transmission and allows for mass rendering to be used in the processing of the recordings. This technology has many applications, including entertainment, education, collaboration, advertising and television. The relevance of holographic telepresence lies in the multiple utilities and possibilities it offers. In addition, this experience allows the volumetric image of the person to be transferred to any virtual environment, wherever they are, thanks to the realistic sensation of 360-degree telepresence.
Telefónica's extended stand, a reality thanks to augmented reality.
Thanks to the HoloLens 2 glasses, we can see the real stand and everything around it at all times, but with virtual elements superimposed on it, which we can only see through these glasses.
Operating it is simple and in order to show it to users, the process starts with a short tutorial to get the user used to wearing the glasses.
During a tour of about 10 minutes we can enjoy the demos in a different and interactive way. In addition to all this, they also have games that make the experience much more enjoyable.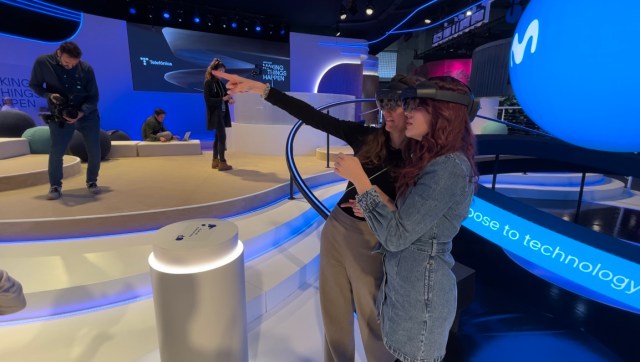 Solutions for "Smart Agriculture
Telefónica Tech also had the opportunity to explain its demo called "Making Smart Agro happen" at the Mobile World Congress (MWC), which shows how the application of the IoT, Artificial Intelligence, Cloud and Blockchain can improve precision agriculture, smart irrigation management and traceability and certification of the agricultural production process. This demonstration took place in a Bodegas Godeval vineyard in Galicia and was recreated at the MWC so that visitors could experience first-hand the agronomic decision-making process. The data obtained from sensors located in the field are transmitted with NB-IoT connectivity to a cloud platform that, together with the information provided by satellite images and integrating Artificial Intelligence capabilities, allows the farmer to improve decision-making aimed, among others, at reducing the use of inputs (fertilisers, phytosanitary products), improving agricultural production and optimising management time.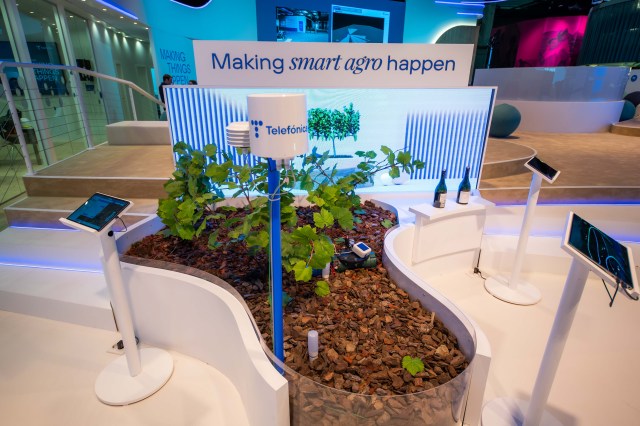 In short, "Making Smart Agro happen" shows farmers the benefits of digitalisation in the field, helping them to plan field work more efficiently, prevent crop diseases and pests thanks to Artificial Intelligence algorithms, optimise management time and resources such as irrigation water, apply fertilisers and pesticides accurately and selectively, and adapt their production processes to be able to react to unforeseen events and changes in the environment. The digitisation of the field provides the farmer with essential information to make better decisions aimed at optimising the business and increasing productivity.
Immersive experiences thanks to Meta Quest
Telefónica presented its new app 'Movistar Immersive Experience' at the Mobile World Congress, which allows users of the Meta Quest glasses to access a virtual Movistar city with various spaces to play games, watch exclusive Movistar Plus+ content and learn about the company's products and services. The app also includes YBVR virtual reality technology, which allows access to live and recorded sports and music events, as well as a virtual shop to learn about Movistar products and services. In addition to all this, users will be able to receive health and wellness notifications during their virtual experience, with the aim of promoting digital disconnection.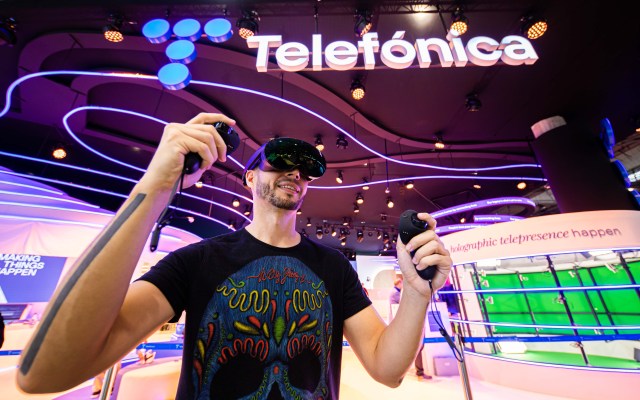 The company has also developed two virtual worlds in Horizon Worlds, a virtual space created by Meta. Telefónica Theme Park is, on the one hand, a world of entertainment and fun, where users can compete and interact in fairground games and skill tests, while Telefónica World is a space to receive feedback and build sculptures based on the spheres of the Telefónica brand logo, with a speakers' area and a section for comments and information about the company. Visitors to MWC can explore these worlds and try out the immersive experience of virtual reality.
Manufacturing improvement in industrial parts now possible thanks to digital twin creation
Telefónica has presented at the Mobile World Congress (MWC) its demo 'Making Smart Industry happen', which uses technologies such as 5G, edge computing, data analytics and machine learning to create a digital twin that optimises the production of industrial parts. The digital twin is an accurate virtual representation of the physical built environment in real time and allows data to be collected, modelled and analysed in real time to make decisions that optimise the manufacturing process and ensure the quality of the parts.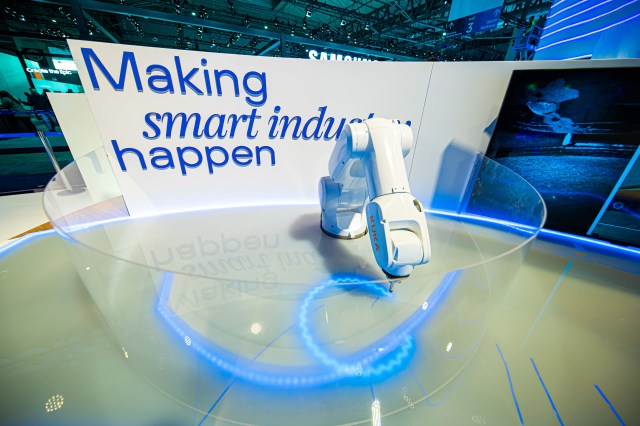 Telefónica's digital twin has a KUKA KR4 robotic arm that simulates the construction of an industrial part and is synchronised with the digital representation of the robotic arm and the part. Digital twins contribute to the efficiency and sustainability of the manufacturing process by mitigating risks, optimising resources and saving energy and raw materials, and are key to the digital transformation of companies and the creation of more competitive, efficient and sustainable business models.
The visit of His Majesty the King, among other institutional representatives, to the Telefónica stand
Telefónica's chairman, José María Álvarez-Pallete, received a delegation of Spanish authorities at the company's stand at the Mobile World Congress in Barcelona. The entourage included King Felipe, the First Vice-President of the Government and Minister of Economic Affairs and Digital Transformation, Nadia Calviño, Ada Colau, Mayor of Barcelona, as well as representatives of other institutions. Álvarez-Pallete showed them an immersive experience of almost 1,000 m2 that combines the physical booth with augmented reality and advanced communication technologies focused on connectivity and smart grids.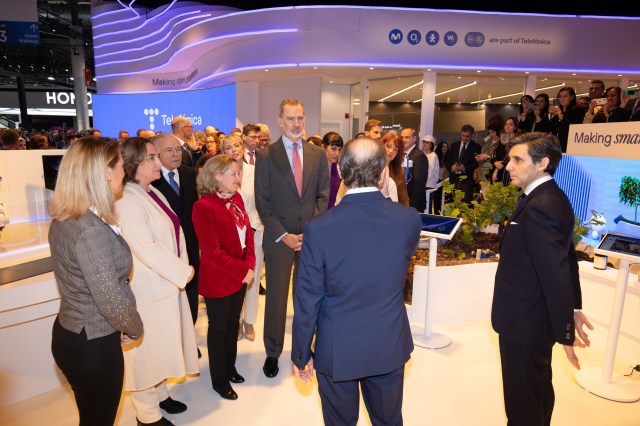 Telefónica and Microsoft drive the World of Telecommunications
Within the framework of the Open Gateway initiative and the GSMA, Telefónica and Microsoft have announced an agreement in which both companies open access to their telco and network capabilities to developers, cloud service providers and enterprises through APIs.
Mark Evans, Chief Strategy & Development Officer at Telefónica, highlights that: "In the coming years there will be an explosion of new services that will impact our networks. To provide the best experience to our customers and offer them innovative services, the best connectivity is not enough; it is necessary to face this challenge with the involvement of the entire technological ecosystem. Our partnership with Microsoft is central to this goal, which is why we are extending our framework for collaboration.
Jason Zander, EVP, Strategic Missions and Technologies, Microsoft, also noted: "As cloud and communications converge, we will see a new generation of highly distributed and compatible network applications that will open up exciting new scenarios for developers. Our collaboration with Telefónica will make it easier for any developer to create these modern connected applications by accessing advanced networking capabilities from within Microsoft Azure".
Technology creators, a key role at Telefónica
In collaboration with Amazon Web Services (AWS), Google Cloud, Microsoft and Vonage, Telefónica has presented under the Open Gateway umbrella the opportunity for developers to create new use cases based on new network and telco services on Microsoft's Azure Programmable Connectivity, the Vonage Communications Platform and the Amazon Web Services (AWS) and Google Cloud marketplaces.
In addition to all the advantages this entails, the programme is pre-commercial and allows developers access to a repository of APIs to generate real use cases. All the value propositions presented by Telefónica under the umbrella of Open Gateway are available at this link.
Thanks to 5G and virtual reality, Telefónica collaborates in the remote rehabilitation of multiple sclerosis.
Multiple sclerosis patients will now, thanks to virtual reality and 5G, be able to perform therapy at home if they wish to do so.
All this is possible because thanks to 5G connectivity, the patient has access to several rooms or virtual areas where they can perform the exercises in the company of other patients, interacting with each other while at the same time, the physiotherapist guides the session remotely during the rehabilitation session.
The Rehabilitation Service and the Multiple Sclerosis Unit of the Hospital Universitario de La Princesa have adapted an exercise programme for rehabilitation with virtual reality. The company La Frontera VR has transferred the exercises to a virtual reality environment and has "gamified" them in two scenarios: a desert island and a medieval setting. They have ensured that the exercises are in line with current clinical evidence and patient safety standards.