On 1 July, Telefónica will celebrate International Volunteer Day with the aim of connecting with charitable activity and all the social collectives and causes around us. If we look inside and outside our homes, we'll realise that each of us has a different need to be met. We're 8 billion people in the world, with some who require more support, for whatever reason. But there are also people who feel the need to help others.
Over the last few years, inequalities have increased due to the COVID-19 pandemic, rising prices, armed conflicts, climate change and so on; endless events are taking place around the world and, unfortunately, affecting the lives of thousands of people. Today, as ever, aid, altruism, empathy and solidarity can cross borders. "I think we can all do the projects really well, but they can be done with or without a heart and this company does them with a heart. Volunteering is an expression of that heart and soul", states Carlos Palacios, Global Head of Telefónica's Volunteer Programme.
According to a study conducted by epdata, volunteering has increased by 6.7% since 2018 in Spain, according to updated data corresponding to December 2021. This is reflected in an increase of 2.7 million volunteers. Throughout these years, Spain has been acknowledged as a charitable country, where the number of volunteers has increased due to the pandemic in 2020. Last year alone, Telefónica mobilised 8,000 volunteers within the company.
Everyone will need help at some point in their life. People are here to support each other, and volunteers are a wonderful example of such selfless help.
Call for Volunteering Activities: a way of ensuring that no one is left behind
Telefónica has a key role to play in this situation. For some time now, Telefónica Foundation has launched two calls for Volunteering Activities each year. As Carlos explains, this programme arose from the company's employees' need to help people. "It was the volunteers who suggested it. This isn't just about doing wonderful things, because, as well as being wonderful, they're sustainable and they have a huge impact", he explains.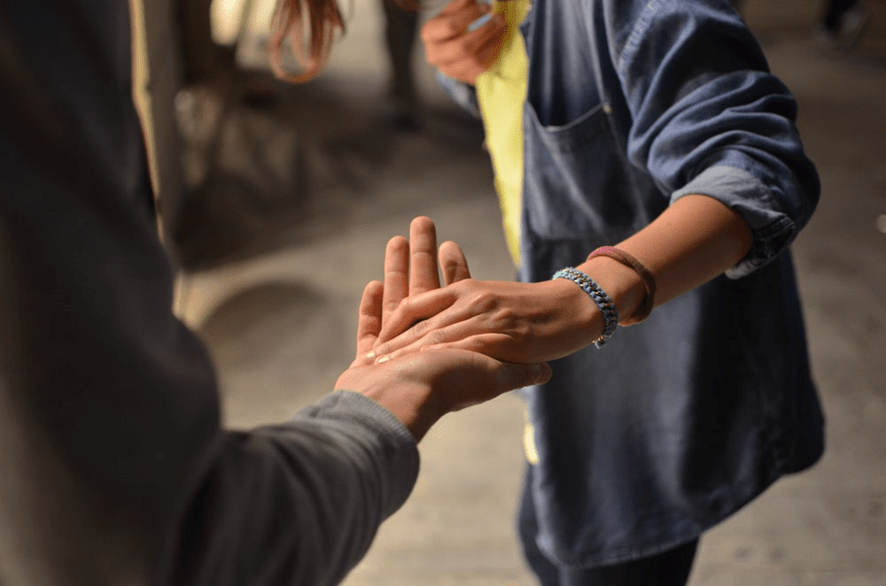 But what does it involve? The volunteers choose an organisation they want to cooperate with. Once they've joined it, they draw up a project that they submit to the Annual Call for Volunteering Activities or the Christmas Call for Volunteering Activities. When the project is submitted, if it meets the requirements of the call, it can obtain funding, as well as increased visibility, to enable the initiative to be conducted.
Most of them stem from the aims to promote the inclusion of vulnerable collectives within society, to raise awareness through actions so as to meet basic needs and to put an end to the digital divide, providing tools to ensure that no one is left behind. These calls aren't just held in Spain, but also in other countries in which Telefónica operates. For example, volunteers in Peru have developed the first employment inclusion app for people with disabilities. They've thus made it easier for companies to contact social entities focused on the integration of these people.
None of this would be possible without technology. Telefónica Foundation has worked on the White Paper on the Digital Transformation of the Third Sector. This is a guide to enable social organisations to understand why technology is important and how they can integrate it into their strategy.
Telefónica volunteers who change lives
During this call, we were able to have conversations with some of Telefónica's volunteers, ones who support and help people in need each day. We list some of the initiatives below:
Elena Doria and the Madrid Food Bank Foundation
Elena has been a Telefónica volunteer at the Madrid Food Bank Foundation for a number of years. This organisation has been a key pillar enabling thousands of people in the city to feed themselves, particularly during the pandemic and the economic crisis we've witnessed since then. The organisation ended 2019 providing a daily meal to 130,000 people. This figure rose to 230,000 in April and May 2020. In 2021, the number fell to 186,000 people. These remain undoubtedly chilling figures, and just within the Community of Madrid.
Contrary to what we may think, a person doesn't form part of a vulnerable collective just because he or she cannot afford to buy food. According to the Multidimensional Poverty Index, there are 9 indicators of poverty in the world. These include access to health services, access to basic services in housing (heating, electricity, etc.), the average educational gap in the household, etc.
Since 2020, Elena has submitted the Great Food Collection VII and VIII (in 2020 and 2021, respectively) to Telefónica Foundation's Call for Virtual Volunteering Activities. This initiative consists of collecting donated food from supermarkets.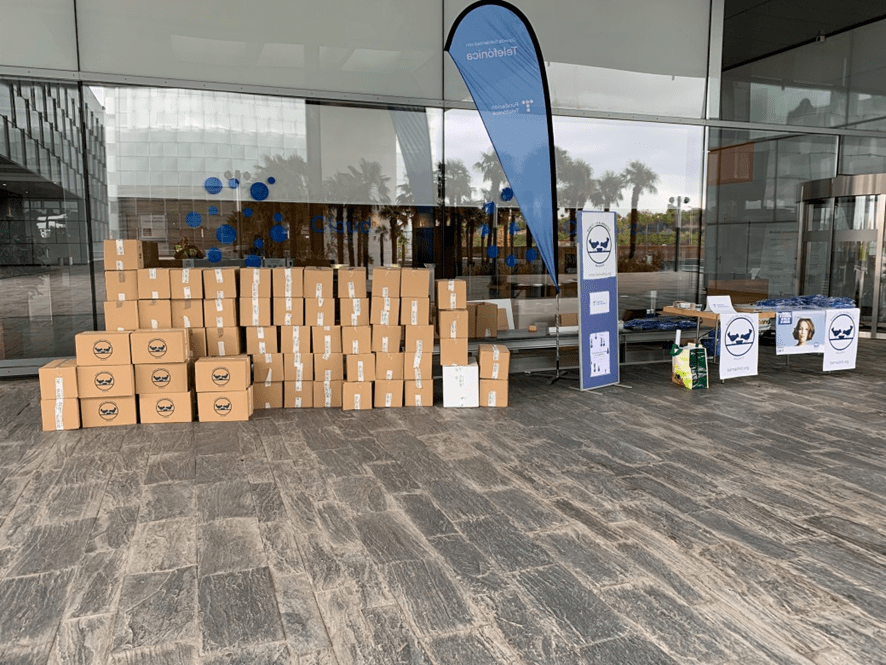 Last year alone, with the amount they received from the call, which totalled 6,000 euros, they were able to buy 796 kilos of type-2 follow-on milk (996 units, each weighing 800 grams). In other words, they were able to feed 286 children for one month. 25,000 of the 186,000 beneficiaries at the end of 2021 were children and 7,000 were infants.
"We always say that we'd love not to exist", explains Elena in an interview with the Think Big Blog. Nowadays, however, their work is essential to feed a large part of the population of Madrid. "I've had a happy life and, as such, I feel an obligation to give some of that back to society", she explains.
Catalina Trevijano and Juan Fernández-Durán cooperate with the Prodis Foundation
Catalina and Juan have been Telefónica volunteers at the Prodis Foundation for several years. This is an entity that strives to improve the quality of life of people with intellectual disabilities and their families, integrating them into the workplace and promoting a fair society.
The number of people with disabilities in Spain stood at 3.8 million in 2007. This figure hasn't been updated since then. A group is integrated into society when it can carry out work and interact with other people. In 2020, the number of employed persons with disabilities increased by 30,400, according to the National Statistical Institute (INE).
These two volunteers represent everyone else, demonstrating that when we connect, we can do amazing things. Both of them seek to make us more aware of a reality that exists among us, in order to ensure that these people aren't left behind and to help them to occupy their rightful place in society.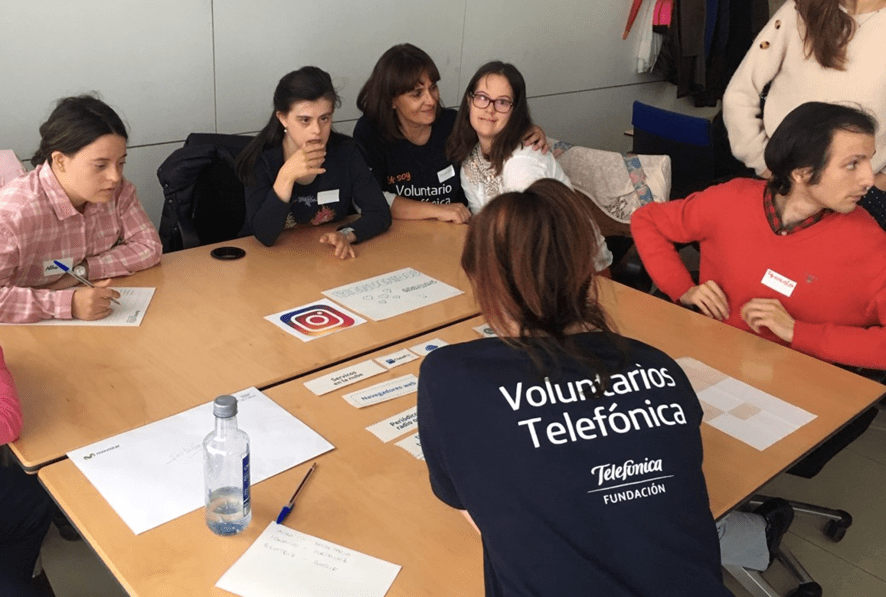 Following the support they received in the 2021 call, their initiative has focused on bringing digitisation to all these people so that they can receive adequate training with a view to their inclusion in the labour market and enjoy the same job opportunities. The training includes learning how to make presentations and use Google Maps, talks on bullying and so on. "I like interacting with everyone, because I'm like everyone else", explains Daniel Molpeceres, a professional operator at the CEE Prodis Foundation.
Javier Rosado and Zapatillas Solidarias
Each day in 2020, an average of 17,772 people were housed at centres for the homeless in Spain, according to the National Statistical Institute (INE). With the aim of helping these people through sport, the Zapatillas Solidarias (Charitable Trainers) initiative was created, together with the Nadie Solo entity.
"Sport has given me and helped me a lot, hence my desire to bring it closer to people who are having a hard time", declares Javier. In 2018, they launched this proposal, with the group comprising just 3 people. Now there are 25 people split into 3 groups supported by 15 Telefónica volunteers.
This initiative helps these people to enjoy a better quality of life through sport, giving them a goal to strive for. They train throughout the year to prepare for a race in which crossing the finishing line is up to them. This is why they define themselves as #AdictosACruzarMetas (hooked on crossing finishing lines).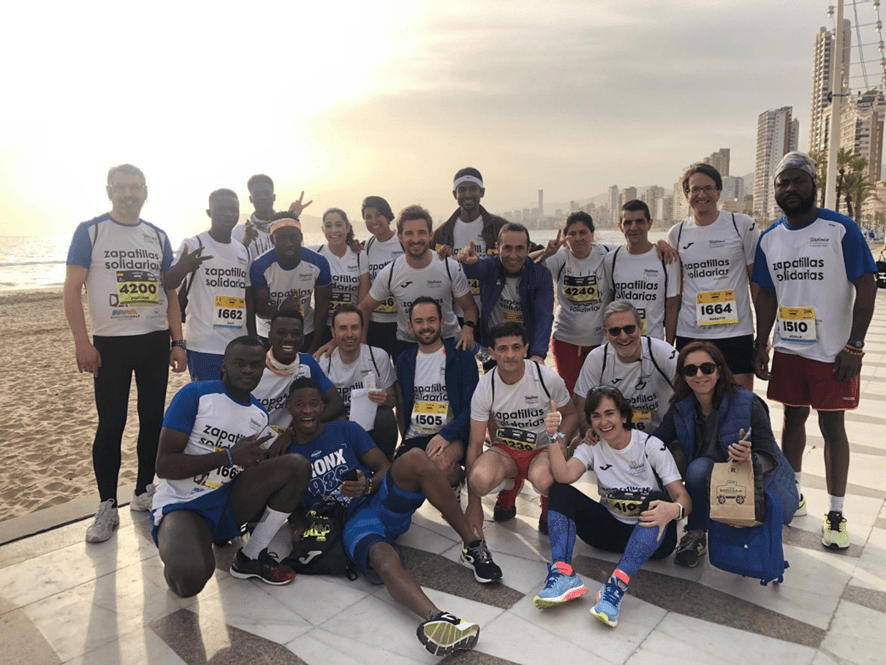 Sport is vital to achieve adequate psychological well-being. The greater the body satisfaction, the greater the self-esteem and self-confidence. Moreover, they form part of a team and the feeling of belonging is vital when it comes to moving forward. Projects like this teach us to appreciate what we have in life and remind us of the importance of devoting time to "helping people who aren't as lucky as we are", stresses Javier.
Ana Belén Macarro and the collection for Ukraine
Over the past few months, millions of Ukrainians have been forced to flee their homes due to the ongoing armed conflict in Ukraine. Since then, Telefónica has taken action to help them. One of these initiatives was the collection of 6 tonnes of products within 8 days. These were sent to the border between Poland and Ukraine as a result of the collaboration of more than 100 Telefónica volunteers led by Ana Belén.
During this time, they collected non-perishable foods, intimate hygiene products, medicine and first aid materials. This collection was made possible by the teamwork and solidarity of hundreds of Telefónica workers and their families. Ana Belén acknowledges that everything is much easier if you receive the support of a team moved by their hearts and their passion for helping people.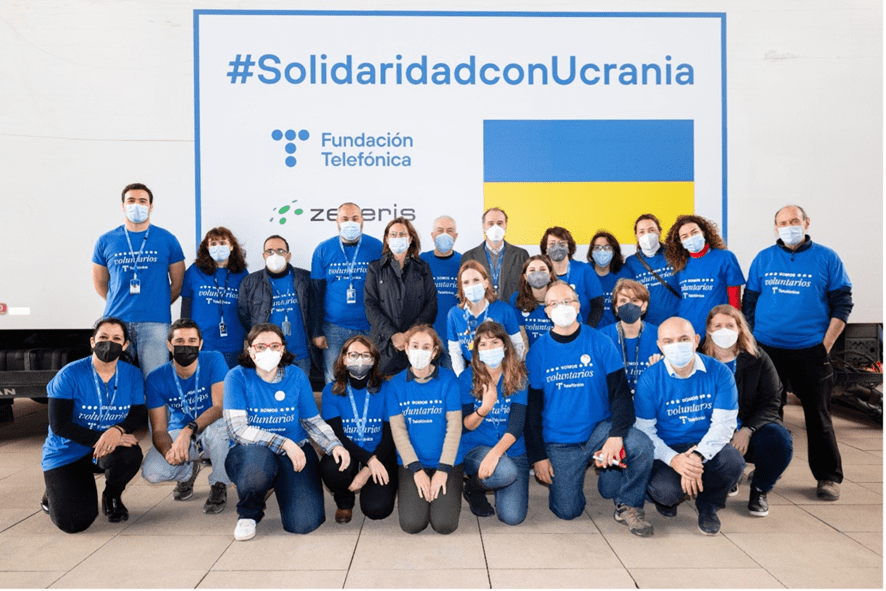 After the collection, the volunteers created a human chain to load the crates with the products into two lorries. "We're much more generous than we realise and it's exciting to discover that our colleagues are engaged people, eager to help when needed", says Ignacio Charlofe, a Telefónica volunteer.
Celebrating Volunteer Day at Telefónica
The above initiatives are just a few examples of all the work done by Telefónica's volunteers, their solidarity and their help for vulnerable groups. "1 July is a day that forms part of Telefónica's culture", declares Carlos Palacios. "And it's a reflection of what we do throughout the year", he continues.
Each country in which Telefónica operates will carry out a different programme on this day. In Spain, the volunteers will focus on digital vulnerability among the elderly and children, as well as continuing to help Ukraine. In the United Kingdom, they'll work on giving talks that people can subsequently distribute among their communities, thus passing on their knowledge. Meanwhile, Germany will focus all its activity on Ukraine. As for, Brazil will place the emphasis on education and Hispam has succeeded in enabling the regional entities to conduct the same activities involving education, employment and vulnerability.
Volunteer Day takes place 365 days a year. Thanks to all the volunteers who each do their little bit and contribute to building a more equal, inclusive, sustainable and, above all, caring world. Telefónica's volunteers exist thanks to you.