Telefónica Public Policy & Telefónica España Regulatory teams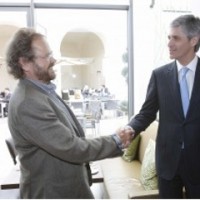 As part of its digital responsability, Telefónica tries to foster the debate and ideas towards a better and safer use of new technologies. That´s why Telefónica Czech Republic decided to be partner of the conference "Prevention of Internet crimes against Children: Technology, Legislation and Education" in the Senate of the Parliament of the Czech Republic on 7th June.
The conference organized by Safer Internet gathered leading experts in information technologies and communication, educators, lawyers, social workers and politicians to stimulate a fruitful debate about the creation of a safer Internet environment and preserving confidence of Internet users across all related fields.
Telefónica sponsored this conference for the third time due to its commitment towards digital safety and responsibility as the Telco leader in the Dow Jones Sustainability Index. JUDr. Jakub Chytil, Member of the Board of Directors of Telefonica Czech Republic, presented the company strategy, Digital Confidence, based on four main pillars, which are to promote the responsible use of ITC; self-regulation, development of products and services, alliances with associations and experts, and education commitment.
During the panel discussion of the conference, the conversation was driven towards the growth of "cyberbullying" cases in the country. Telefónica is facing this threat by launching the project for minimizing of bullying in Czech schools. The project advises children exposed to "cyberbullying" who to contact and ask for help in such cases. "According to the research we conducted in 2010, 10% of Czech kids were victims of "cyberbullying" and 78% of aggressors were from the same school. That's why we started this campaign through schools to explain kids, parents and teachers the importance of denouncing abuses in the internet", says JUDr. Jakub Chytil. "There are different figures about the use of internet by our kids, but according to last statistics, just 10% of families use parental controls software. That gives users effective control over website access and enables them to restrict access to potentially dangerous websites. The use of parental control is simple and it's available from our website".
Other Telefónica activities include educating parents, instructors and teachers on the risks associated with the use of new technologies. In many of the projects Telefónica participates with partnering organizations like Bezpečnější internet, Horká linka Hotline, a new game and training server or Internet Watch Foundation.
After the conference the discussions were going on and focused on finding an efficient way for eliminating "cyberbullying" and providing for overall protection of internet user data. "The development of new technologies is associated with new issues; therefore, we must actively look for new solutions. I'm glad to meet all the other experts here who are also interested in finding answers to the current challenges we are facing," says Luis Antonio Malvido, CEO of Telefónica Czech Republic.
"I am glad for the opportunity to meet with the representatives of Telefónica and leading experts on education and internet protection of children. Coordination of all the stakeholders in this area is essential in minimizing of cyber-bullying and more and more frequent cases of internet criminality," commented on the meeting senator JUDr. Miroslav Antl.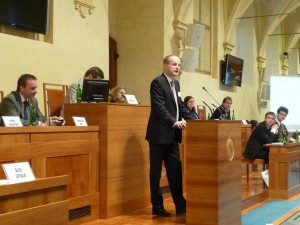 This was a fruitful event and we hope we will continue to contribute for a better and safer use of new technologies in all the markets where Telefónica is present.