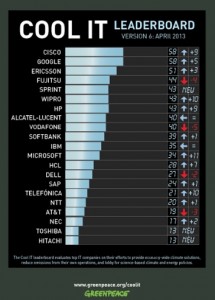 Telefónica is the only Spanish company on the Greenpeace "Cool IT Leaderboard 6" ranking, which values companies efforts to promote a low carbon economy and to reduce emissions of greenhouse gases, through three groups of activities. The first is focused on reducing internal carbon footprint, the second to the provision of Green ICT solutions to reduce emissions of users, and finally the political commitment of businesses to the fight against climate change.
This is the second year that our company participates in this international ranking which has positioned itself in the top 25 of ICT companies in the world to have introduced climate change as part of their business model.
In this 6th edition, Telefónica is in the 16th place with a big increase in the score since last year, improving 10 points, especially due to the internal carbon management activities and the placing on the market of energy efficiency solutions to customers.
For the NGO, Telefónica needs to work on the transparency of the energy savings that provide ICT solutions. This feedback represents an incentive to keep working to extend our internal carbon management excellence to the services Telefónica provides to customers.
According to Greenpeace, although the ICT sector shows a slow improvement in promoting the use of technology to reduce GHG emissions, they confirm that the industry is working steadily.