Telefónica Public Policy
Telefónica attends ITU Telecom World 2019 in Budapest (Hungary), the global platform for high-level debate, innovation showcasing and knowledge-sharing across the ICT community. Each year, the event brings together relevant actors from the ICT industry, technological SMEs, representatives from different countries and organizations.
Enrique Medina (Chief Policy Officer, Telefónica) and Christoph Steck (Public Policy and Internet Director, Telefónica) have participated in the event to reflect on connectivity, the urgent need to invest in the digital future and the role of government in 5G.

Bridging digital divides through an integrated approach
Connectivity is the foundation of digitalisation, but current technologies and business models are not able to satisfy ubiquitous connectivity nor the growing demand of new services and devices.
For instance, in Latin America, 100 million people live in areas with no connectivity or just 2G voice, where connectivity remains a barrier to access the benefits of digitalization. As part of our commitment to close digital divides, we have launched "Internet para Todos Perú", a cooperative initiative that innovates in three main areas:
We are innovating in TECHNOLOGY to bring down the cost of deploying and running a mobile network. For this reason, we are deploying low-cost towers, using general purpose equipment, based on open source software and fully virtualized and programmable network, low price microwave equipment and collaborating with new partners.
We are innovating in the BUSINESS MODEL, setting up a new open model, inviting local communities and entrepreneurs that can provide retail point of sales and even do some maintenance work. Besides, we are inviting other agents, like telecoms, digital leaders, public investing and developing organizations to finance and co-build this infrastructure together, having Telefónica as a partner.
We are also innovating in the OPERATIVE MODEL by setting up an open wholesale infrastructure thanks to which mobile network operators could extend its services to low-density areas using our infrastructure.
By bringing down these costs, we shall be able to deploy a sustainable business model in areas with lower population density and lower expected usage. But this is not enough. We still need a favourable regulatory environment, and this is why we firstly launched this project in Peru. Peruvian regulation had the existing figure of the "Mobile rural infrastructure operator" that provides wholesale only services in exclusivity in rural or other special interest areas where no other operator had previously deployed any network.
"Internet Para Todos Peru already operates a network of almost 45 hundred sites of which f5 hundred are 4G, providing access to connectivity to 600k inhabitants. The aim is to cover 4 million inhabitants with 4G by 2020, a significant but achievable challenge for the upcoming 15 months".
It is crystal clear that we need to innovate and define an enabling environment. Then, the most relevant aspect is to implement a regulatory sandbox for rural areas that will enable to address all the challenges a public-private partnership finds to implement a sustainable initiative. Policy makers need also to innovate in order to enable the sustainability and profitability of these initiatives focused on rural areas. We are sure that when the right policies are in place, partnerships as Internet Para Todos Peru can solve the connectivity divide without even recurring to public funds.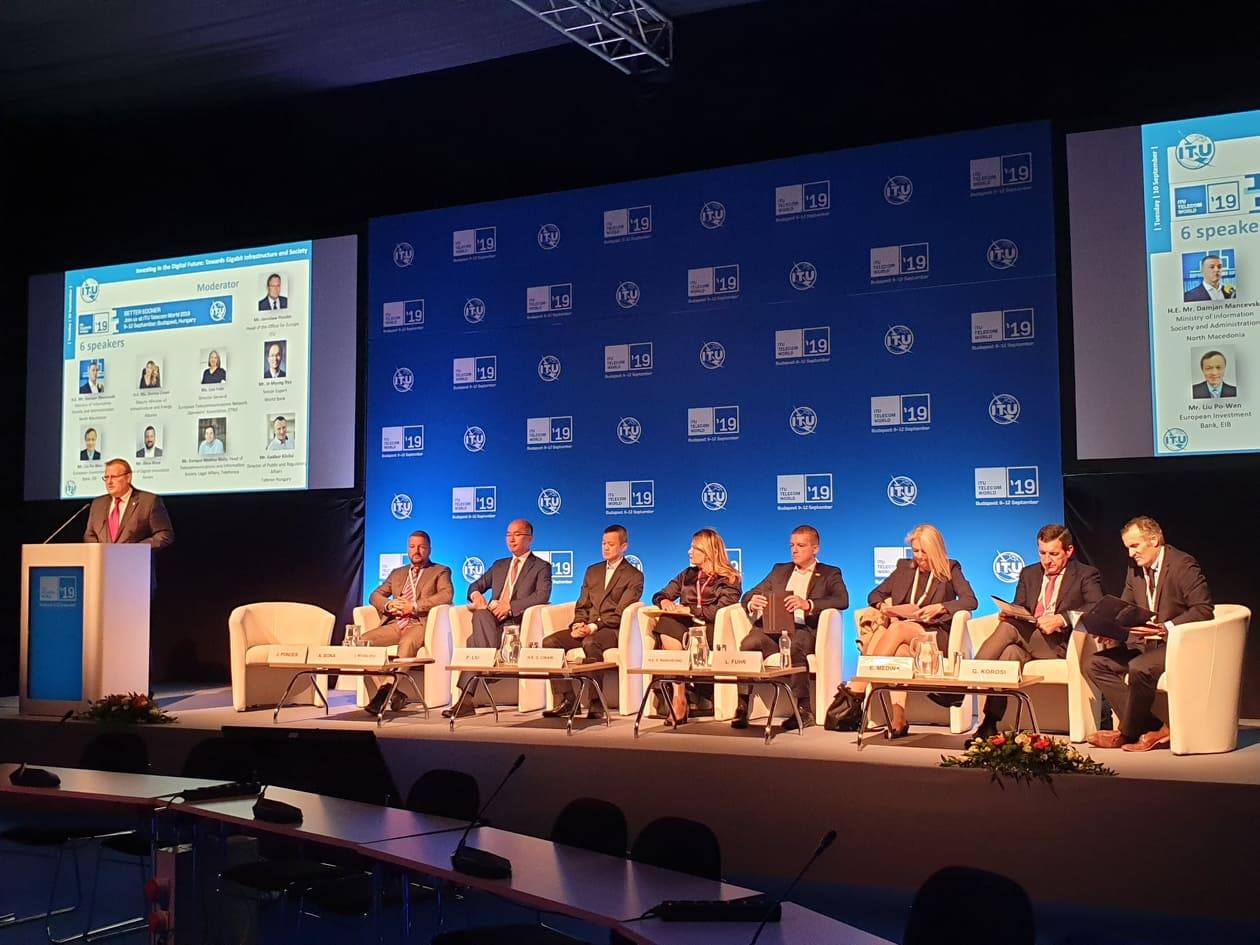 Enrique Medina (Chief Policy Officer, Telefónica) during his participation in ITU Telecom World 2019. 
Investing in the digital future: towards gigabit infrastructure and society
Telefónica is a traditional telco evolving to become a digital telco. We provide services to over 350 million customers, together in Europe (UK, Germany and Spain) where we have high levels of broadband penetration and Latin America (Brazil, Colombia, Mexico, Argentina, Peru, Chile, Venezuela, Ecuador and Uruguay), where two thirds of our customer are based.
"Our aim as a telco company is to connect people to improve their lives giving them access to the digital life. Regulation stands out as very relevant lever to foster network deployment, thus having a great impact on telecom's decisions on network rollout and also on getting everyone connected to leave no one behind".
The best way to see how regulation impacts investment decision is to go through a real and relevant case study: Spain becoming a worldwide reference for super-fast broadband rollout. In a relative short period, the country`s telecom operators have laid out fibre-optic cables reaching 31 million premises -more than France, Germany, the UK and Italy combined-. In the OECD, only Korea and Japan have more. Spain has been the fastest country to develop a fibre-to-the-home technology (FTTH) network in Europe, thanks to the right competitive regulatory conditions.
Several factors made Spain particularly ripe for the deployment of ultra-fast broadband networks, such as:
Operators had access to the high-quality civil infrastructure necessary to connect fibre to the home. This included manholes, ducts, poles and access to buildings, as well as an obligation for landlords to provide access to the in-building fiber infrastructure. The availability of this infrastructure – provided by Telefonica – was a key differentiator in Spain.
Spanish regulation also promoted investment and competition, creating incentives for operators to roll out fibre networks. Telefonica was not obliged to allow other providers access to our network at speeds above 30 megabits per second, and that meant that other operators rolled out their own networks in order to compete for ultra-broadband services.
Nonetheless, having high FFTH coverage might not be sufficient to satisfy the requirements of an industrial internet. The Industry 4.0 and the network operators need also a regulatory Sandbox where to experiment safely and also where regulators, lawmakers and the industry learn together. 
The role of government in 5G and high-capacity network deployment
What are the regulatory and policy frameworks necessary to stimulate the deployment of 5G and high-capacity networks? What policy or regulatory incentives are likely to prove most effective?
Both policies and regulations should modernise their approach to new reality. Everything is new and everything has to be built. There is a necessity of modernisation in almost every aspect of the policies, designed more than thirty years ago for a completely different reality and mindset.
For that, we consider that the policies and regulations should focus on: 
Promote investments. The strategic industry policy must be focus on investments in connectivity rather than in price regulation. That new focus should lead policy makers and regulators to a modernization of infrastructure regulation. For example, it should be eased network sharing, including coverage obligations for those areas were sharing is implemented and last, but not least, to facilitate civil engineering for mobile backhauls, microcells installations and FTTH networks. 
Spectrum policy. The main objective of spectrum policy should only be the expansion of connectivity and innovation rather than a tool to balance public accounts. In addition, we need the spectrum to be provided at the right time, facilitating the planning of the investments but at the same time payable when it is really usable.
Level Playing Field. Conduct a thorough review of policies and regulatory frameworks so that digitalization is sustainable. Promote fair competition in digital markets, focusing on data ethics and creating equitable conditions for traditional and digital services.
Legal certainty/security. Review outdated concession regimes and similar regulations that are a source of legal uncertainty and litigation. Promote a stable, proportionate and transparent regulatory framework.
Competition policy. A modernisation of the scope of the competition policies, with a new approach to consolidation processes and the asymmetric entry in new markets.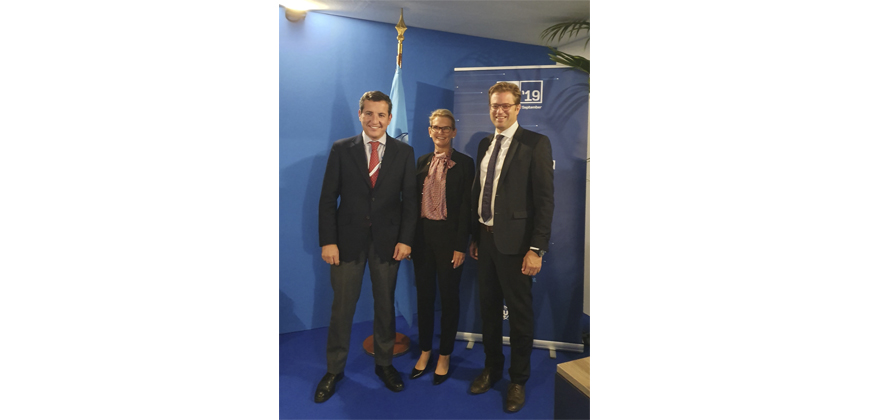 Enrique Medina, Doreen Bogdan – Martin (Director of the Telecommunication Development Bureau of the International Telecommunication Union) and Christoph Steck.